Roof question -- totally confused!
sarschlos_remodeler
September 12, 2008
for those who don't want to read my whole explanation, my question is: is it okay to have a new roof installed over an old one? Are we going to have to remove both layers of roofing and replace the roof entirely?
Background:
In the process of "exploratory surgery" in the drywall above our hideous fireplace, we discovered that the flashing around the chimney was not installed properly, causing a windy draft and water intake during rainy periods. Luckily, there is no evidence of mold inside the wall, but there is evidence of damp beams.
When we bought the house last year, the PO reported that the roof had been replaced in approx. 1984. It was originally a shake roof, but is now some sort of tin shingle roof.
We got an estimate from a contractor that specializes in remodeling fireplaces, who works with a roofer for chimney/flashing repair and a separate estimate from an independent roofer regarding the flashing problem (independent roofer found more roof problems and had a higher estimate for the repair).
Both roofers said the flashing was installed improperly and could not be simply caulked or sealed off with silicone, and that a certain number of shingles would need to be removed in order to fix the flashing. The independent roofer said that it looked like the new roof had been installed over an old roof, that people who did not know what they were doing had since walked on the new roof improperly and dented shingles, put nail holes where they don't belong (which would have to be repaired to prevent further leaking), and the roof around the shingles would need to be repapered, reflashed, caulked, and dented shingles replaced.
We have not seen signs of leaking/water damage anywhere in the house -- but then, we would not have discovered the chimney flashing problem inside the walls if I hadn't started to demo the drywall above the fireplace.
Here's a picture of the front of the house (roof looks to be in good shape, but I'm learning that with this house looks are often deceiving):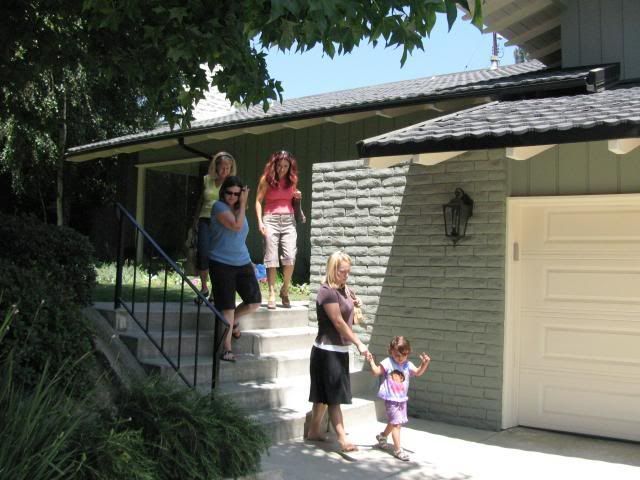 This is the hideous fireplace after 8' mirrors were removed and the hole was added to the drywall: