Would you put a fan here? Will it make a difference?
jaynes123_gw
July 19, 2014
Our exteriors done and NO changing windows which Im very happy with, just as intended but in hindsight, boyfriends concerned. Hes big BIG on fresh air / breeze and disappointed so little outside access.
Front & back of LR/DR are full-length STATIONARY windows (red lines). Both include a glass door with screen so 2 accesses plus 2 more with both LR's double hungss, total 4..
We picked a HDepot Altura 68" fan for LR, which boast big 8435 cfm air movement.
Debating a 2nd fan, same Altura smaller 60", for DR (marked as yellow circle) where I'd intended only a light, a decorative statement (floorplan all recessed lighting except kitchen pendants).
He's very "... whatever you think" but know hes concerned. I WOULD do DR fan **IF** it would significantly aide bringing in fresh air but question if it would, being somewhat tucked in DR corner.
Any air flow scientists or based on this, what would you do?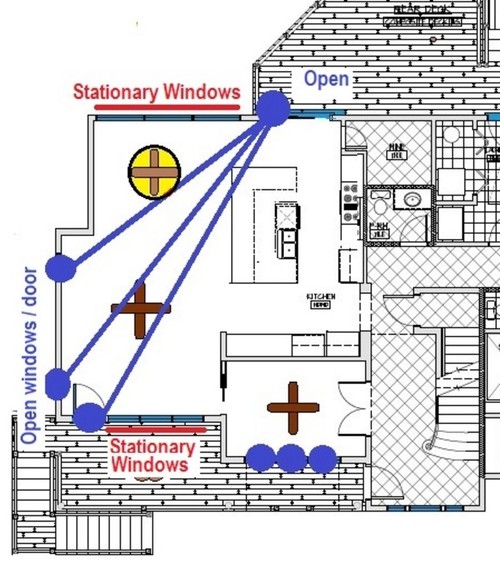 This post was edited by Jaynes123 on Sun, Jul 20, 14 at 12:01