What is going on inside this closet? (2 photos)
There is a problem inside the closet of the (legal) garage conversion. The house itself is on a raised foundation with a crawl space underneath, but the garage conversion is on a slab with a slightly raised plywood floor and on top of that is carpet.
Part of the back wall of the closet is falling off. I'm attaching a photo of it and you can see part of it is already off--I'm not sure what's exposed behind the white piece that fell off--flaking concrete? some kind of I dunno what??... and you can see some discolored areas on the lower closet wall area from maybe water?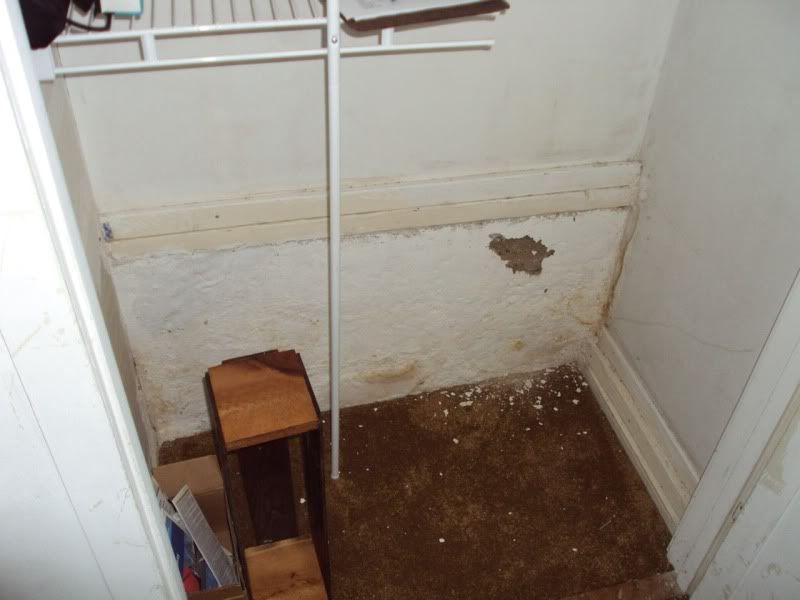 The birds eye drawing below shows that the front porch steps are on the other side of the wall. The orange area is the part of the wall in question.
The only thing I can think of is that maybe when it rains or when the house to the direct East of me waters their lawn, the run off somehow saturates the ground because this house is lower and water flows to the lowest source? Okay, I pulled that out of my hat because I'm just wildly guessing. I do know that we NEVER have to water our rosemary plants, our orange tree, our camellias or our jade plants in the yard because of the neighbor's unwitting generosity with watering his lawn.
Could anyone please venture a guess as to what is going on with the closet, and how to fix the back of the closet wall so this doesn't happen again?
Thanks for any help, ideas, and suggestions!
Smiles,
Sooz