Kitchen Layout design suggestions needed
update. found another space for the W/D. so the upper left corner will be a utility closet for vacuum, broom etc.
===========
We are planning our new kitchen layout.
in the top view, the W/D unit is at the upper left corner.
the other side of the kitchen opens up to family room. Kitchen and Family together is 15x28
the island actually only has 2 base cabinet. it's hard to draw it with ikea software. so #11,12,13,14,15,16 will not be there and will be counter top overhang for sitting. we want to eat in the kitchen
Option A: Fridge and microwave on the left wall
Pros: fridge near Sink
Cons: the isle on the left might be tight with seats
Option B: Fridge and microwave on the range wall
Pros: left isle is more open. left wall looks clean and open. more counter space on the left, not interfering cooking and washing
Cons: Fridge is very far from sink (15 or so). lesser counter space near range, microwave usage might interfere cooking
which option works better?
Questions
1. I like to be able to take things out of fridge and put in the microwave or on the counter top underneath.
For option A the pantry is in between. however if we switch the pantry and fridge, the fridge will be even more in the way. is having pantry in between making using microwave less easy?
2. is fridge distance so far an issue?
3. in both options, at the window wall, is it better to have trash pull out on the left and dishwasher on the right, or the other way around?
4. for island, as we want to eat in most of the time, counter height seats are not very easy to get on and off for the elderly and young kids. what could be a good solution that will look good without breaking bank?
thanks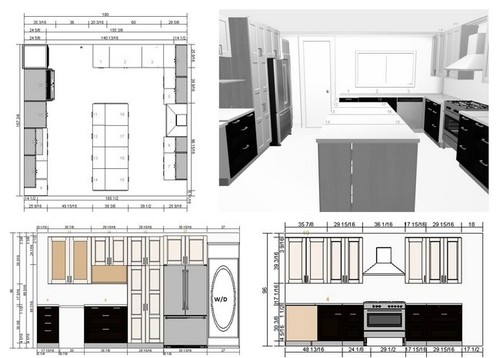 This post was edited by M_N_A on Fri, May 3, 13 at 0:11