Window Flashing II
I have finished scraping and caulking around the double-hung windows on three sides of my house. Thanks to you guys for your advice on that. Those three sides of the house are covered by asbestos/cement siding over wood siding. The utility room addition has a different type of windows and aluminum siding over, I don't know. These windows appear to have the same drip edge-type thing as on the other three sides, but there is what looks like a metal flashing above it. That flashing is now caulked. The flashing forms a U-shape that appears to be intended to allow water to run over to the the sides rather than in front of the window. Note that there is not a large overhang of the roof here. Around the sides of the wood window casing there is metal flashing between the aluminum siding and the wood.
What I would like to know is, what should be caulked and what should not be. Judging from previous advice, that top flashing should not be caulked so I should just pull the existing caulk off and leave it alone. I don't believe that the joints between siding and the side flashing should be caulked to allow for expansion of the siding. Will anyone confirm that or tell me any different?
Between the side flashing and the wood can be caulked, but what would be mostly for looks. OTOH, the joint between the metal and the wood casings should be caulked, especially important at the top. (Note that all around the metal is very tight for the most part, but it looks like aging has promoted some gaps at some points.) Leaks here will allow water and air to pass to the interior. Is all that right?
Lastly, how about where the top flashing meets the side flashings? One or two of the pictures show that the top flashing does not extend past the side flashing in the left-right dimension. It seems like it would be better if it did. If there is not a lot of water collecting, the water should run out because the top flashing does extend past the front of the side flashing. It seems like it would not hurt to caulk that joint. It might be beneficial to make sure water does not run down the inside of the side flashing.
Thanks
Big picture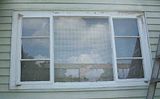 top corner
Top outside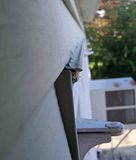 top inside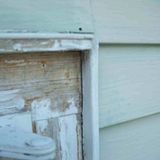 bottom corner