Help with roof color please
Hello! About 2 months ago I had a guy stop by my house and ask if he could check my roof. I'm in a "cookie cutter" neighborhood and noticed half my neighbors have been getting new roofs so I let the guy check mine out. He said I had wind and hail damage so I filed a claim and now my insurance is covering the cost (minus my deductible). At first I choose the color weatherwood - it's a middle color tan and I noticed a lot of neighbors have this color too. It looks OK in my opinion. But then I started thinking about changing my shutters and front door down the road and I think I like the darker roofs better. They also look richer in my mind. Of course a darker rood may make my house hotter..
Now I don't know what to do. I was leaning toward dual brown and driftwood but dual brown looks like it could have some red in it and I don't want any red. Now I'm thinking driftwood but I Googled some pics and Driftwood almost looks black. Please help.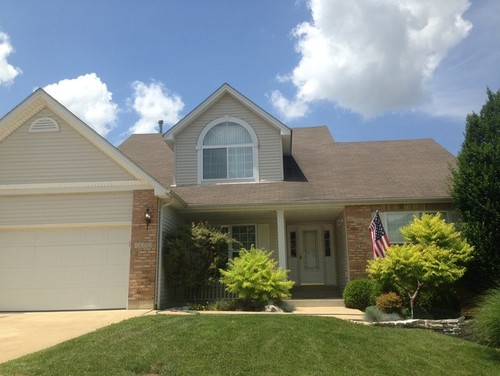 This post was edited by MrsShayne on Tue, Jul 8, 14 at 14:30