But Iâll lose my pantry! Is this layout worth it?
IâÂÂm not sure about this, so Gardenweb gurus, can you please help?
I have wanted to redo my 20-year-old kitchen for a few years now, but cannot finalize a layout. But itâÂÂs time to make a decision, the overlay is literally peeling off the cabinets, the cabinet doors wonâÂÂt close all the way, and the Formica countertops are a disaster.
One KD wants to leave the layout exactly the way it is now, saying there is no other way to design the space. The other KD wants to put the refrigerator where the pantry is currently, and make a cabinet into a new pantry.
The only way I could steal space from the laundry room is if I move the laundry sink outside, eliminate the laundry room closet, or move the washer and dryer into the basement.
Is there really no other option?
Should I be satisfied with simply replacing the existing cabinetry with new cabinets?
or
Should I do this redesign and lose the closet/pantry? Will I miss it?
I love to cook, and have a big family. ItâÂÂs not unusual for me to have 75 people at our home for the holidays. Not surprising this kitchen is so tired!
In my dream world, IâÂÂd like a balanced/symmetrical look, and would love a 36â range. Which is why I wanted to move the fridge. Then I could get a bigger range plus have that wall a pretty focal point, since the family room and entry doors face that wallâ¦think Beekeeperswife. Thanks for great ideas Bee! âº
Other than that, this kitchen works pretty well.
Thank you for any ideas and suggestions you may have!!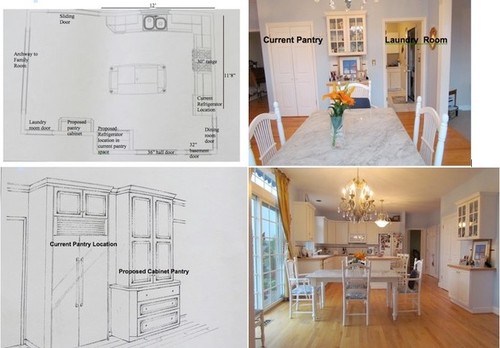 Here is a link that might be useful: Bee's beautiful kitchen