help me transform my 1970s-era (but new to me!) kitchen
Three years ago I renovated the kitchen in my current house and discovered GW. It was so helpful, both for inspiration and for practical advice! Now we are moving and I have to leave behind my beloved kitchen. We are buying a 1920s house with a kitchen that was redone in the 1970s. The quality is excellent and I'd like to preserve as much of it as possible, but I think there is a lot that I can do without making major (structural or layout) changes.
I need your help envisioning what I can do with this kitchen!! I think it's a great space, but want some ideas for updating it.
These pictures were taken with the current owners' stuff, so try to picture it with less clutter. I love the long island, lots of cabinets and the sitting area at the end. I don't love the color combination of the stained cabinets, wood counters and terracotta tile. The layout might have challenges (the refrigerator is on the other side of the long island from the range...) but I want to work within the current layout.
Here's what is staying:
layout
cabinets
terracotta floors
1970s Garland gas range (apparently Garland became BlueStar, and I know how much GW-ers love their BlueStars! I'm hoping that a 30+-year-old one is still awesome!)
dishwasher
What I'm definitely doing:
removing wallpaper and painting along refrigerator wall and in sitting area
replacing the 1970s subzero fridge/freezer combo
replacing the wall oven/microwave combo
What I'd consider doing:
painting the cabinets (probably white, but I'd consider doing the island a different color)
OR keeping the stained cabinets and replacing the perimeter countertops (I could go either black or light)
removing the trash compactor (ideas for what to put in? recycling bins?)
replacing the backsplash (one of us likes it, the other doesn't!) but this would mean losing the built-in can opener
removing the griddle to the left of the range
replacing the sink
I would appreciate any and all suggestions, particularly what colors to paint the walls and/or cabinets, so that they look good with the terracotta tiles. I like soothing and serene -- not bold and spicy.
Here are some pictures. Thanks in advance for any visions you can share!!
Long view from the sitting room across the island to the far end of the kitchen: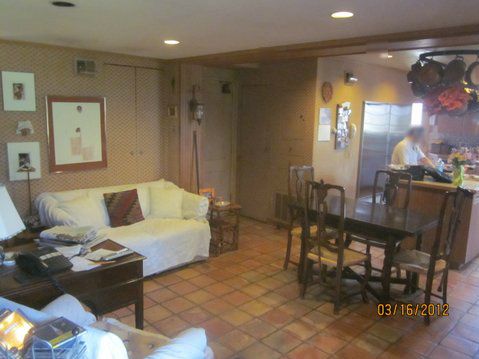 close-up of the island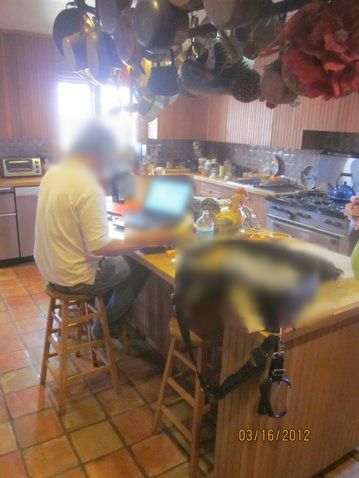 far left of the kitchen, with best color representation of the cabs, floor, counters (window above sink)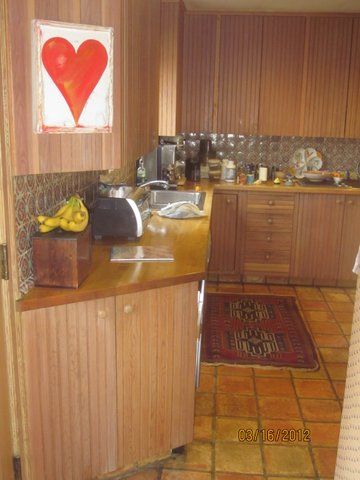 trash compactor, dishwasher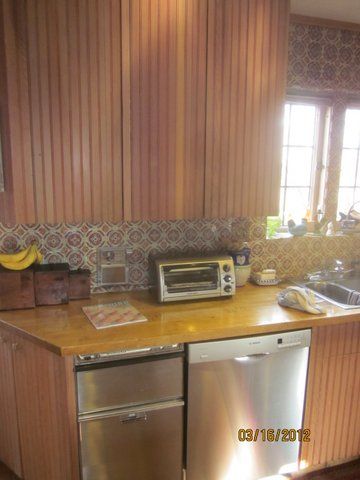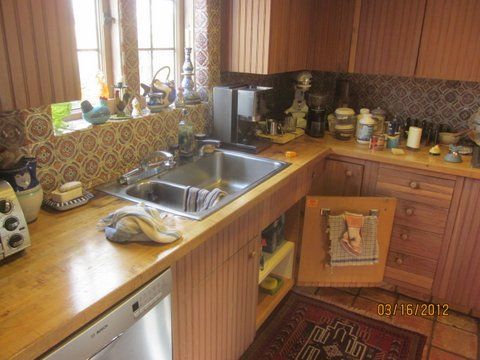 Garland range with griddle to the left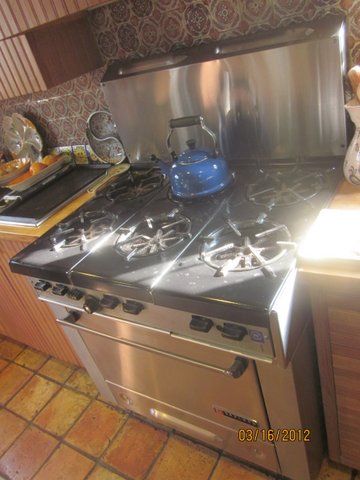 wall oven/microwave (to right of range) -- there is a window between the range and the wall oven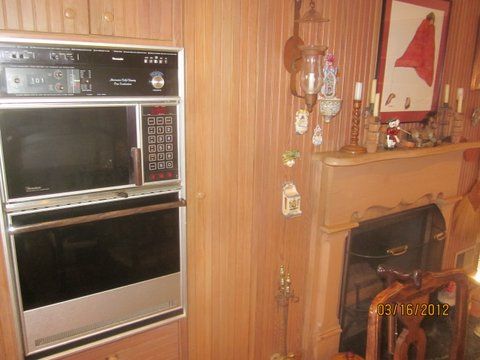 fireplace in area between kitchen and sitting room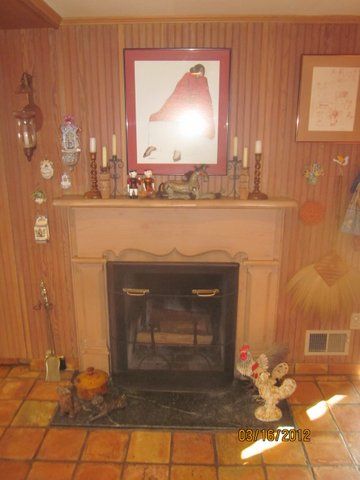 old, massive subzeros -- probably need to replace for energy efficiency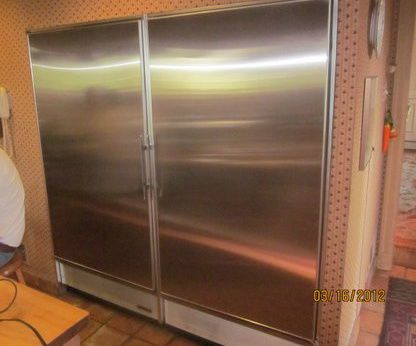 laundry room and door to outside, at far end of sitting room