How to repair broken pvc sump pump drainage pipe near sidewalk?
Greetings, I noticed after the snow cleared that my PVC pipe that the sump pump water dumps into is sheared off where it heads under the sidewalk. It is supposed to drain by gravity from the house into the street under the sidewalk through the curb. However, due to this broken area, the soil is eroded and the lawn is starting to cave in above it. The pipe is 3.5 inches outer diameter and is nearly completely offset. I have been researching repair methods such as compression fittings or repair sleeves, but each of them require several inches on each side of the pipe to slide on to. I do not have that space on the sidewalk end as you can see. Is there a fitting that can fit OUTSIDE the proximal end (closer to the house) and INSIDE the distal end (sidewalk end)? Or any other suggestion? Also, I know this is a guess, but how can the proximal pipe(the one that has fallen down) be elevated? I am assuming that we will have to unroof it and prop it up somehow so that the ends meet before any repairs are made.
Next question- who would I call to do this if we decide not to DIY it ? Handyman? Landscaper>? Plumber?
close up picture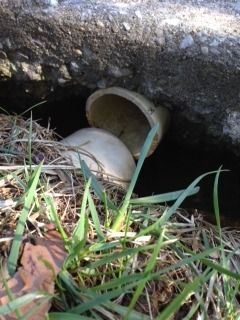 further away picture. The house is behind me.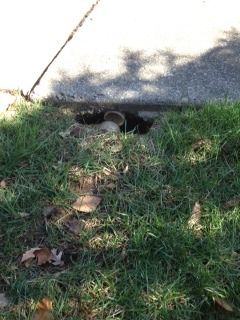 measurement picture