Uggh. Cabinets not quite what we expected...
So were 4 months into our remodel (total kitchen redo, full bath into powder room and pantry, new staircase to basement, and finishing basement with 3 new rooms and a bathroom), finally coming down the home stretch. We have to move back in from our rental place in 6 days. We were excited as the end of last week approached, because word on the street was that our cabinets would start arriving Friday. They were made by a local custom shopÂwell-regarded, used by our architect several times in the past. We chose sapele cabinets, with a clear finish, based on a sample that we have been toting around like a talisman over these last 9 months or so, using it as the basis for selection of all of the other finishes for the kitchen. This decision on the cabinets was the easiest of the entire design processÂwithin 2 minutes of being in the showroom my SO and I both gravitated to the sample sapele door, which was nearly identical to the wood sample we then took home. It was also very similar to another project I got to see that my architect had done with the same cabinetmaker, using the same wood species. We thought it would be a great complement to the brown mahogany trim throughout the rest of the house (much of it original from the 1920Âs).
I stopped by the house Friday evening to see if they had arrived, and sure enough, our kitchen, living room and dining room are now overflowing with kitchen cabinets. And theyÂre beautiful. But theyÂre not all that close in color to the sample we have. Instead of the fairly deep brown with lighter highlights that we see in our sample, theyÂre much lighter and more red/orange in color.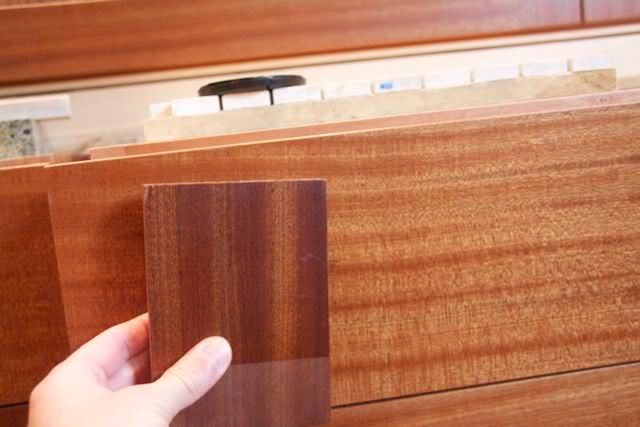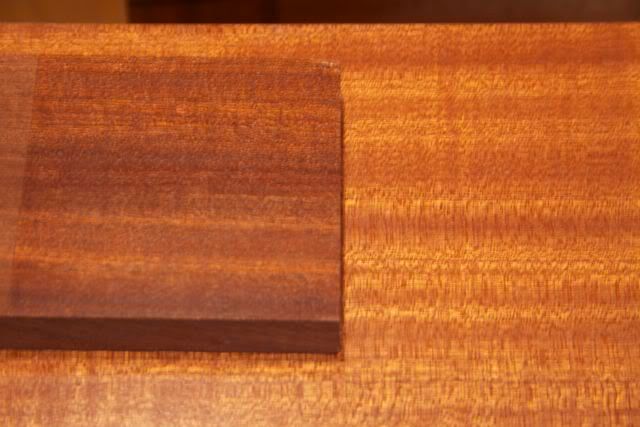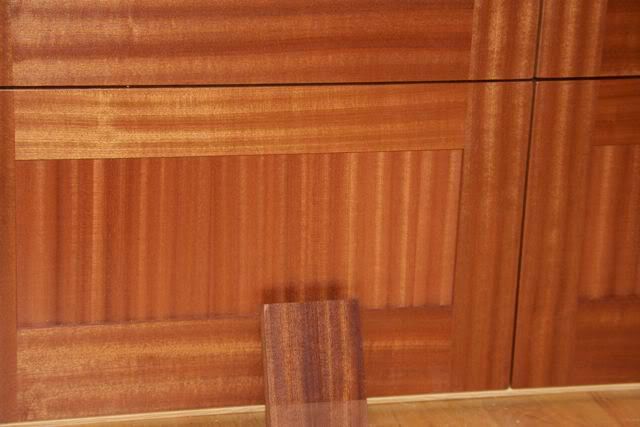 The cabs are beautiful. But not the color we were expecting. I tried not to overreactÂgot the sample to compare, went to exercise, came back, left again to meet up with SO, came back together But consistently came up with the same gut reactionÂdisappointment that it wasnÂt what we thought we were getting. Even now, after 2 days, I just looked at them again, and same reaction. Beautiful, but not what we were expecting.
We spoke to the architect Friday afternoon who came over to look at themÂand he agreed: Definitely different. We called our cabinetmaker, but it was by this point after hours on Friday evening, and they were long gone. Our architect has sent an email requesting an ASAP meeting, but we havenÂt heard back yet (it is, after all, still the weekend as IÂm writing).
So, some questions for you all:
1. We knew there would be some variation in coloration with natural wood, but is this much variation reasonable? Should the cabinetmaker have gotten some sort of approval from us after receiving the wood? (It didnÂt even occur to us or our architect that this could be necessary)
2. Is the sapele likely to darken with time?
3. Do you think staining might be an option?
Obviously, we need to communicate with the cabinetmaker, which will presumably (hopefully) happen tomorrow. However, given time constraints and what I imagine will be the cabinetmakerÂs positionÂthat natural wood coloration will varyÂI also have a hard time imagining that weÂre ultimately going to send these cabinets back to start from scratch. (we are talking about a lot of cabinetsÂitÂs a roughly 13Âx 25Â kitchen with cabs along at least 2/3 of the perimeter, a narrow 12Â long island down the middle that will be half cabs and half table top, and a separate pantry with cabs). If this is the case, and we end up with our current cabs with their current finish, I should also say that we feel like the granite we have picked (satin Sea Foam Green) doesnÂt look as good with the actual cabinets as it does with the sample. Still OK, but not great. So while we had the time to do so, we headed back to our old stomping grounds on SaturdayÂthe local stone yards-- and looked again at some other options on our short list. We think we like Brazilian Dream (a.k.a. "Van Gogh" at one of the competitor stone yards) better with the current iteration of the cabs, and reserved some slabs, just in case. Here are some pics, with one of the actual drawer fronts:
sea foam green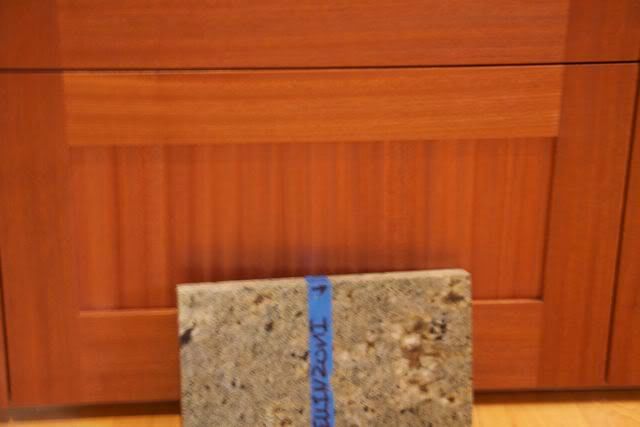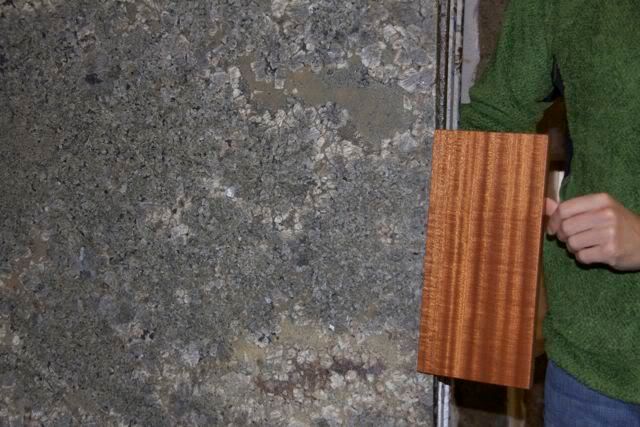 Brazilian dream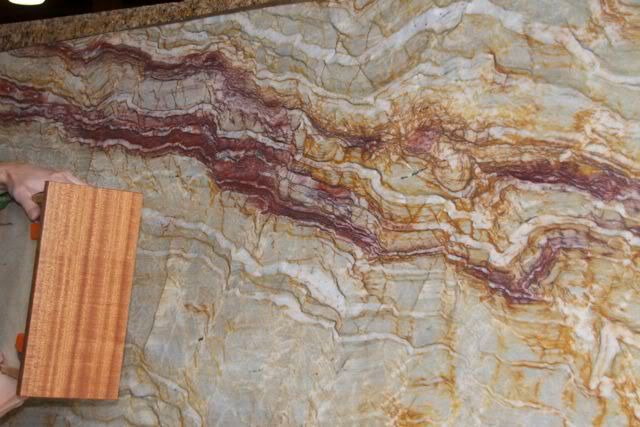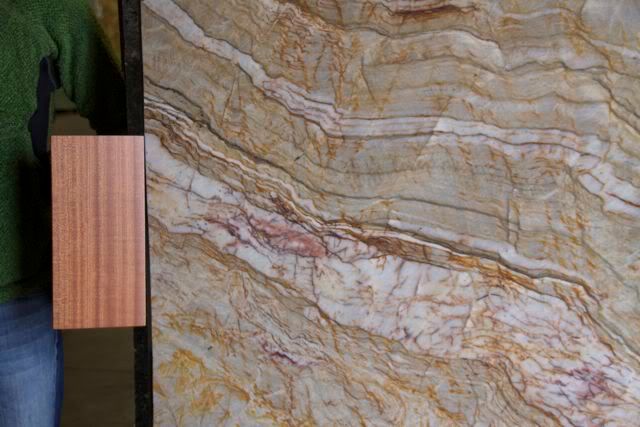 4. Are there any votes for one stone over the other? TheyÂre obviously very differentÂSea Foam Green being much more understated (especially in the satin, or "rainwash" finish) then the fairly emphatic Brazilian DreamÂbut weÂre thinking that the Brazilian Dream works better with coloration of the cabs. And I do love the movement of the BD, too.
Thanks in advance for any inputÂ