Need ideas for furnishing my living room
Hello!
I need some ideas for furnishing and decorating my living room. We are basically starting with a blank slate here.
The room is beautiful, but it has some challenges.
As you can see in the pictures, the living room is open to the foyer and the dining room. There are two story high ceilings in the living room/foyer. One wall has two story high windows, while the other is just a big empty wall. The pictures make the room look quite large, but it is surprisingly narrow in width.
We have a 9 month old and we plan to have two more children. Our plan is to change the light fixture in the dining room and make it into a play space for our kids for the next 5-10 years. This means that the living room needs to be family friendly. We want it to basically be a seating area that overlooks the play area- somewhere where the adults can be while watching the kids play. I really want it to be a warm, cozy, snuggle-up with a book kind of area.
What I want to add to the room includes:
- either a sectional or a sofa/loveseat/chair arrangement
- a fabric ottoman
- kid friendly end tables (maybe round?)
- lamps
- area rug
- some kind of art to fill the big empty wall
- maybe a plant or two
- NO tv
We need to keep in mind that we have children and dogs when choosing furniture. Also, that we put a Christmas tree up for a month out of the year- usually by the window. Paint color stays (lenox tan in living room, olive branch in dining room/ playroom).
I really need advice not just on furniture arrangement, but on ideas for colors, fabric vs leather upholstery, art, etc. Basically everything! I would say our style is transitional. We tend to play it on the safe side- not too modern.
All ideas are greatly appreciated! Thanks.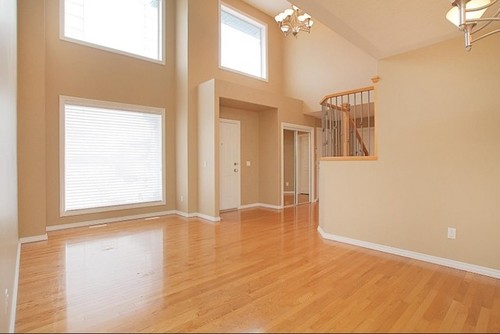 This post was edited by red.pajamas on Mon, Jun 30, 14 at 23:50