L Shape Kitchen with Island: Where do I put the sink?
Hi, all........
I decided to put a hold on my purchase plan based on Lowe's promotion and I want to get more advise before I place the cabinet order. Thanks for all the advise I got here!
See my previous post here:
http://ths.gardenweb.com/forums/load/kitchbath/msg0414545925884.html?20
In the new design, I switched the sink/dishwasher from the island to the L perimeter: compromised the view(facing bark yard when place sink on island) to get a complete surface on the island, and enough storage(two 24'' drawer base and a 36'' door base with two roll-out-tray) in the island base.
What is better for resell? A beverage fridge by the sink or a second dishwasher?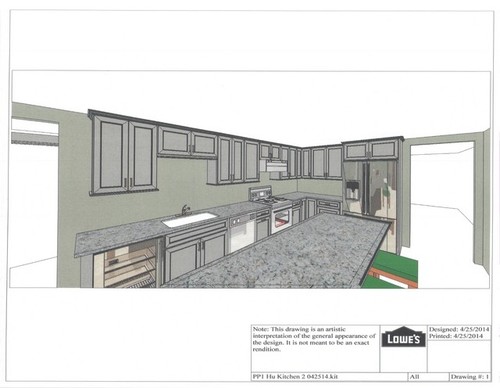 This post was edited by wamot on Fri, Apr 25, 14 at 22:13