Help - started kitch. remodel and duct work is in the way
We started our remodel only to realize there is serious duct work is where the fridge is supposed to go. Recognizing the contractor should've known this was an issue (because you could see the pipes through the hole we cut in the drywall), we are still stuck with how to move forward. I'm hoping some of you knowledgeable folks will have a solution I've missed!
The duct work in question is the large steel "pipe" for the air return for the entire house, the gas exhaust to the roof, and the main air duct for air to the upstairs of the house. All of these are in the center of the house, and surrounded by boards that are load baring.
I've attached the layout plan, and a photo that shows the problem. The W/D stack should be on the far right where the Dryer is now, covered by pantry doors. The plan was that the fridge would be where the washer is now (so I assumed it would fit fine.) The issue is that the over-fridge cabinets need to mount to a wall so there is a small wall between the fridge and W/D. This causes the fridge to shift to the left...in front of the air ducts.
The other issue is that if the W/D stack is boxed in by cabinetry, it will be impossible to get to the back for hook-ups or shut offs. Ideally there would be enough room in the cabinet to relocate the shutoffs to the side and allow room to wiggle the W/D, but that will push the fridge even further over.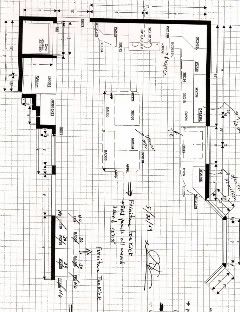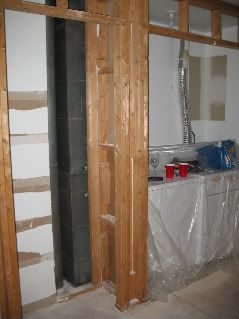 Suggestions from the contractor so far:
1. Relocate the W/D to the basement. (Basement is already finished and I really like the laundry in the living space)
2. Reduce the size of the duct to the upstairs to buy more room. This concerns me as the air output upstairs is already low.
3. Cut an access panel in the wall behind the W/D so you can get to the hook-up/shut off from another room. (This proposed panel would be in my LR... right above the couch but under the mirror.)
Any thoughts? There must be a solution here... right?
Tara