Pics heavy Sno~Globe & Crab 9Patch Pizazz Quilts
magothyrivergirl
December 11, 2011
They are finally finished! You must be sick of hearing about them as well:) They will be sent this week.
My brother - who is insanely jealous that I made quilts for my sister's grandkids - told me about an hour ago, that he will be putting in his order for me to make a Graduation quilt for his daughter - the Sno~Globe quilt is for her!!!!
The Crab quilt is for his family. He still has and uses a huge fake fur bedspread I made for him when we were teenagers! And he tells me all the time that I need to replace it now that I quilt! They are going to be so surprised!
Our weather hasn't been great for pictures - windy and overcast - these are the best I could get.
The backing - the black is what I fussy cut the sno~globes out of:
9 Patch Pizazz Crab Feast
I quilted crabs freehand
The back is newsprint of vintage car ads - one of these my brother owned.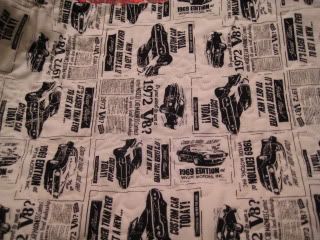 We serve our crabs on newspaper, so the entire quilt represents our traditional Blue crabbing industry and crab feasts.