Bathroom redesign - urgent!
We are in the midst of a new build. One of the first decisions I had made was to copy PPS7's awesome bathroom as I saw on here.
He/she used American Olean Catarina faux carrara marble tiles, carrara marble counter, espresso vanities, and RH Cartwright medicine cabs.
Well, the espresso vanities were ordered on Friday, the medicine cabs are framed in, and the counters are just awaiting me going to choose the slab. But the AO Catarina tile is indefinitely unavailable. Both of the tile stores I'm working with say that they are showing me everything they have in honed Carrara-look, but they are a lot more pricey and a lot more ugly IMO.
So I'm back at square one. An entire bathroom of real Carrara is out of my price range.
Would it look silly to use a teak-look porcelain tile on the bathroom floor and Carrara marble subways in the shower? If I do this, should I try to change my vanity order to white painted vanities?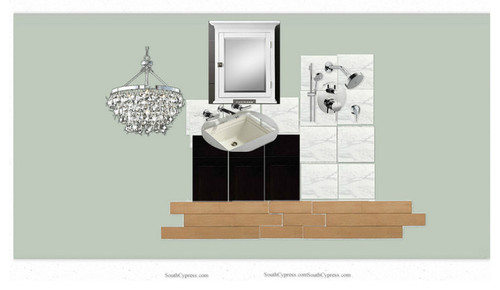 Here is a link that might be useful: pps7 bathroom