Finally getting to update my 1942 kitchen - WWYD?
minnesotamama
April 24, 2014
Hi, I've been a lurker around GW for the last couple years but this is my first time posting.
I'm so excited, because my husband and I are embarking on our biggest project to-date since buying our home 3 years ago - we are finally updating our 1942 kitchen (photos and links below)! The appeal for us was that the house was spacious (for a city house - we're in Minneapolis) but not updated so that we could buy it at a very affordable price and then update it to our liking over the years.
After living with minimal cabinet space, a portable dishwasher, and linoleum so old that it's peeling and cracking, I am so ready for a beautiful new(ish) kitchen!
We have hired a design/build firm that we've worked with before on smaller projects and have the plans drawn up but we are still in early stages so I'd love any suggestions or words of wisdom. Our hope is to make our small, old kitchen more functional for a modern family (we have an 8 month old and hope to have another child in the next couple years).
Here's what we've got planned, so far:
-Open up wall between dining room and kitchen (will recreate archway to match those in entryway and between LR and DR)
-Add peninsula where broom closet is currently, with room for two stools
-New granite (likely black honed) countertops
-Paint or refurbish and stain existing cabinetry, and have custom cabinets built on the opposite wall, including a pull-out pantry (I'm doing a ton of research on white vs. wood grain, so hard to decide...)
-Lay hardwood floor to match the flooring in the rest of the house
-New appliances, install dishwasher and pull-out trash/recycling to right of sink and use the displaced lower cabinetry to build out a custom cabinet in the bay window where portable dishwasher currently sits.
-Sand, repair and paint windows white (we will get new windows in the future when we can afford it)
-Lots and lots of work to bring electrical and plumbing to code (check out that outlet right by the sink!!)
We're still young, so I'm not sure if this is our forever home...but we do plan to be here for the foreseeable future and will probably raise our kids here.
So....what would you do? I would love some suggestions!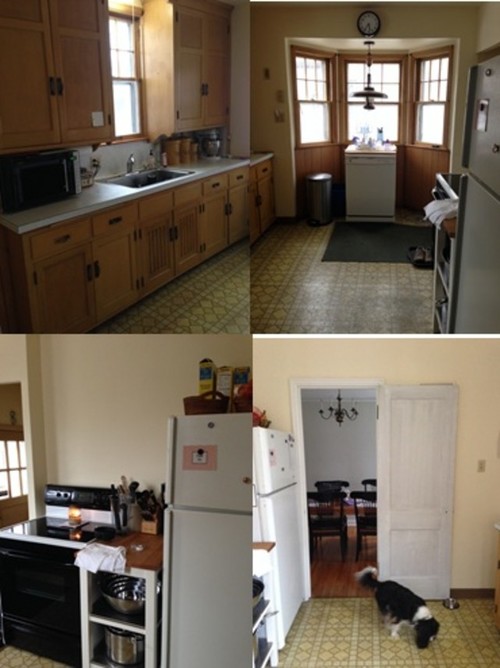 Here is a link that might be useful: Photos and floorplans
This post was edited by minnesotamama on Thu, Apr 24, 14 at 22:19