Things I got done over Thanksgiving weekend
jennifer_in_va
November 27, 2011
Well, you know I work in spurts. These are the items I've been able to accomplish this weekend...
The big girls have new red dresses for the holidays, so I decided to make one for the baby...
My niece is almost a year old, so I made her this taggie quilt and some puzzle balls for Christmas. The puzzle balls are the Jinny Beyer patterns. I have the templates but not the book. (Some of the templates I can't figure out how they go together, but these work!)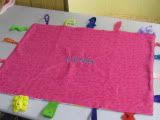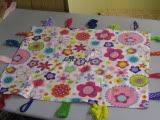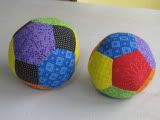 And, in my guild we do charity quilts. The coordinators have decided to hand this teddy bear around to a 'winner' each month. Not sure what the criteria for getting it is, but I got is last meeting. (I turned in a bunch of the quilts from Retreat where I repurposed/put together recycled blocks.) When they gave him to me, they said I could add to his outfit... I added the mini-block pin. It's the same pattern as our guild name badges.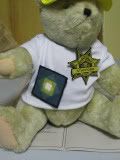 That's it for now...not sure what's next. Gotta stay on my roll, though