Exterior Remodel Ideas?
numbersjunkie
August 30, 2013
I am planning a kitchen renovation and thinking that MAYBE I should do a small addition or bump out in the front of my house at the same time. I have 2 primary goals - one is to correct a problematic entry door and the other is just to improve upon the curb appeal of the house. It's a lake house/vacation home but certainly doesn't look like one. I hate all the dark brick (lots of brown) and the house is just ugly from the road side. The road side is actually supposed to be the back of the house based on the interior layout.
The entry door is a problem because it cuts into the MAIN counter run of my kitchen. That main counter run is only 13 ft to begin with. From the outside, the door sits smack in the corner. You can't see it on the picture because its on the side wall. Looks stupid. Also there is only a small roof overhang there and the gutters leak in the corner right onto whoever is standing at the door (we have tried to fix that but it still drips),
So I am asking for suggestions that might solve these issues. I have a few ideas but I really want to see what you can suggest.
BTW, I have a thread on the kitchen forum that shows the interior layout of the kitchen section. I also have a post asking about a cantilever addition.
Also, the deck is in bad shape and I would like to remove it or reduce the size. Its just wasted space, the only good thing about it is that it makes the windows easy to clean.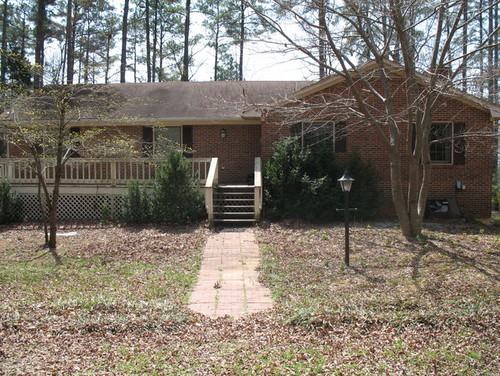 Here is a link that might be useful: Kitchen design thread