Reveal of our smallish white and gray kitchen
I've been hanging out here for a few months and have learned a lot. Plus I always love seeing what other folks have done and I adore the pictures of newly renovated kitchens. We are now done with our remodel so I thought I'd return the favor! Here goes.
The old kitchen had a bunch of issues: not enough storage or countertop space, no ventilation, peeling paint on the cabinets, hideous vinyl floor, and stained butcher block countertops.
Here's the old kitchen: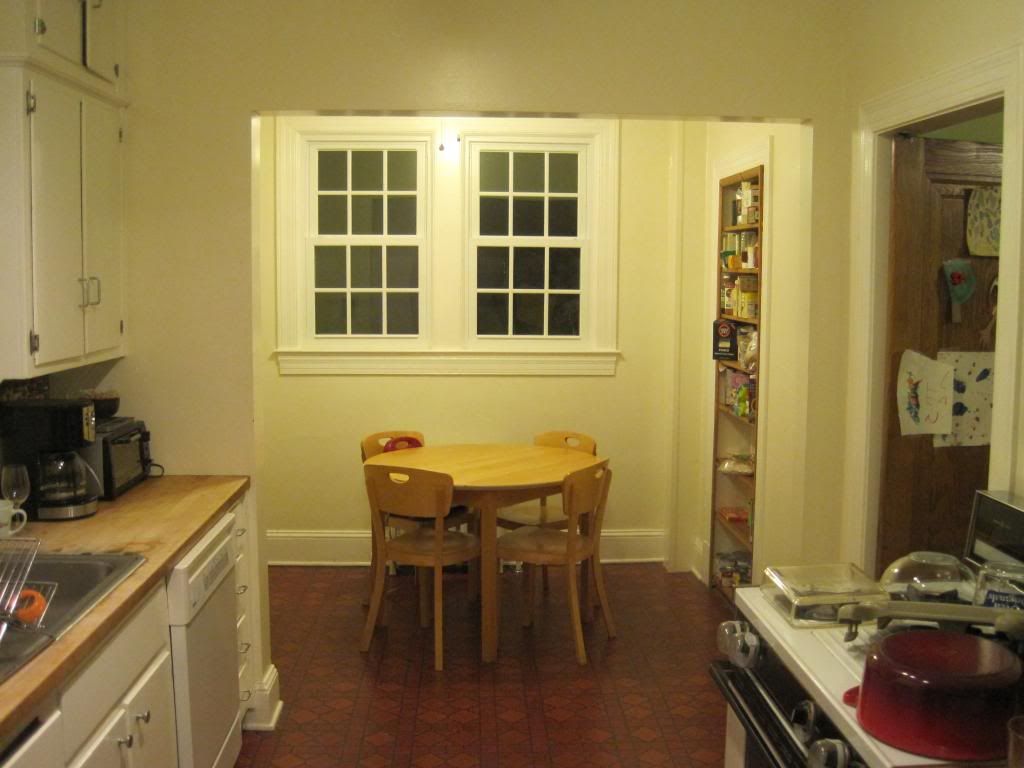 There was a bunch of unused space in the eating area--we stuck our microwave and recycling bins in this area: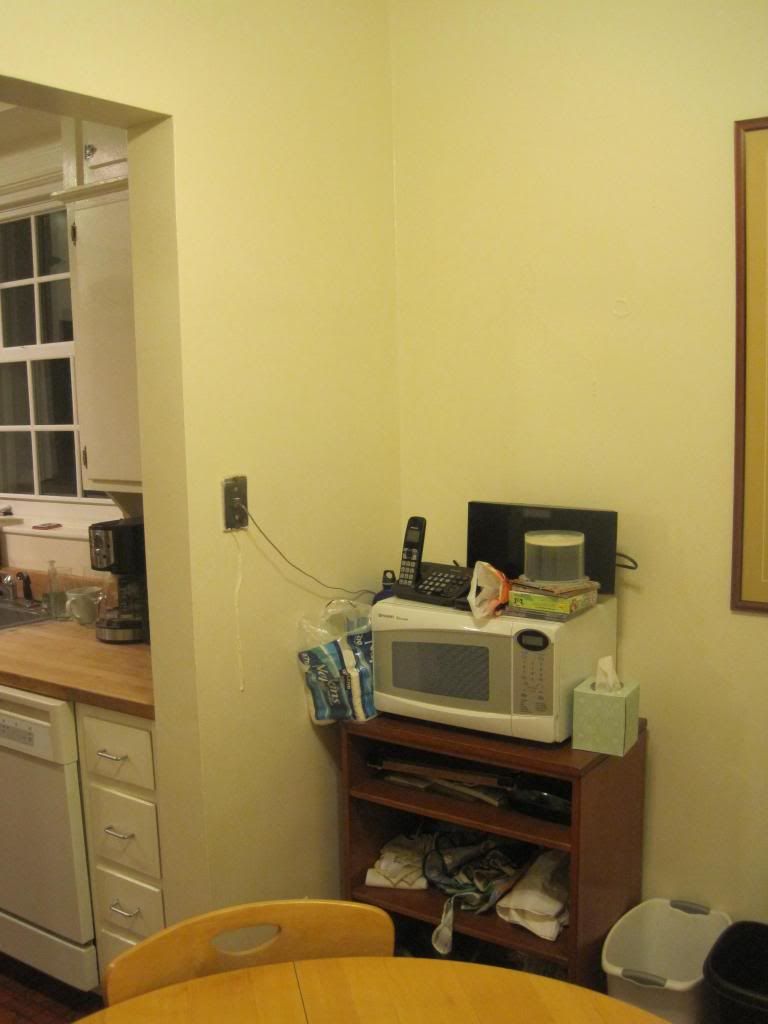 Although the old kitchen had a number of issues,we found the layout to be reasonably functional (given the constraints of the house--it's a 1935 brick colonial with a 1970's-era addition on the back). We did not have the budget or the patience for a major remodel that would involve an addition and/or moving walls around, and we generally like the layout of the rest of the house. So we decided to keep the basic floorplan while replacing everything and making some changes around the edges. We added shallow lower cabinets and a strip of countertop to the wasted space in the eating area, with open shelving above. We added an externally vented hood and switched to a wood floor that matches the rest of the flooring on the first floor of the house. We went with two big lower drawers instead of cabinets for pot and pan storage. Here are some pictures of the new kitchen--I'll list all the details at the end.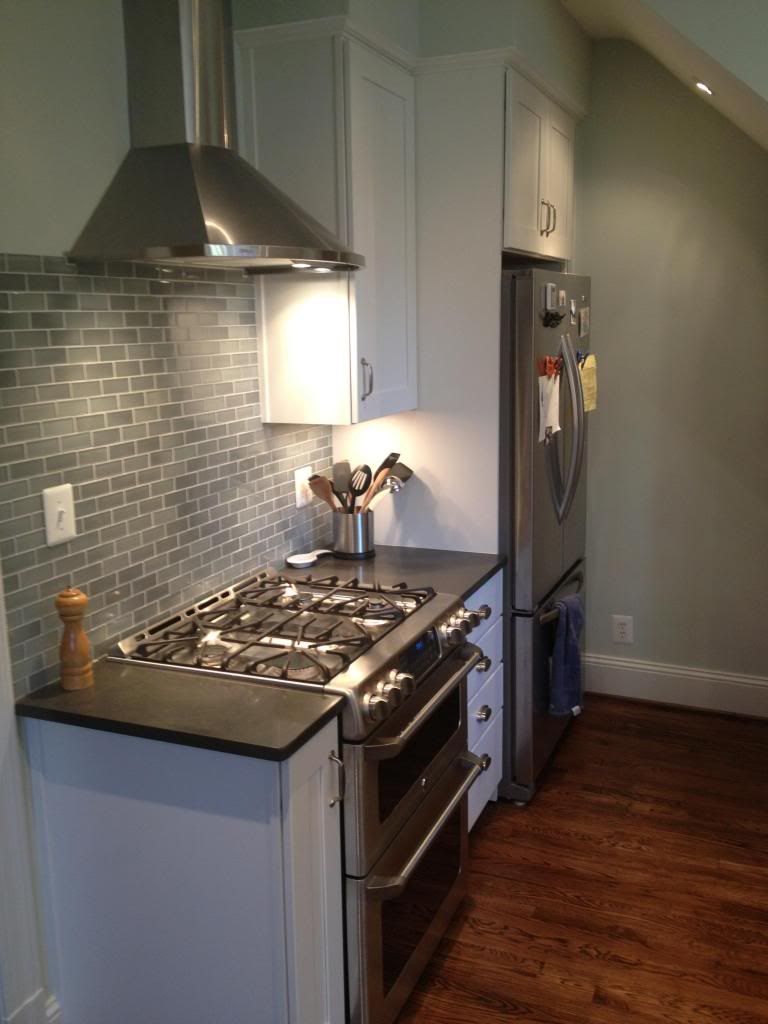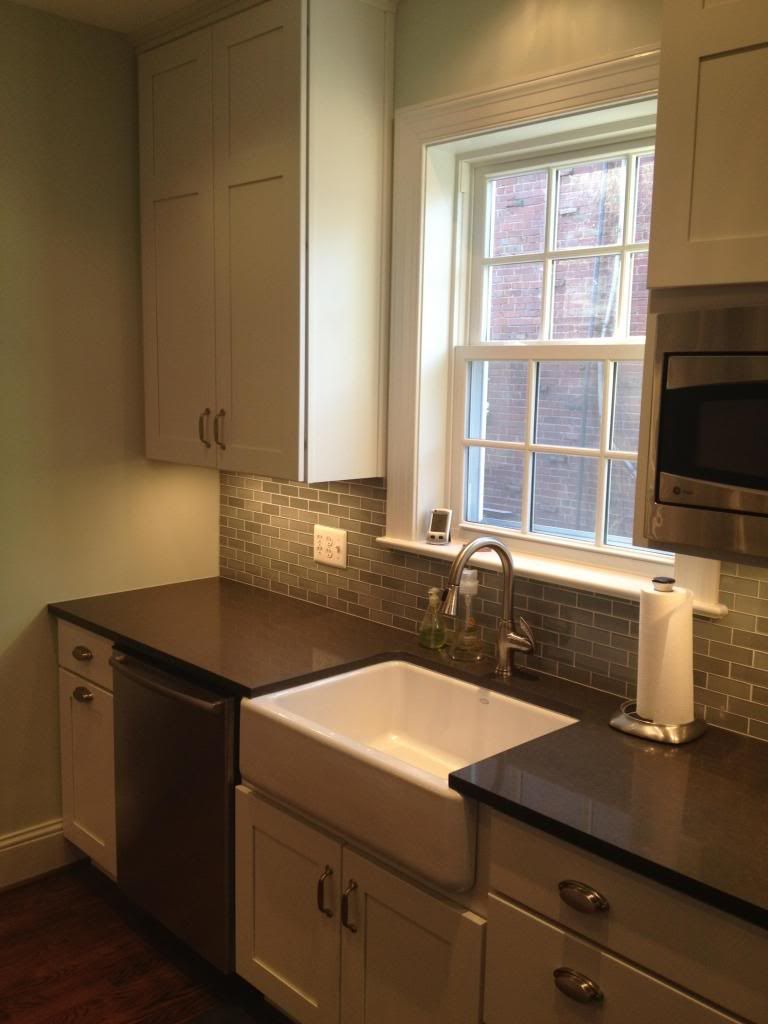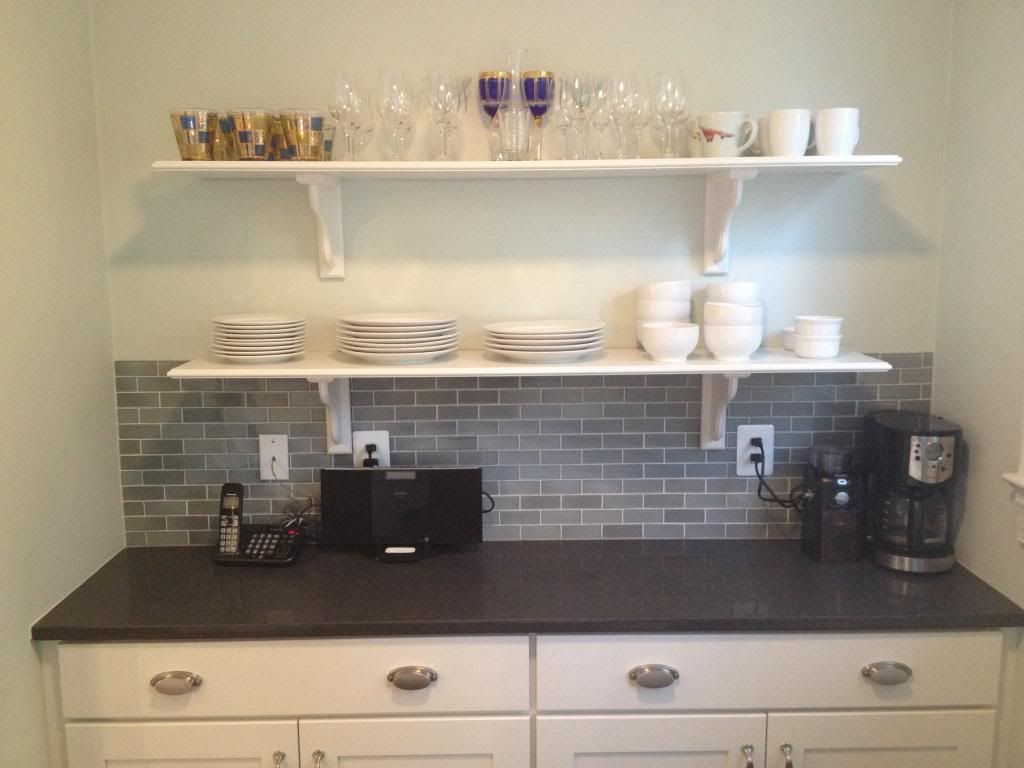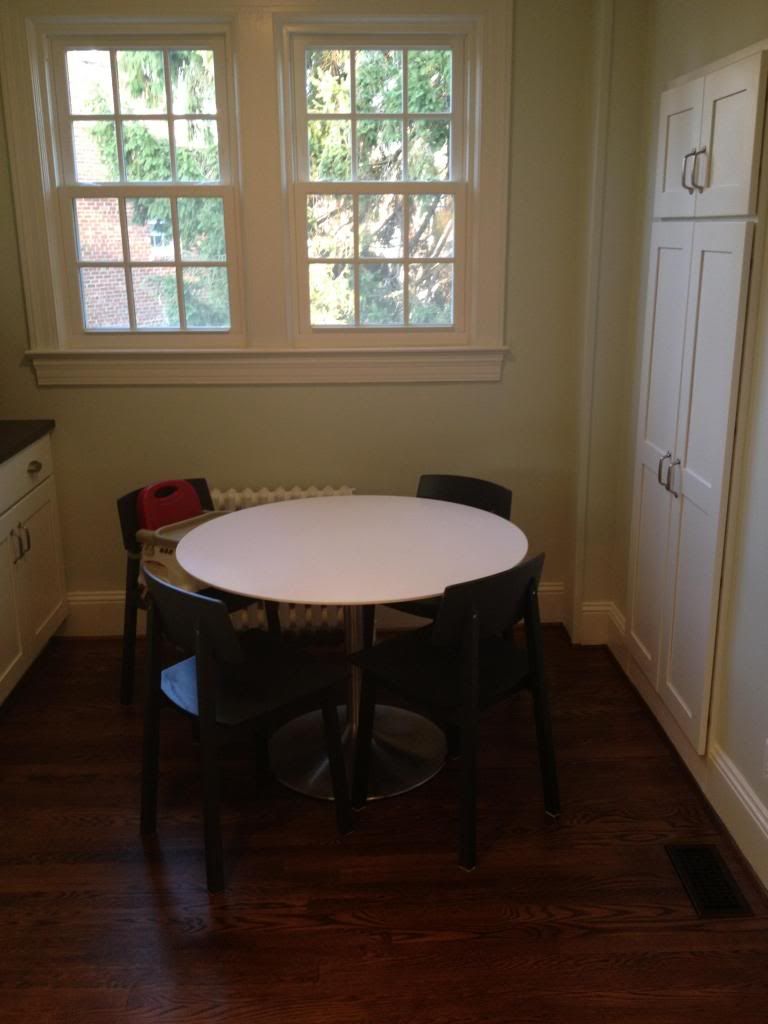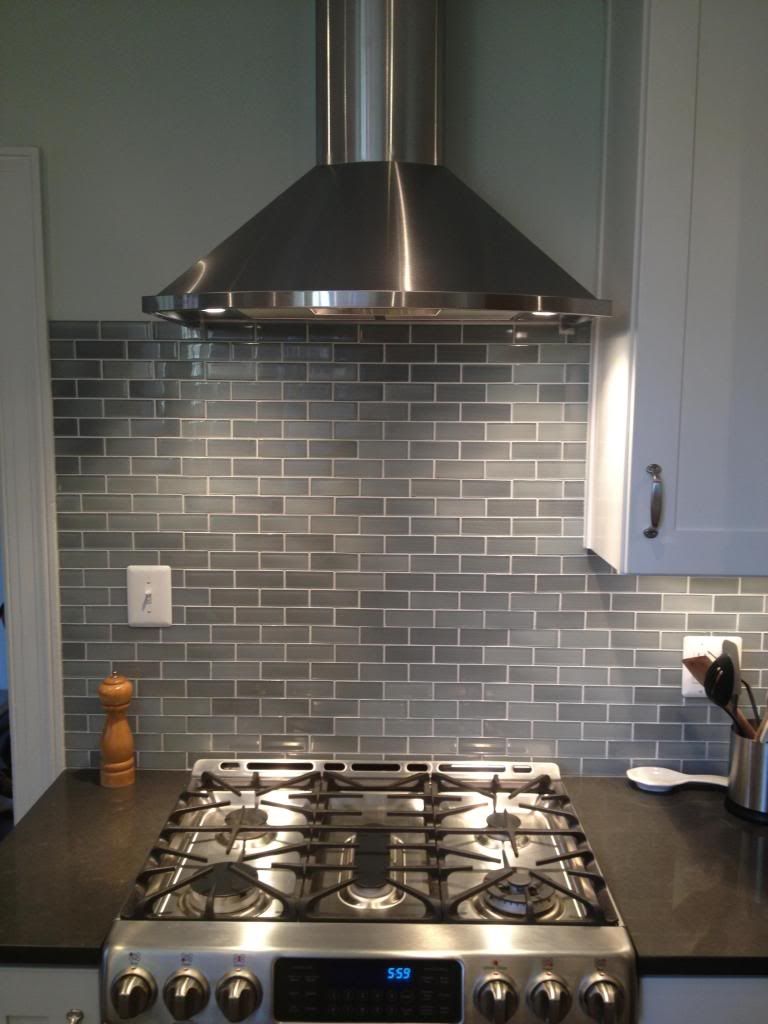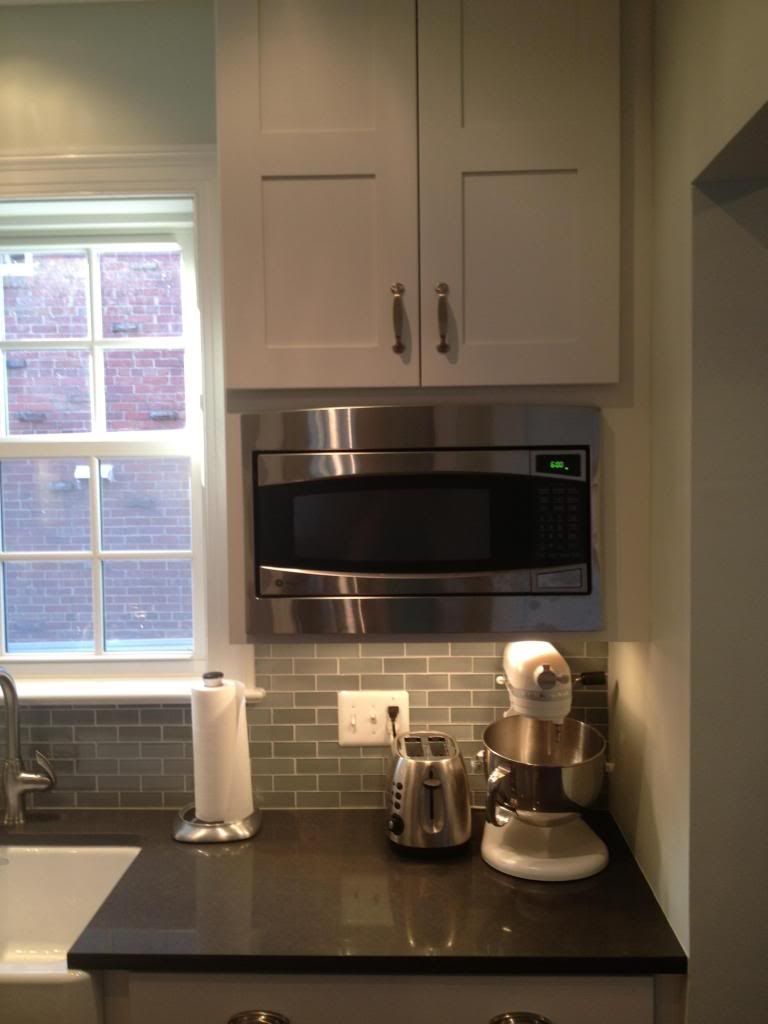 Counters: Caesarstone Raven
Floors: oak stained to match the rest of the first floor
Cabinets: local custom shaker cabs in "frosty white"
Hardware: Top Knobs
Sink: Kohler Whitehaven
Faucet: Delta Allora
Backsplash: Solistone Mardi Gras in Carollton
Range: GE Cafe gas with double oven
Dishwasher: Bosch SHX33RL5UC
Refrigerator: Kitchen Aid Counter Depth French Door
Hood: Zephyr Savona 30"
Microwave: GE Profile with trim kit
Paint: Martha Stewart Spring Melt
Table: Room and Board Aria in white
Chairs: Ikea Sigurd in dark gray
We are very happy with the end result. I'm particularly pleased with how all the colors came together. We LOVE the new backsplash. I had seen a few pictures online of how the tile looked installed, but it's hard to envision in your own space with just a single sample tile. The tile is a greenish gray that varies depending on how the light hits it. It's actually uniform in color, but it appears variegated because of the light effect. It has a little bit of shimmer but isn't too showy. I had originally thought we would go for gray paint on the walls, but our dining room is painted green so I started looking at grays with some green in them, and we ultimately ended up with paint that is green with a gray overtone (Spring Melt from Martha Stewart at Home Depot). The pictures don't do it justice, but it coordinates really well with the backsplash and I find it really soothing. I also really love our new hood--going from no ventilation to this is a huge improvement! The Zephyr Savona is a chimney-style hood but it has a rounded edge that makes it a little sleeker looking.
Based on everything I've learned over the last few months it seems like a lot of what we did is right in line with current trends (quartz counters, white cabinets, some open shelving, farmhouse sink), but we love it so I'm not too concerned about it looking dated in a few years. Plus we are planning to stay in this house for years to come, so no worries about resale.
Let me know if you have any questions. I benefited so much from seeing and hearing about others' decisions--would be happy to help if I can!