How should I 'remake' this hall chest?
I' m currently redecorating my entryway and have been on the hunt for a cute little piece for my entryway. Today I bought a bombe-esque chest with perfect dimensions but the colors are wrong; it's 2 toned, a teal top and drawer fronts with red-brown sides and trim. My wall color is BM Wickham Grey and my stair runner is a tan jute looking rug. My husband also installed a casual kind of wainscoting along the stairwell (pic included). I'm thinking black would look sharp but don't know if I should go for a distressed flat look, or glossy....or maybe keep the reddish sides for interest. I'm also awaiting multiple carpet samples for an entryway rug which'll have an impact on my decision as well. I can "see" a small crystal vase with white hydrangea stems atop the chest and maybe a mother of pearl framed mirror hanging above- casual yet still elegant. The room to the left is mt LR (pictured in the botanical print thread below)
Any suggestions ? Or should I just hold off until I pick my entryway rug?
Here's the chest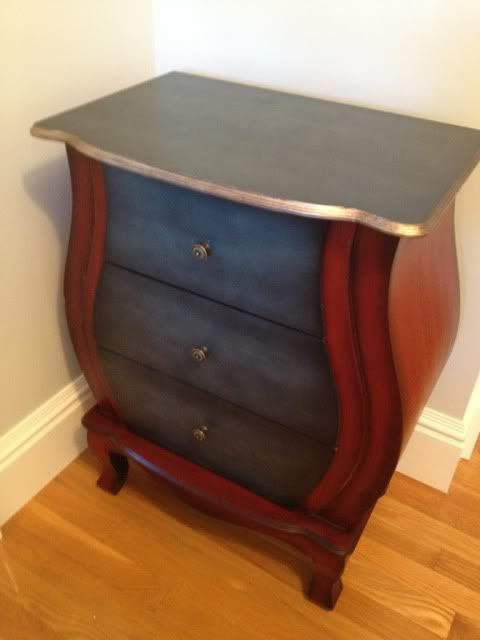 And the stairwell