Cherry and SS Remodel
Hello, All. We finished our remodel in November and I am just now figuring out how to use Photobucket and how to post the pictures. I hope this works! As most everyone says and MEANS, I am eternally grateful for all the help on this forum and sad to say, I've forgotten specific names apart from Angie DIY who was very patient with my myriad questions concerning cabinets. I was hoping to end up with a rather plain-looking kitchen without frills, to make cleaning easier. I'm also not much of a decorator so excuse the lack of fun color.
This is our third try at expanding our kitchen (by 5+ feet out the front,) the first two coming at inopportune times. In hindsight, that was a good thing as it gave me more time to have a better plan in order. We had hoped to use our neighbor's contractor who works on time and materials but when the time came, he was not available so we went with our #2 choice. For the most part we feel quite lucky to have had him do the work as he is honest, reliable and excellent at replying to any and all of my questions in a timely manner. He also has two delightful Australian shepherds who gad about with him. :) His crew was wonderful all the way through, and I rather miss those fellas. My only disappointments were in trying to get the contractor to understand we needed to see on paper the order in which work would be done, and to give me enough decision lead time on factors I hadn't anticipated or decided on yet--paint colors, anyone??? All but one of his sub-contractors were great; the painters, not as much.
Our old kitchen was mostly original, with perhaps a refacing of the cabinets done in the 80's or 90's. The house is a ranch style, built in 1951. The 4-doorway kitchen was small and had an eating area at the far end. It was difficult to have more than one cook at a time in the small space, the refrigerator pushed several inches into the doorway, and I prepped on 12 inches of tile next to the electric stove. I'm still mourning my little-bit-of-a-porch that I used to keep pots o' plants upon and am currently working on the new garden space outside of the kitchen; no money for a new porch. :( Well, I could go on and on about the process which was a first for us, but now I'll cross my fingers and hope the pictures post.
Countertop: Belvedere Soapstone from M. Teixeira in SF
Love it, though I wish I'd oil more often.
Backsplash: White square tile, with two accent rows of
"Stained Glass" 2x2's from Bullnose Tile in
San Jose
I wish I'd gone with a slightly more creamy white
and another row or two of blue, which I love.
Cabinets: Custom frameless, formaldehyde-free cherry with
slab doors; maple cab and drawer boxes,
dovetailed, with natural finish
My favorite element of all! Loved, loved the cab
guy who bent over backward to make us happy
and is still doing so after my little water mishap
this week. VERY fortunate to have found him.
Sink: Kohler Bakersfield cast iron single
This sink gets the grey marks so easily--maybe I should
have sprung for a fireclay.
Faucet: Watermark two-handle
The first one installed leaked and had to be sent back.
Belmont Hardware was good about the exchange. So
far, so good on the new faucet.
Rangetop: Bluestar Rangetop, 36-inch, 6 Burner
Never cooked with gas before, getting used to but
like it very much. One ignitor is on the fritz which
we have to figure out.
Oven: Wolf E-Series single
Works great
Micro/SO: GE Profile Advantium 240V
I swore I wouldn't buy GE again, but I've got to
say I do like it, both as a micro and extra (speed)
oven. Let's hope it lasts!
Hood: Trade-Wind 42-inch 1266cfm liner, blower and silencer
This is another one of my favorite things--thanks to you,
Trailrunner! I can't believe how well it handles our high-
heat sauteeing, etc.
Refrigerator: Kitchen-Aid counter-depth 36-inch French Door
(Don't tell Antss) I like it fine and hope it lasts.
Still don't think they should charge a grand more
for cd!
Dishwasher: Miele low-end model from 4 years ago
It works well and I didn't mind that it's black rather
than ss
Lighting: Rejuvenation Lombard orb flushmount and the
pendant over the table is from Murray Feiss
(Amazon)
Saleswoman at Rejuvenation was wonderful!
Flooring: Marmoleum (Forbo Fresco) Green Wellness
Dh gave in on the color but I love it--very soothing.
No hardwood due to my messy style of cooking and
it's a good thing since I tried to flood the kitchen last
week. No edges came up! I got this from and had it
installed by Conklin Bros. in San Jose.
Old Kitchen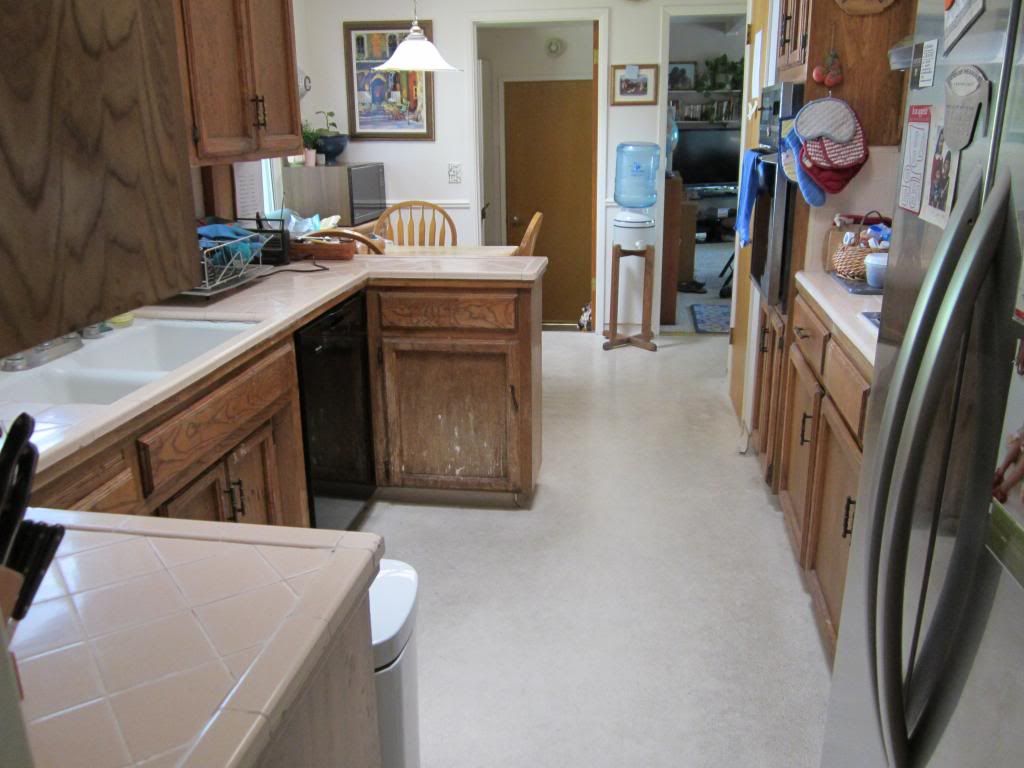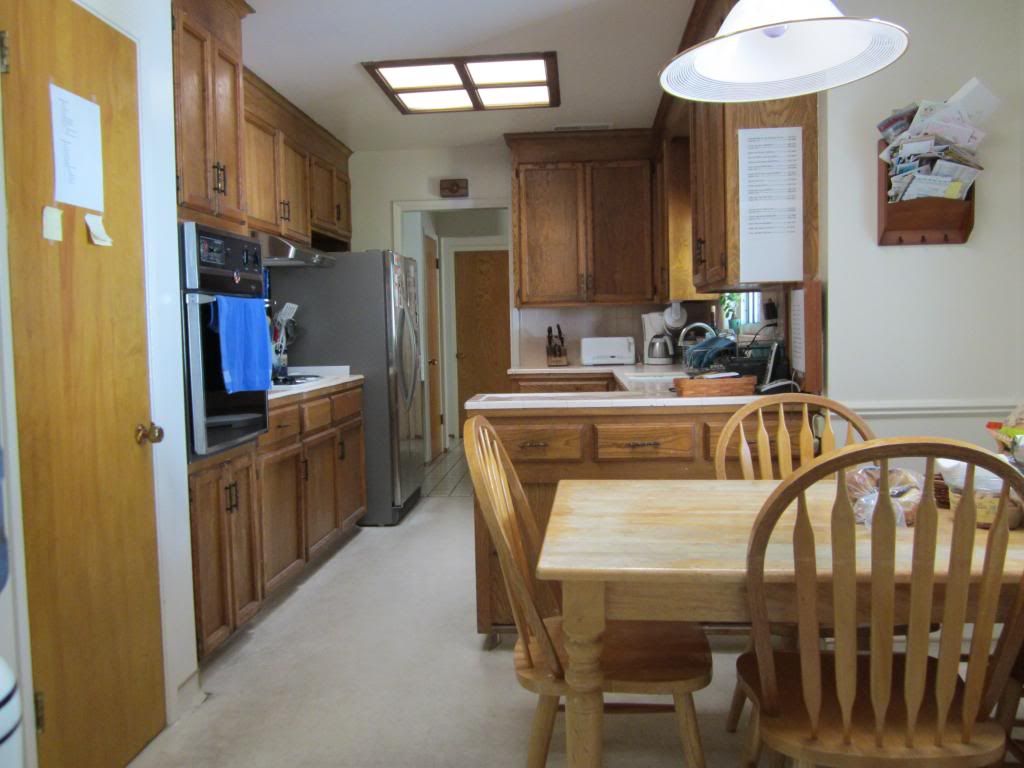 New and Improved Kitchen!