Should we change our lot lines?
weedyacres
November 29, 2011
We own a house on a 3.5 acre lot and the neighboring 3.5 acre lot. We're going to be selling at some time in the near future. There are 2 possible scenarios:
1. The buyer of the house wants both lots.
2. The buyer of the house wants just one lot, and we'll sell the spare lot separately.
I have no idea which scenario is more likely. The buyer might really not want a neighbor that "close", or they might say "no way" to keeping an extra few acres mowed. It could go either way. We know that the way to maximize our proceeds is to sell the spare lot at a buildable lot price, not an "extra acreage" price, and that's what we intend to do. We may discount it 10% or so for a combination purchase, but not 50-60%.
Our neighbor the next house over would like to keep the land empty, but they were unwilling to pay buildable lot price for it. They would likely be willing to split the lot with the future buyer of our home, and thus keep it unbuildable forever.
The spare lot is currently for sale, BTW (sign out front) and I get a couple calls a month on it. 1-1.5 acre lots on the same street/lake have sold for $72-78K in the past year; we're asking $85K for our 3.5 acres.
Here's an aerial view of our lots. Lot A has the house, Lot B is the spare one.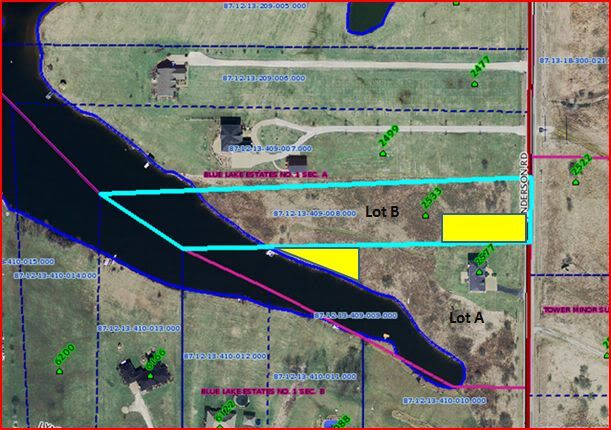 As you can see, Lot A is triangle shaped and has ~1500 feet of lakefront. Lot B is a rectangle 150 feet wide and ~1000 feet long, with ~250 feet of lakefront.
We are considering making the spare lot more desirable for a potential build by changing the lot lines to increase the lakefront footage of Lot B in exchange for some "near the house" yard for Lot A, as approximated by the yellow shapes above. The land is pretty flat near the road, and has a gradual slope toward the lake. The swap would increase the options for building a house with a walkout basement on Lot B.
Should we do it?