Furniture Peeps--Do you know what this is?
beekeeperswife
June 24, 2013
I thought I posted an update to my trip to the South, but I must never have hit submit. Currently in Greenville today. Went to a couple of consignment stores. One carried very high end stuff.
I am sure I can make this work somewhere in my house. I'm more curious as to if anyone knows who made this, or anything about it. All I know is what the very Southern lady told me.... "Oh, that came out of _____(insert unknown million dollar house filled community here") I know she paid A LOT for it..."
It is at a consignment shop right now for about $300. It needs to have a new cushion made, the one on it is totally not my taste.
I'm considering painting it too. (not the silver)
It is some sort of bamboo or rattan, with silver duck heads, silver feet, and a silver palm (?) design in the back.
The caning is double sided (meaning there is caning on both the back and the front with a space between the 2)
I'm not sure if it would end up in my bedroom's sitting area, or in that room with the bright rug and green chair.
So, what do you think? (photos do not do this piece justice, btw)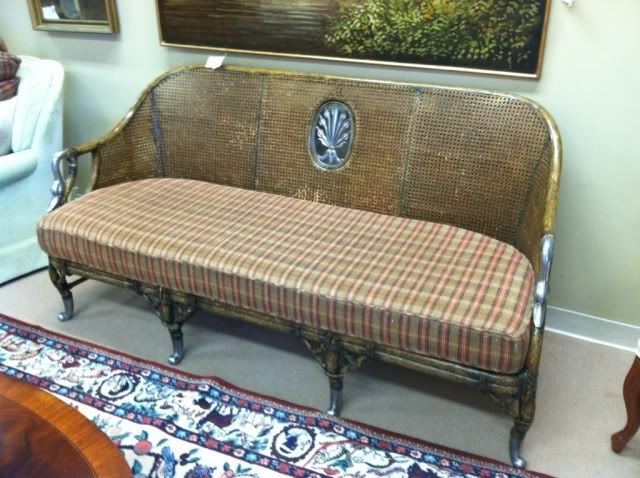 Duck arm up close & sideways ;-)