Need design help on laundry/office addition
We're demolishing this little shack of a laundry room and building a larger one with a proper foundation and structure.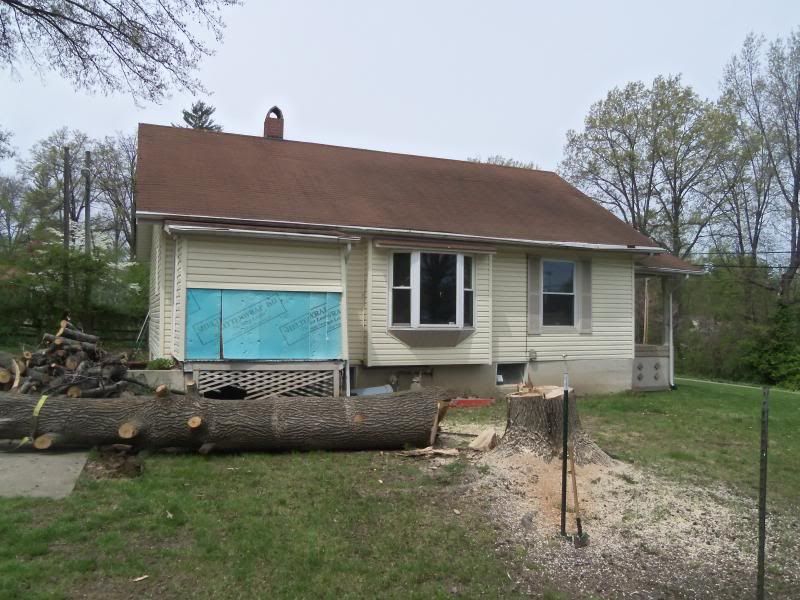 Here's the general plan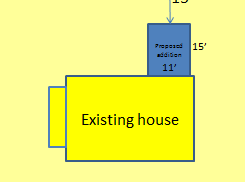 And an elevation with the general idea of wall/roof interface (ignore windows; I pulled this off the internet).

Finally, here's the tentative layout.

Background on the house/us/our needs:
We're an empty nester couple, this house is a scant 920 sf with a low-overhead basement, 2 bed/1 bath, built in 1920. We bought it for next to nothing and are DIY renovating it. It's a modest worker's cottage and when completely fixed up will only be worth around $60K, so this whole project is low budget (but decent quality).
We downsized from 4000 sf, and we've gotten rid of a lot of our crap, but we are still working on the challenge of seeing if we can properly fit into this tiny space.
There is currently a 5x6 laundry room that's shoddily built. While we're doing it properly, we're making it bigger. We want the space to house laundry room and office so that we can use 1 bedroom for sleeping and 1 for a closet. We could also use a 2nd toilet in the house. And we have a chest freezer and a chest built by Mr. Weedy's grandfather that need a place. So we've dumped all that into this space.
My design questions:
1. Any general layout feedback?
2. The rest of the house has 8'6" ceilings. Should we match that in this room?
3. The adjoining room is a kitchen, and it has subfloor + hardwood + underlayment + sheet vinyl (tried and failed to make the hardwood pretty). This room will have the same sheet vinyl. Should we build so the addition's subfloor is even with the kitchen's subfloor or with the kitchen's hardwood? The former seems more "proper" but the latter would mean no need for a 2nd layer of plywood to bring the level up.
4. Windows: 2 in the back (facing south), and one planned over the washer/dryer facing the front of the house. It won't be centered...is that ok? And should we also have a window in the powder room or will that look funny?
5. For the passage between kitchen and laundry, should we put a door or just case it out and leave it an open doorway?
Thanks for any and all input.