LOTTO - October 2013
toolgranny
October 1, 2013
This month think PINK. Those of you with a little girl in your life will realize that if you win these blocks you could have a pink quilt together for Christmas. And, if you don't have a little girl in mind, this being Breast Cancer Awareness month, you could also create a wonderful quilt for the next fund-raising raffle.
In any case, this is a very simple block made in three values of pink. You'll notice from the samples that having a distinct dark and light makes a great difference.
Our block is Lover's Knot, link below. All the usual lotto guidelines still apply.
1. with your blocks include name, mailing address, forum name and $1 to cover postage for the winning blocks.
2. if possible, either attach your name to the back of each block or write your name in the seam allowance with a fabric pen so the winner knows who made the block (this is not a requirement, just a request)
3. all blocks received by the last day of the month will be included in the lotto drawing
4. you will have 1, 2 or 3 chances to win, depending on how many blocks you've sent in.
Blocks are mailed to Valarie who will arrange the drawing at the end of the month. If you need her address, find her "ittlehelen" name on a previous lotto and send her (or me) a msg.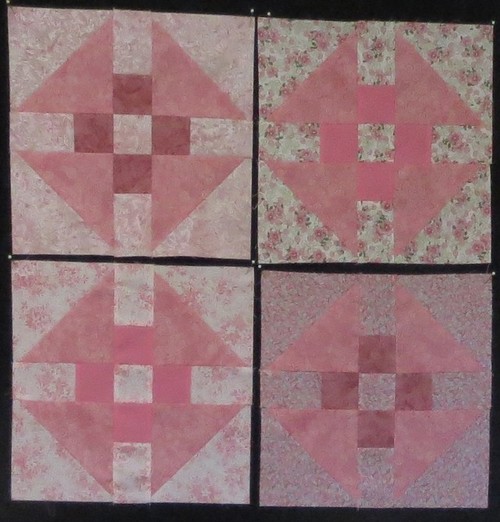 Here is a link that might be useful: Lover's Knot block pattern