So bummed - Hate the exterior color I chose. Please help.
I have been trying to find a color for my home exterior for months. I have tried at least 10 swatches and finally decided on SW Unusual Gray for the body and SW Alabaster for the trim. The windows themselves are actually a tan color, which adds a little bit of accent interest. I painted the front door SW Bunglehouse Blue.
Anyway, now that it's done I don't like it at all. The whole thing just looks so washed out, especially in full sun. The house faces south and gets a lot of sun in the front. Our driveway is gray stamped concrete, which adds to the washed out problem (which my husband warned me about...) The garage doors, which you cant see in the pic are Alabaster.
We considered doing the doors Bunglehouse Blue to match the front door, but our painter advised against it.
Is there anything that I could do to perk things up a little and make it look less washed out?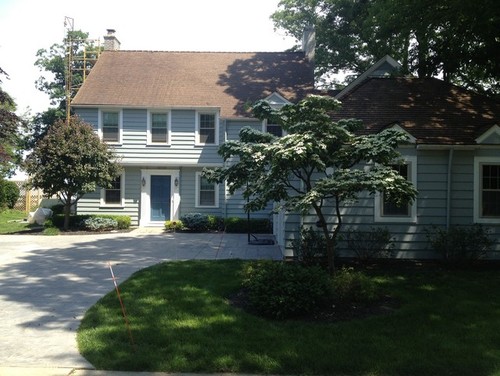 This post was edited by Kitten1313 on Thu, Jun 20, 13 at 14:49