Pier 1 Perched Bird Table
I am often so impressed by the many, many talented people here on Home Dec, that I was inspired to tackle a few projects of my own recently. A few months ago, I "faux-painted" our 27 year old bedroom furniture (as part of our recently completed master bedroom renovation project--pics to follow soon!). Most recently I purchased the Pier 1 table, with the intent to spray paint it silver (inspired by another GW'er who had purchased the same table, and painted it gold I believe).
The table is in our spare room, next to my exercise bike--a little fancier than the room required (!) but it is the perfect size for a tight space, and it was on sale, with an add'l discount (10%) because the finish at the weld/seam on the top of the table was chipped (since I planned to spray paint it, it wasn't of major concern). I probably lost some of my savings with the cost of the spray paint, but I think I still did ok (I used Stove Bright's High Temp paint because it's easy to use, with far fewer runs, drips, sags, and over-sprays than Krylon spray paint IMO, and it's also pretty forgiving when respraying over any messed up areas--I am often impatient and end up spraying much heavier coats than I should! Add'l coats evened those areas out nicely. It also gives a really durable finish even on non-high heat items. I sprayed a light coat of their clear spray/clear coat over the finished table to "up" the sheen or luster).
Here is the finished table: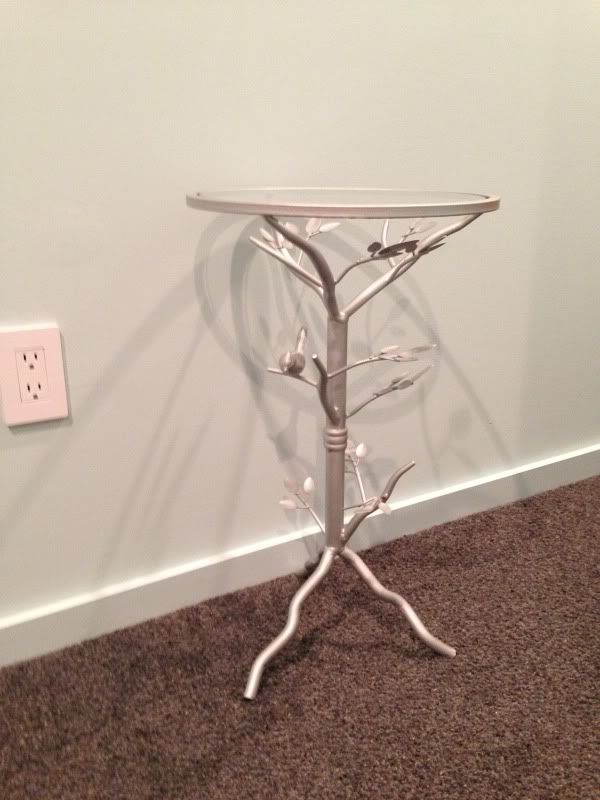 (I moved the table over to a bare wall to take the pics. Wall color is BM Antiguan Sky mixed up in Aura, matte finish for anyone wondering!)
The link below shows how the table looked originally. In person, the "accent" or "gilded" areas on the leaves and on the bird, were much more pronounced (a brass-gold kind of color).
Here is a link that might be useful: Pier 1 table link