More advice needed... backsplash this time
frugalnotstingy
April 26, 2013
I've been getting really helpful inputs here - thanks to everyone contributing!
My next dilemma is the backsplash.
I saw nixit71's backsplash & it is very similar to what I was wanting. Here is hers...
For the field tile, I am torn between a glass tile (Lucente morning fog) & porcelain tile (Paladino adamello) - both from Emser.
And the accent tile is Emser's Flash bright mosaic.
I was thinking of using the same tile used for the strip all above the cooktop.
Q1 - if I go with the glass tile, do I still break it up with the accent strip or will that be too much?
Q2 - Would it look odd if I have an accent strip running horizontally & then meets up the accent running vertically over the cooktop?
The 2nd picture is the porcelain tile( i have a big piece as a sample but is going to get 4x8s) & a strip of my accent tile (actual size is 12x13)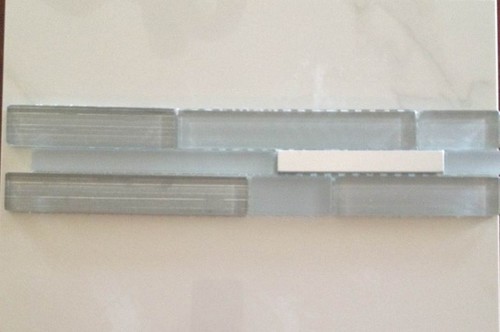 Here is a link that might be useful: Flash bright