Ta Da! GardenWebNewbie's BS dilemma update...
gardenwebnewbie
April 17, 2013
It's been a few months since I have posted. I've 'here' on a daily basis, just quietly... There has been so much I wanted to jump in and help others with and I feel horrible about it...but I'll tell you why and share with you my update!
(For those who aren't familiar, here is my last posting with pics of the kitchen as it was)
http://ths.gardenweb.com/forums/load/kitchbath/msg1216364512209.html
I been dying to show you what I came up with, YET I HAVE A DISCLAIMER. LOL This slab leak/kitchen damage ordeal has been such an emotional roller coaster for me (began Nov. 2011) and has/had just short of sent me into a severe depression (clinical depression has been a life long affliction for me to start with) I have been a little shy about posting pics. Everyone has had such wonderful ideas and feedback...it's just that now that I have done most everything, and I am THRILLED and RELIEVED with the results, I am asking you to be gentle with me and share positively. ;-)
In a nutshell, all of our backsplash avenues, including saving the existing granite and using the bench material for a shorter backsplash, failed for one reason or another. Shortly after my last post in December, I went granite shopping to see what was out there. I fell in love with a 'crisp' Santa Cecelia that had more depth than I had ever seen before. It had a white background vs. the gold that the Juparana Persa had and was a smaller pattern in my smaller kitchen then the JP was. I felt it would calm my kitchen and my thoughts...and it did! I also looked at a few of the white granites and realized with my smaller floor plan, I needed something on the warmer side so it all flowed from room to room.
I knew that this particular Santa Cecelia was it! (taken outdoors)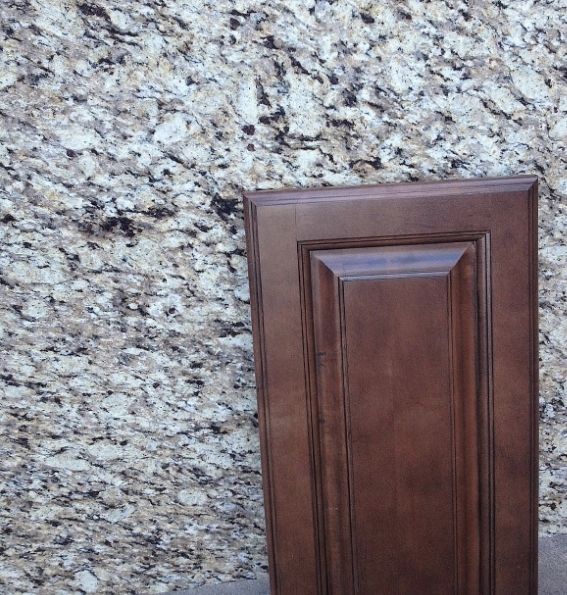 The demo began in January and took a couple weeks. I was really worried about the process, but with a lot of extra precautionary measures taken by my husband and I, the mess was not too bad and most everything made it thru unscathed. We did have a lot of drywall replacement to do as the demo pretty much totaled the existing drywall.
We chose a six inch matching granite backsplash but stepped it up a bit by having the fabricators finish the edge on the BS the same as the counter edge. I thought it ended up really nice and looks a bit more finished/polished than if we had it squared off as it's usually done. I didn't go smaller than 4 as I am somewhat of a messy cook and didn't want to be wiping walls all the time and wearing out the paint. I felt 6 was a nice compromise from the normal 4" and the 7.5" that we had prior to the slab leak that I never had a second thought about.
I still need decorations, etc. as it look quite stark in the room now. We are currently looking for a new leather sectional and area rug for the family that's connected to the kitchen before we choose knick knacks, wall dec's, etc. I also want to put a valance of some sort above the kitchen window but am again waiting for the sectional/rug to be chosen.
One thing that I did that wasn't planned was adding some unused library moulding trim that came with our cabinet order. On a whim I had the contractor add it to the kitchen bench, thinking it would tie it in to the cabinets vs. just having a white moulding above the seat. There was some wall damage from removing granite on that bench so something needed to be put there. I'm not sure if I am going to leave it as it is (although not ideal and does cut the area in half) as I am used to it. LOL I may swap it out for matching trim or paint the library moulding there already white. Thoughts? The bench is not used except for a place to set homework for the night, my purse, a magazine, iPad, etc., white we need to use the island, which is our only kitchen seating area. I am not against adding a pillow or two to each side that will coordinate with the kitchen sink window valance...they won't be utilized for that purpose but may look nice. Thoughts?
I am also not 100% on the white outlet covers. 99%, not 100% LOL They do match with the window, door and base trim color. All outlets, as well as the A/C and heater vent are white throughout the entire home. DH feels a darker color such as oil rubbed bronze or the like will be too dark and beige covers don't match the paint. Like I said, I am used to it, my stress level is relieved from a few months ago (most important) and I need to let it lie for now.
I feel zen and calm about it all now... :-)
Here's a teaser pic, there are lots more detailed ones in the link below.
Oh WAIT, I almost forgot, we also lopped off the oddly shaped 'tail' piece that was on the original island. It was a fabulous trash pull out but it made the island too big, too awkward and by taking it out we have so much more room to walk around in our 'triangle' area. :)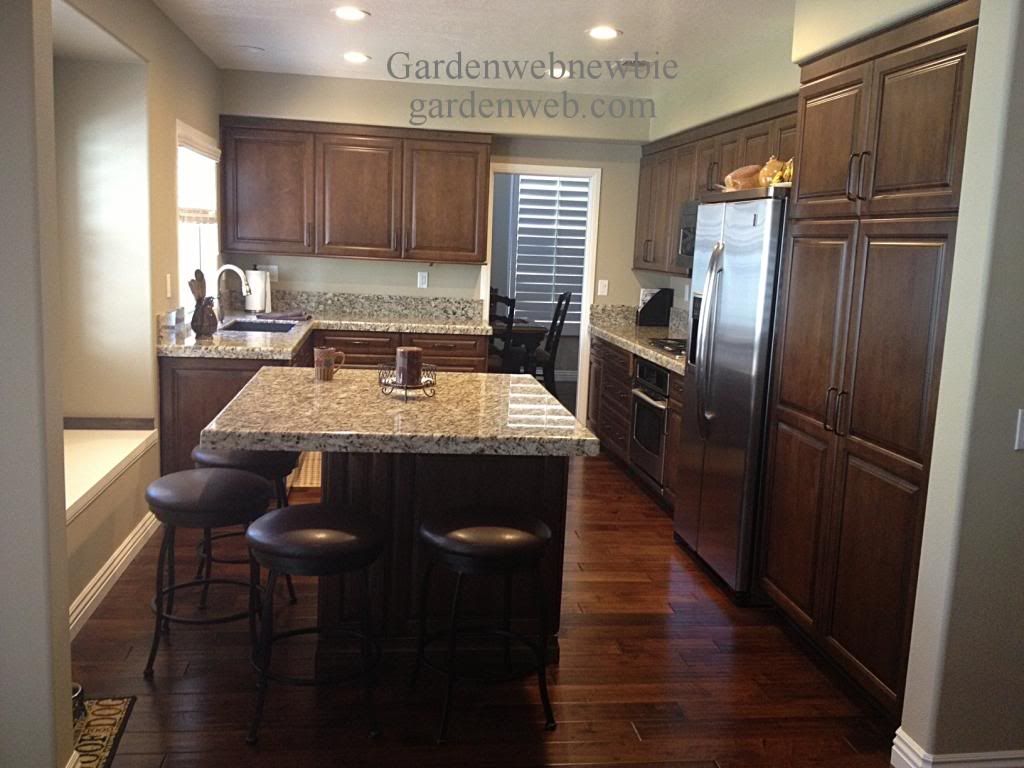 Here is a link that might be useful: GardenWebNewbie's redo of a redo!
This post was edited by gardenwebnewbie on Wed, Apr 17, 13 at 19:04