Some quilts I've finished in the last year
jennifer_in_va
September 4, 2011
I've just gotten my pictures/program worked out on my laptop so can now show you some things I've finished lately.
Unfortunately, I can't bring any of these to retreat since they were all gifts.
This was started at Retreat last year on the last day...It was a gift for a friend for Christmas. Quilted with paw prints. (I may have shown this on before.)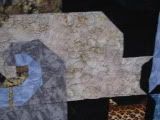 Scrappy back
This was a baby quilt for my niece born 12/28. It hangs on a wall in her room. Quilted with heart pantograph. This was done with fusible grid...something I would never attempt again with a large quilt.
Scrappy back