Remodel to make small bedroom bigger vs LR
awoodwaring
April 26, 2014
Currently, we have a 2000sf ranch in a rural-ish area. We were lucky to afford the house we have. It was a disaster and we have redone the flooring, the kitchen (complete gut and redo), windows, roofing, landscaping, etc.... It has been money and time consuming, but worth it for the area. Our equity has already doubled in about 4 yrs. Anyhow, we have a small, secondary 9x11 bedroom (3 bedroom house). It is really cramped.
I was considering bumping out a wall by several feet (about 16" from the slider) to give our kiddo more space. I would also bump the corner of the perpendicular wall into the kitchen a little to hide the darned ceiling jog. I would infill with a 30" kitchen bookcase and base cabinet/counter area. It is hard to describe, but hopefully the pictures will help it make sense. We would also relocate the pellet stove to the corner left of the tv. I would also like to bring in a small window to the left of the tv to incorporate our wonderful view.
Would that make the LR way too small, even though we are not using that space for anything?
Oh...and forgive the muddy paw prints...can't get away from them between the rain, 3 dogs and 4 cats!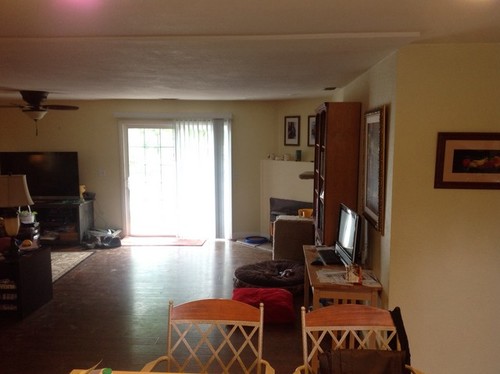 This post was edited by awoodwaring on Sat, Apr 26, 14 at 12:10