Rail Fence quilt top done...
vacuumfreak
September 23, 2012
I'm on a two week vacation from work, and I've spent most of it at home, though I am leaving on Tuesday for a couple nights in St. Pete on the beach. I figured this would be a good time to quilt and I've been working in this until 5 AM every day for the last 4 days. I got the pattern out of a wonderful book called "Quilting: The Basics and Beyond", by Jeri Simon.
It's been fun, though exhausting. Of course I'm still learning, so my points didn't all match up, but I think rail fence design is a little more forgiving than other kinds of patterns.
Here's a picture of the finished top... The floor was the only place I had big enough to spread it out! I've spray basted it, and I LOVE spray basting! The kind I got from Joannes didn't have a smell and said it wouldn't gum up the needle, so that is a good thing :o)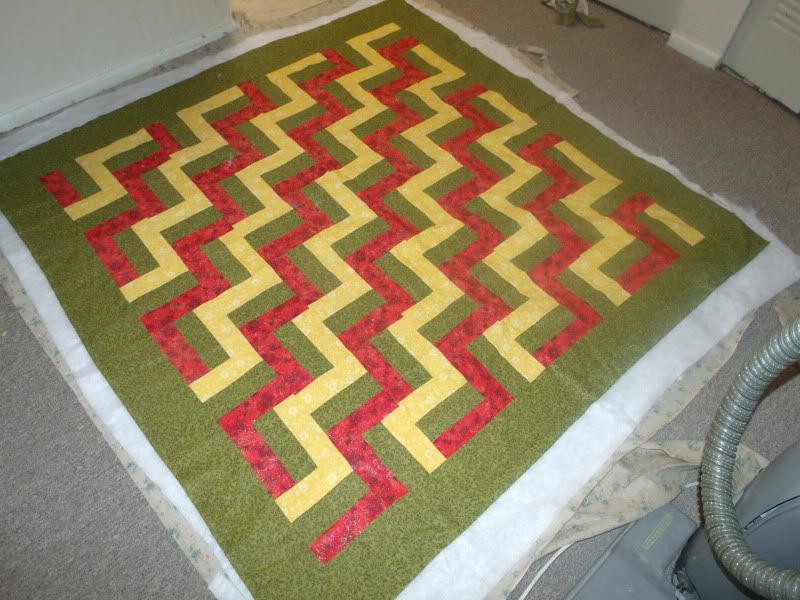 Here's a close up of the fabric.... I really liked the glitter in the red... I've never used glittered fabric before. Are there any special tips for washing it? I didn't pre-wash! :o(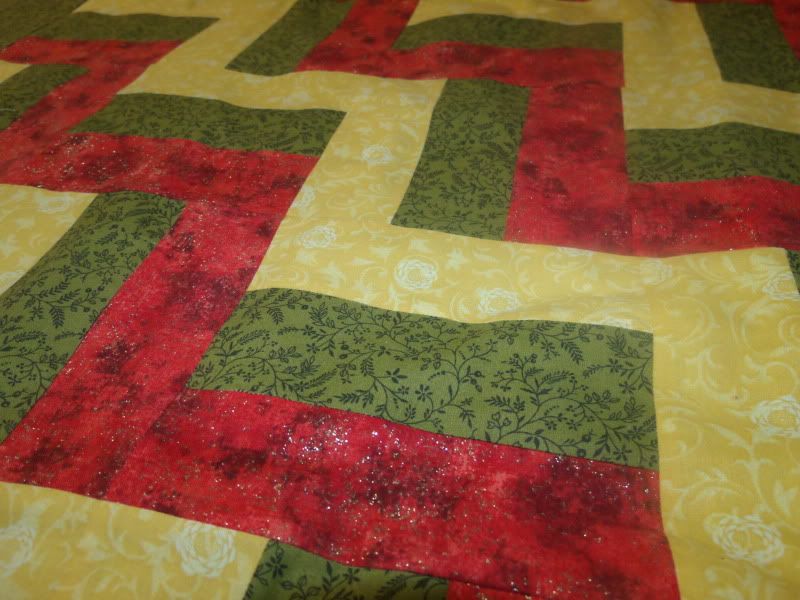 I had to bring my machine out of the bedroom and move it to a folding table in the living room... more room and light for a big quilt. The machine vibrated too much, and I know that can throw them out of timing and it was really distracting, so I put a dish drying mat under it and put 2 of the legs of the table on the shag rug.... that helped tremendously. As did moving the speed control to the half way setting so I couldn't floor the machine. I also bought some cheap gardening cloves with rubber dots to help me move the quilt when I go to quilt it. I've tried them on a practice sample and decided that I feel I have more control without them. I may change my mind when I get that big quilt under there...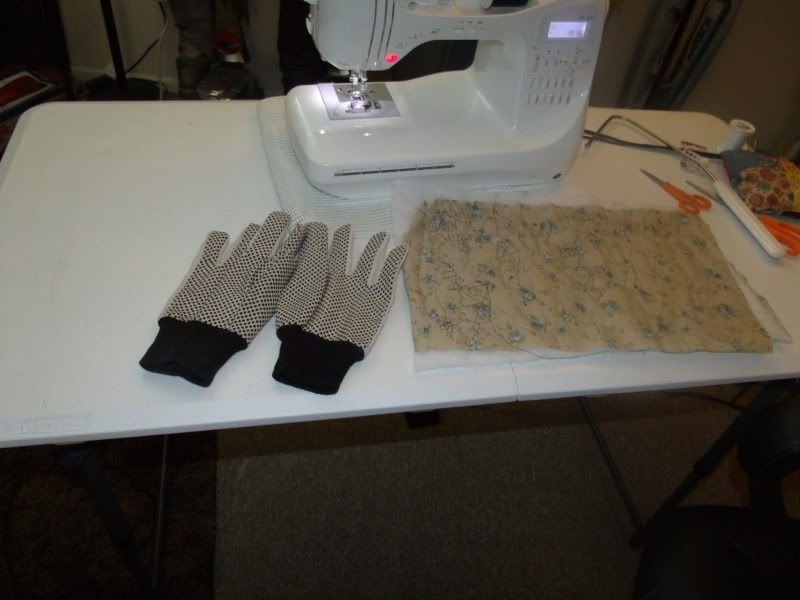 My hole.... I've been in this space watching Andy Griffith and Hot in Cleveland while working on this quilt for most of my vacation.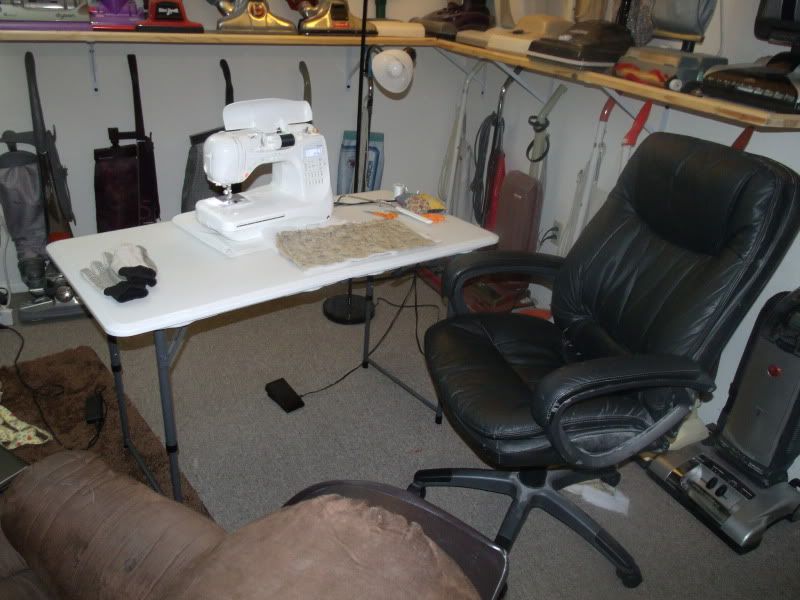 This basting spray by June Tailor is wonderful. I know many people use 505, but I didn't see any at Joanns. No more safety pins!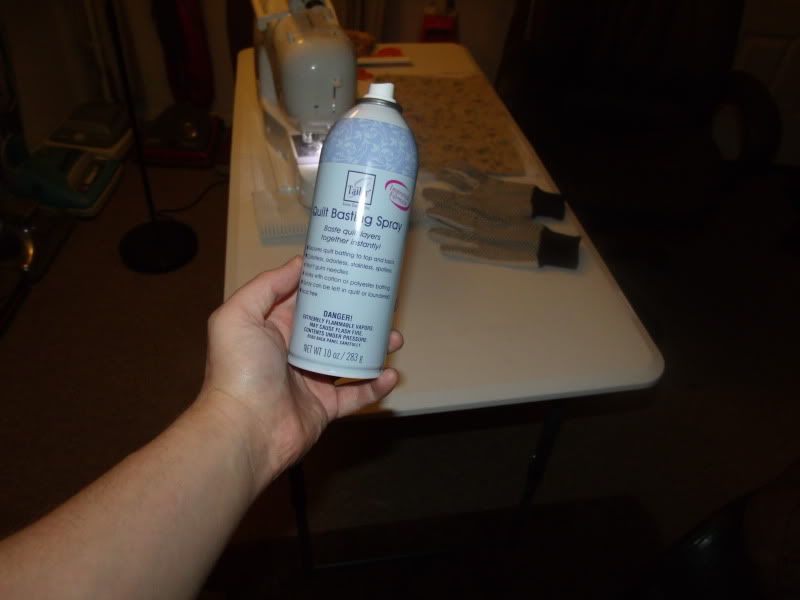 I got a pucker as the weight of the quilt pulled against me while I was sewing on the border... I'm not ripping out all those stitches, I'm just going to live with it. I'm hoping some of the mistakes will blend in a little more once it's quilted.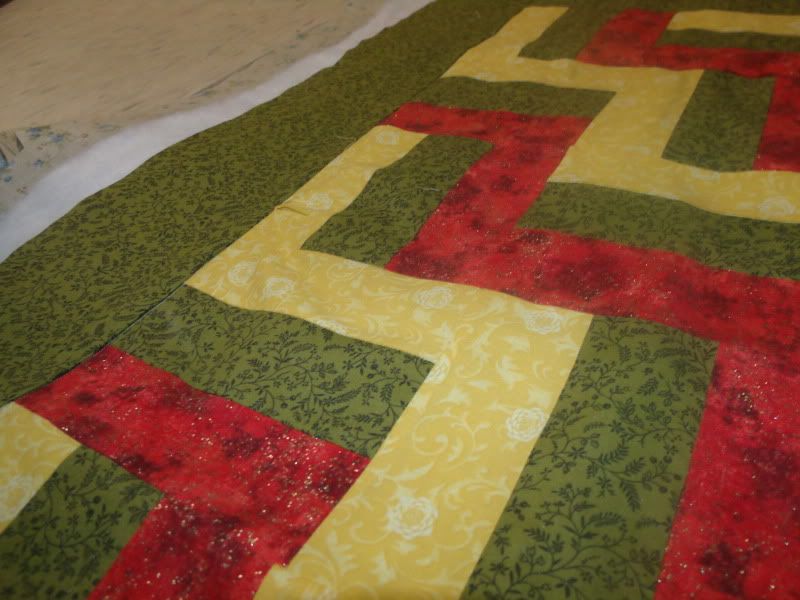 My attempts at free motioning.... It is hard! I'm having trouble getting smooth flowing lines and having trouble moving to a different area nicely. A lot of that was me playing with the tension, but I did try to make flowers, hearts, stipple, and do a spiral... I need more practice to be sure before I even think about putting any quilt in the machine and going to town. I thought about simply doing straight lines with the walking foot instead.... I don't know which would look better with a rail fence design... what do you guys think?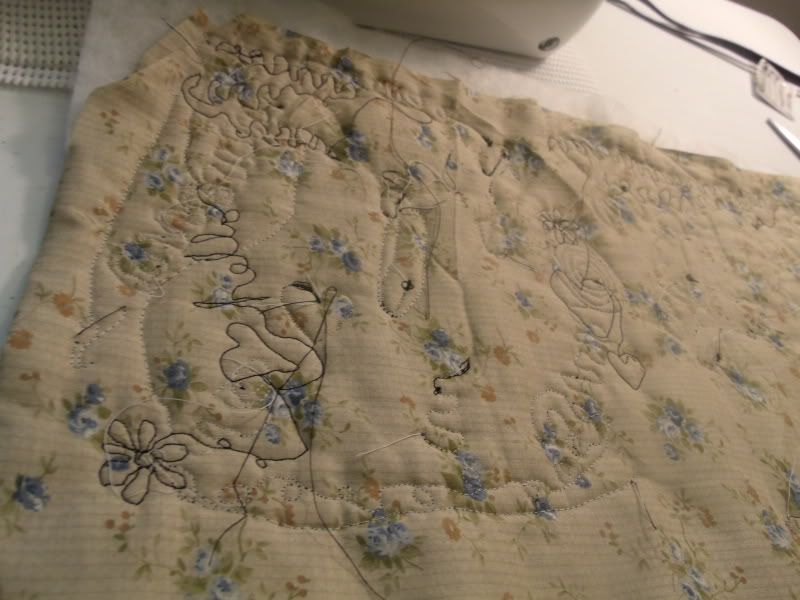 OK, that's it for now, back to practicing.... :o)