I Want Gold - She Wants Pink......
Got the corner of DD's room painted white and we really like it. Here it is w/o the curtains rehung etc. along w/ the $18 Wing Back: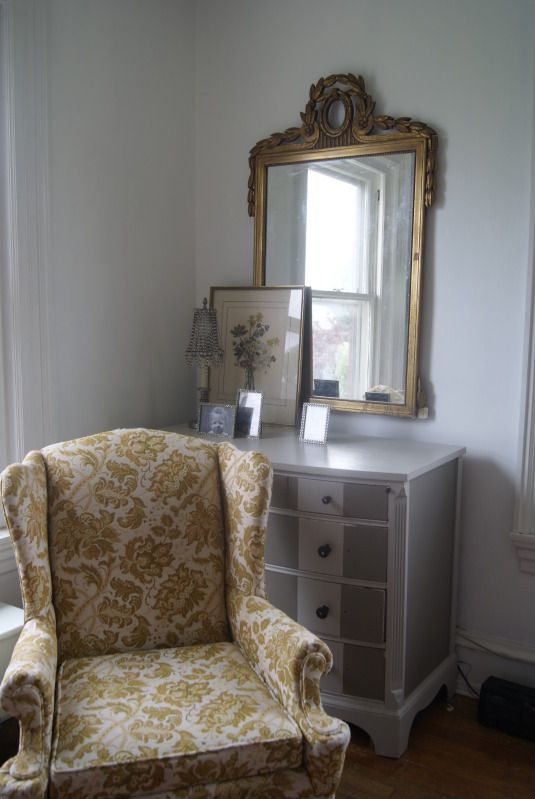 I really, really like the way the mustardy color in the wingback works the gold of the mirror frame and the yellow botanical that I scavenged. Unfortunately there is no pink in the chair pattern or botanical. The original plan was to slipcover this wing in white but when I see it w/ the other stuff I think that it's perfect just the way that it is and the upholstery is in very good condition.
DD is a huge fan of pink and I truly think that I can pull off a good mix of golden/ mustard and pink. I promised DD a pale pink ceiling once her ceiling is repaired.
W/ her primary bedding being white w/ pink sheets I think that I could simply find a solid mustardy colored quilt as well as a petal pink quilt to layer onto her bed. But where to find either one?
Can you help me find at least a solid mustard colored quilt that is machine washable?
Do you have any different thoughts, ideas or suggestions to incorprate both mustard and pink or a differnt color combo w/ pink? Moss green and pink?
Here is a close up of the chair fabric:
I also found this bedding but am hesitant because I don't really want to add an additional accent color to the room - but if you think that it would work, please let me know!
Source: google.com via Tiffani on Pinterest
And then of course she has her pink table:
Source: Uploaded by user via Tiffani on Pinterest