Time to fix bas sink window moulding decision. Pls help!
Hi all,
Sorry for the typo--I meant *bad* sink window moulding decision.
I could really use your opinion/ideas. Question posted below pics:
Basket weave b-splash (same corner where cookbooks are in pic below):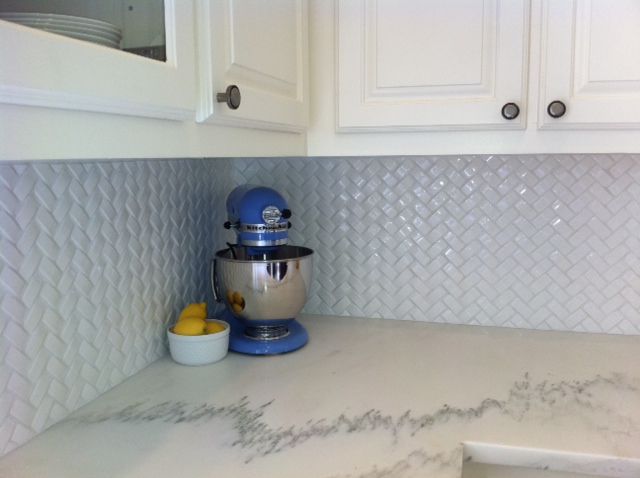 Pics of area in question: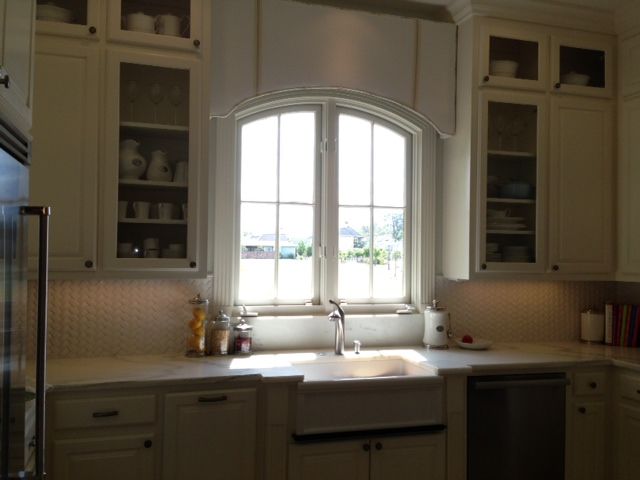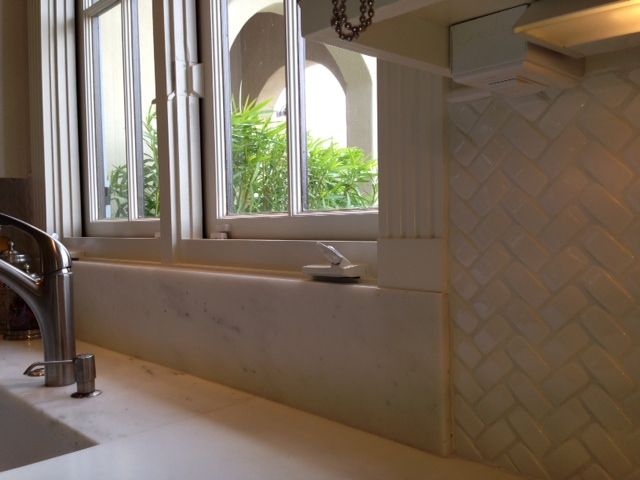 I'm regretting this window moulding decision as much today as when it was installed year ago. I've lived with it, and it's still driving me nuts.
I have this basket weave tile b-splash, which I adore, along the sink run.
Rather than continuing the tile run straight through under the window and putting traditional wood moulding along the bottom of the window, we put a large piece of marble below the window. Bad decision.
It's big and chunky, but worst of all, it ruins what should be a continuous visual line of the basket weave tile.
I think I know what has to be done, but I wanted to start with an open mind and try to get some input from the GWers.
The marble counters are *fragile* and prone to chipping, so that needs to be factored in.
I'd just like a traditional window moulding all of the way around the window, with the basket weave tile running straight through as with most sink windows, below the bottom piece of window moulding.
My idea is to have my very meticulous GC carefully remove the marble piece and window moulding, and have new wood moulding installed all of the way around the window.
The tile installer could then continue the basket weave tile straight across, under the new wood window moulding.
I know the basket weave design won't line up exactly--there'll be a small gap, which I can live with. We'd fill it in with a narrow, vertical piece of pencil moulding or a wider grout line. (My pewter canisters hide that, anyway.)
Alternatively, we could "bump out" the new wood window moulding at the bottom 1/2", and then it wouldn't matter whether the basket weave tile lined up perfectly, as the "bump out" would provide a visual transition.
My other idea is to install the bottom moulding and b-splash tile below it, applied/adhered directly *over* the existing marble.
The marble would serve as the "bump-out" for the bottom piece of wood window moulding and the strip of tile below it.
This would prevent potential marble countertop damage during removal of the marble piece, but is it possible to install wood window frame moulding and tile directly on top of marble? Will it adhere?
Any thoughts or ideas on how this project should be approached would be greatly appreciated!!
This post was edited by Madeline616 on Sat, Apr 6, 13 at 16:50