Maybe - finally - picking a layout?
Kathy Rivera
April 9, 2013
I've posted some version of a layout a few times here. Quick background info: family of 4, 2 young kids, 1960s center hall colonial in the NYC subrubs (a relatively modest one, not the super affluent ones).
We currently have a U w/eat-in kitchen and we never 'eat-in' (don't actually have a table there after 2 years). I like to eat away from the prep. But the U part is so small (~27" of usable prep) that it doesn't function well. Especially as the kids get bigger and want to help. I can already tell what a difference (tighter) it is since we moved in (3 y.o. takes up way more room than a baby!).
This should be our 'forever' home, but I have a feeling we may make a move in about 5 years to be closer to family - so resale is a bit of a factor. Spoke to our realtor who says combining w/DR is fine as long as we have a place to stage a DR (e.g., one end of the LR). I don't really see that working well in this house. He also stressed the importance of an EIK. "A nice one, where 4 people can comfortably eat". OK, well, it isn't that now, so I'd rather compromise a bit on that, make more function and give the 'illusion' of nice EIK! So here are my 3 proposed layouts...
Peninsula seating:
Pros: I really like working in a U (and my corner sink!), long stretch of work area, keeps windows and doors
Cons: Dead space behind seating, stove close to the door (though already like this and have no issues)
[the grey thing on the fridge wall is my placeholder for a new wall that would be put in for a reach in pantry - I'm no architect!]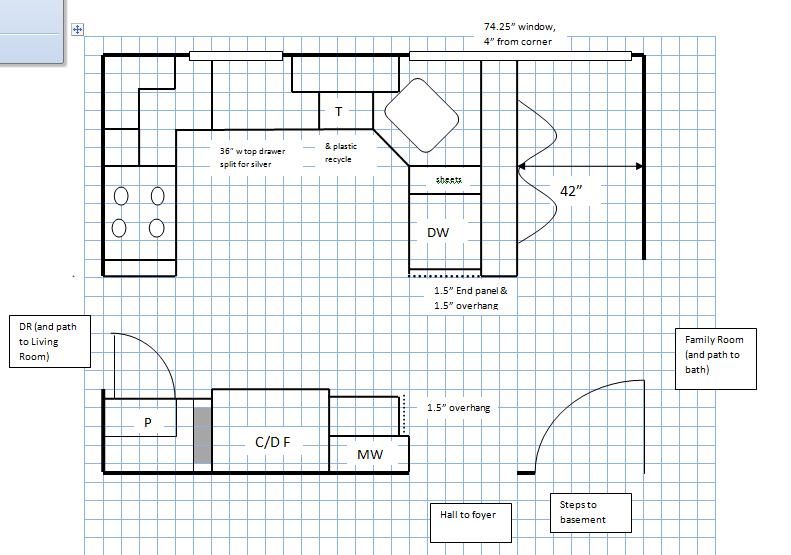 Banquette:
Pro: keeping the U, keeping windows/doors, gives a more 'EIK look'
Con: Reality is - very small table smooshed into corner, walkway between peninsula and fridge wall is tight

Island:
I don't really have the room...but it works with narrow clearances
Pro: An island! (cue the HGTV buyer), probably will make it feel more open, best layout for the two-tone cabinet look I really would like
Con: reality is it's a very small island and I doubt I'd use it for prep much - I prefer by the sink, narrow clearances, more construction with new window space and moving door

Opinions? I will probably take both the island and either the banquette or peninsula plans for cabinet quotes - just to see them in decent renderings and get a feel for price difference.
Thanks!