Today is the day...it is finished!! (pic heavy)
This is a day I thought would never get here. I am finally ready to show off the finished kitchen. I have been planning this for almost 2 years and I read so many different posts on GW that gave such great advice. You may not know it, but the finished kitchen is a conglomeration of your ideas. THANKS!!
Background:
I began the planning phase of the remodel about two years ago. This is a DIY kitchen and I did not want to make too many modifications to the existing layout. Overall it was very usable, it just needed some updates. I think you will agree when you see the before pictures below.
The biggest changes were moving the double oven from one side of the kitchen to the other, installing a vent hood and extending the length of the island. Of course new cabinets and granite countertops were a requirement.
We did purchase our appliances 1 year before we started the remodel. We had a budget and replacing the leaking DW and electric coil cooktop were a must. My induction cooktop is irreplaceable. I figured I might as well keep going so we swapped the side by side fridge for a french door version.
We ordered our cabinets in January. What a pain to deal with small independent stores that did not want to give us a quote once they learned we would be installing them ourselves. Oh well, their loss not mine. We ended up ordering from Home Depot and had a great time working with their kitchen designer. We learned a lot from her and she gave us some new ideas about all the little extras I had not thought about. We have used every inch...no wasted space.
I will say that the cabinet install, plumbing changes, moving electrical lines, installing speakers in the ceiling and addition of a vent pipe to the outside went easier than I could have expected. It was fun to come home every night with a goal of something that needed to be completed or to spend an entire weekend working on a larger change. The sense of accomplishment was great. I miss that time already. Oh well, enough of the background. Below are the details.
Cabinets: Kraftmaid Holace Cherry Square with Kaffe finish and all plywood upgrade.
Countertop: Juparana Arandis granite
Sink: Krauss Stainless Farmhouse double sink with faucet
Pulls: Cool Knobs and Pulls #8000 series in various lengths
Backsplash: 2x4 Chiaro Mosaic (Lowes) We made the design over the cooktop from chair rail and standard 2.5x9 moldings.
Window Treatments: Restoration Hardware clearance center
Cooktop: Bosch 36" induction 800 series
Vent Hood: Bosch 36" 800 series
Refrigerator: Bosch Stainless French Door
Microwave: Kenmore Elite built in
Double Oven: KitchenAid double convection
Flooring: Somerset Country Collection Hand Scraped Buttercup
Enough of the details...here are some pics.
Some before shots. This seems so long ago.
Double oven will be moving to where the desk is located.
Another view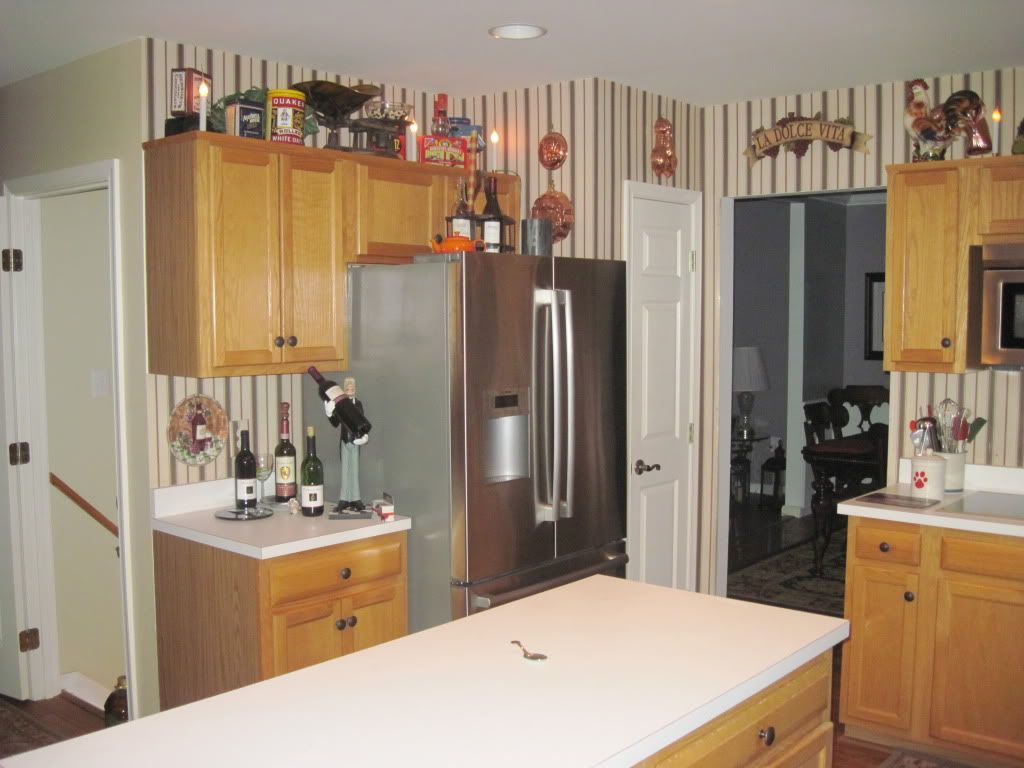 How is this for a change?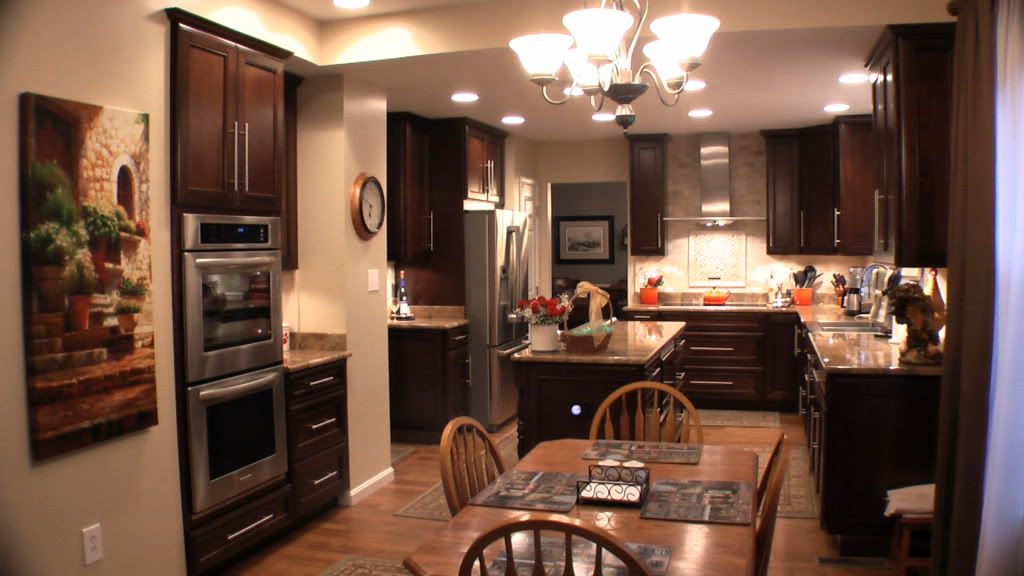 Microwave built into the island. I do not use it very much so it is the perfect spot.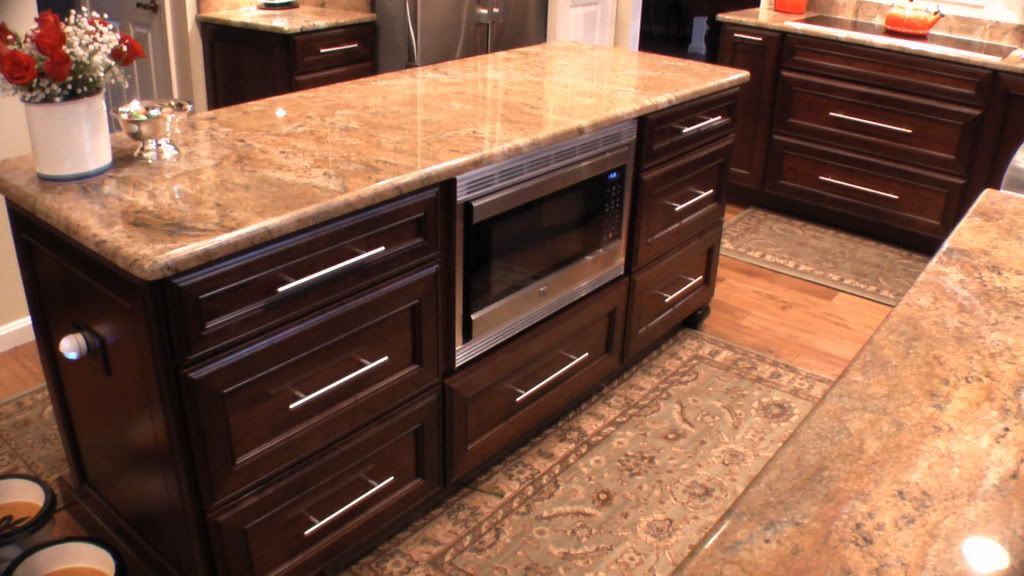 Love the spice pull outs.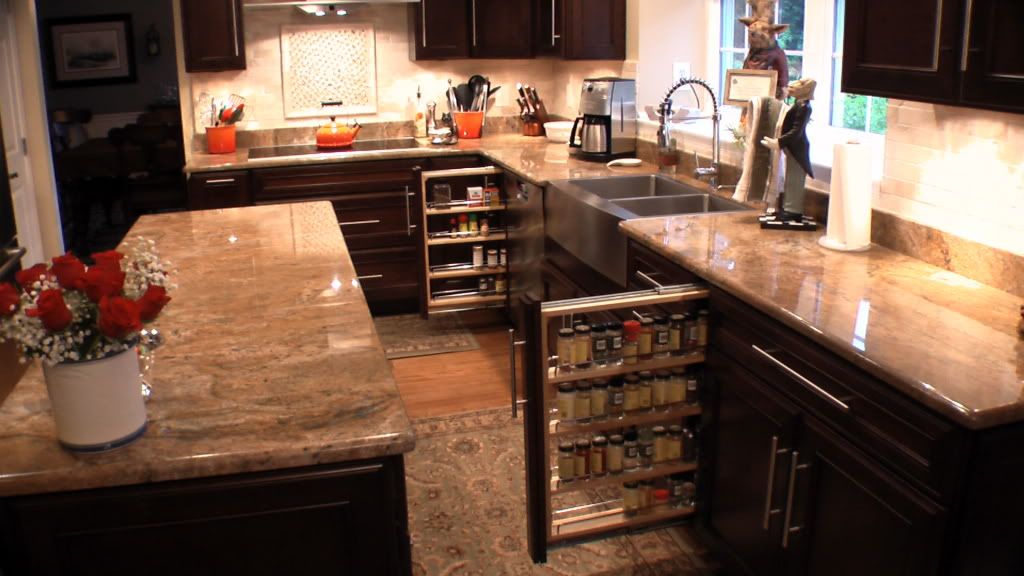 Mosaic behind the cooktop we made ourselves.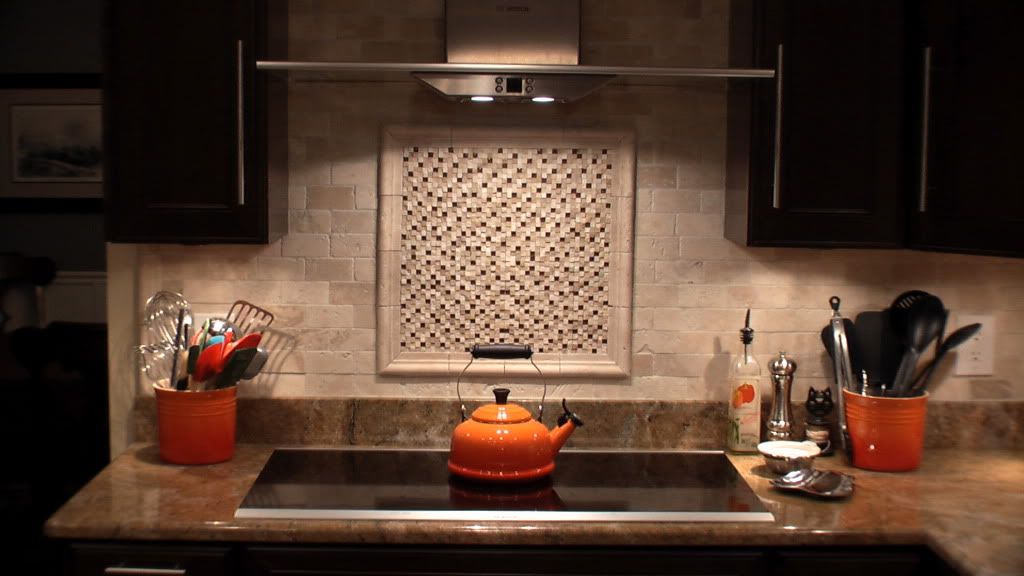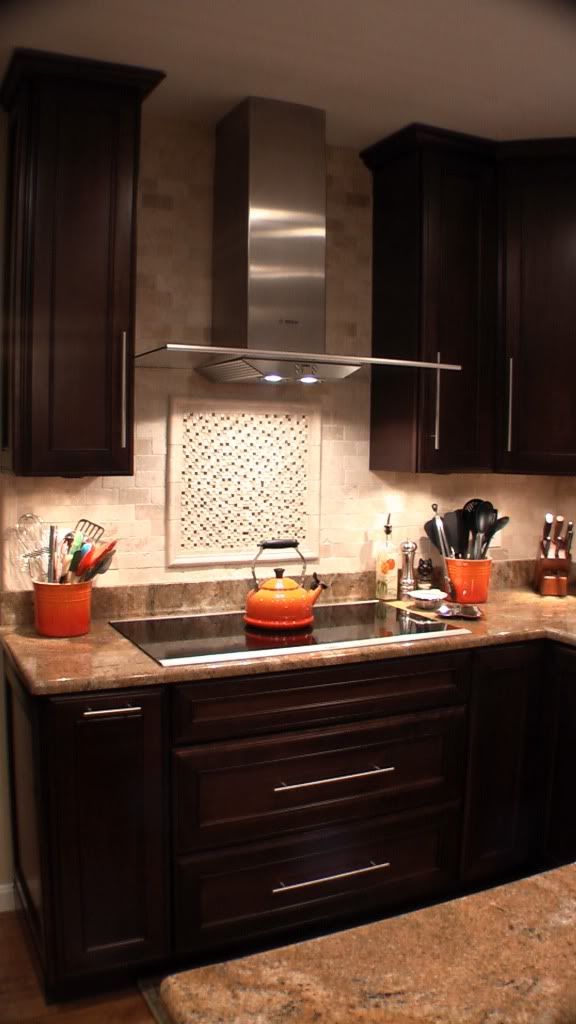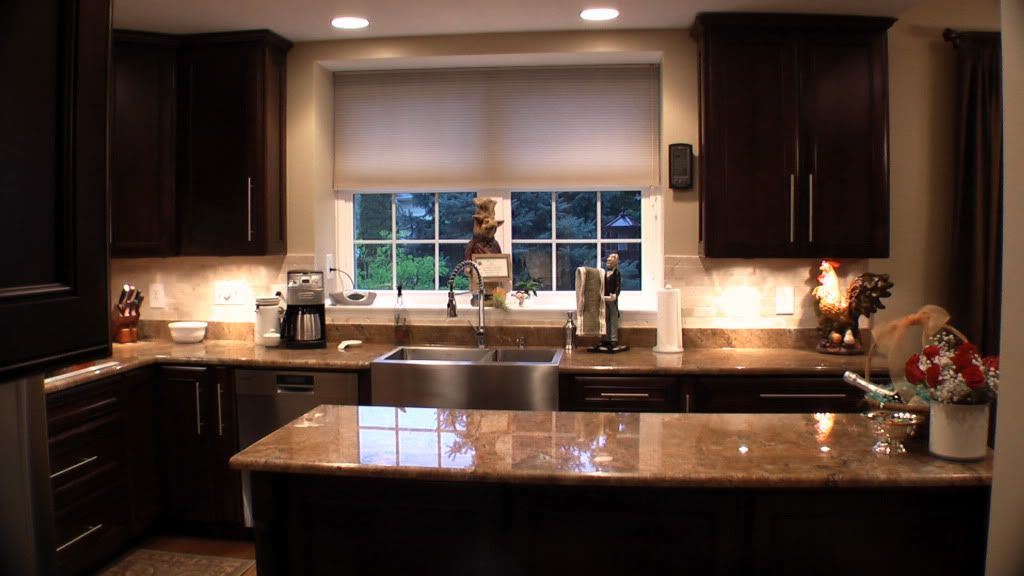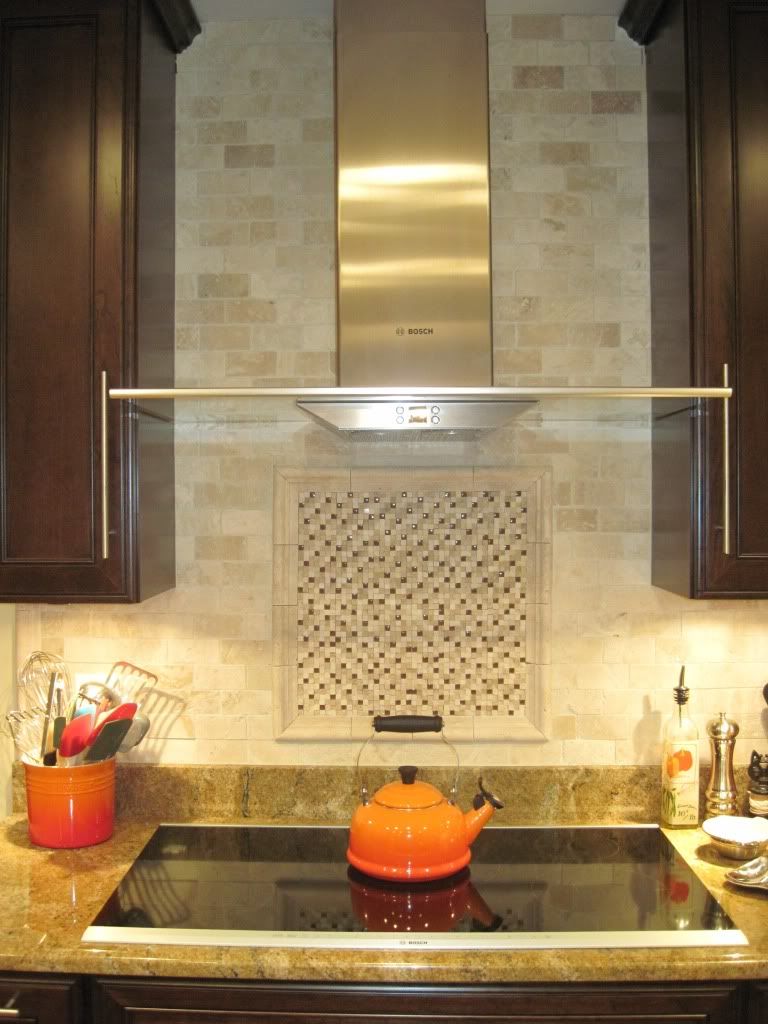 The farmhouse sink.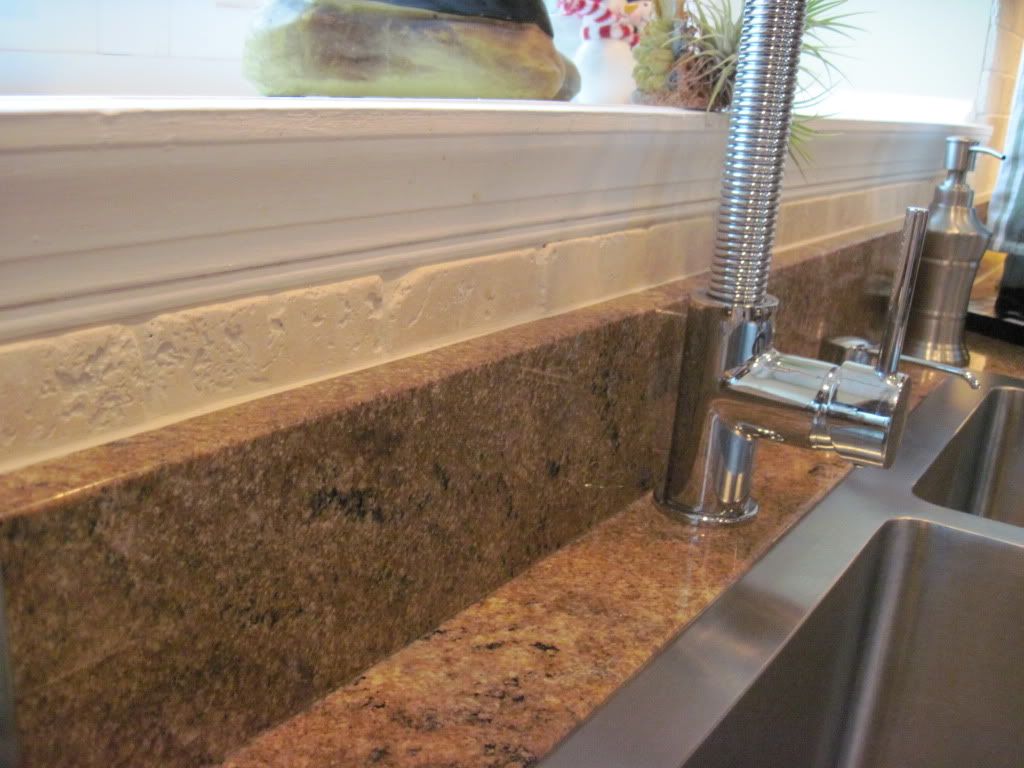 Much more usable than the desk.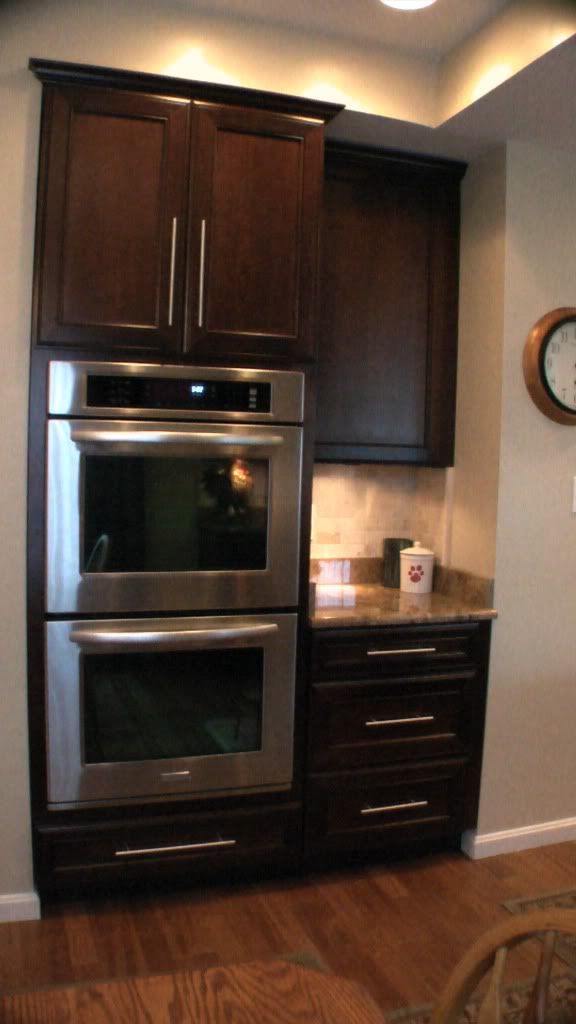 Under cabinet lighting is a must. It makes the darkest areas shine.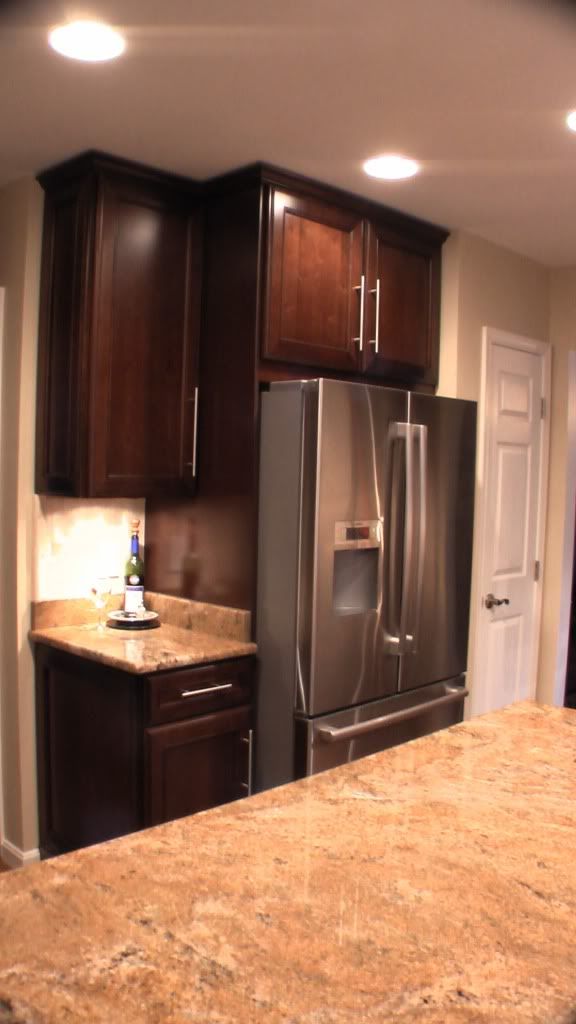 Just a cool shot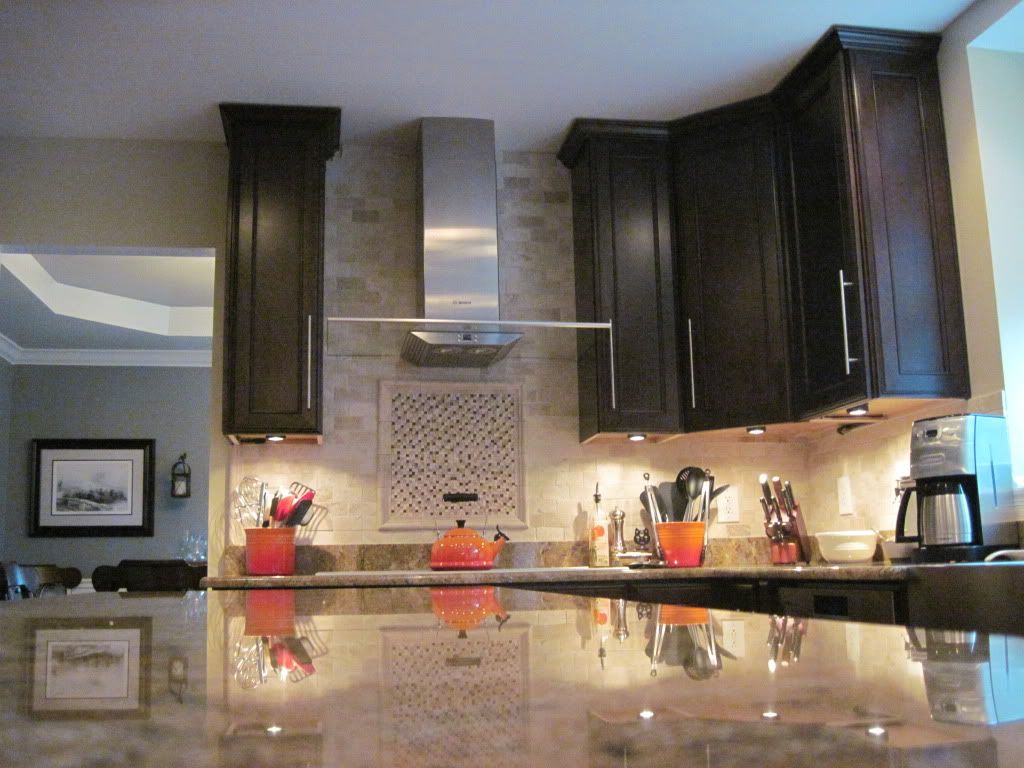 And the beautiful Juparana Arandis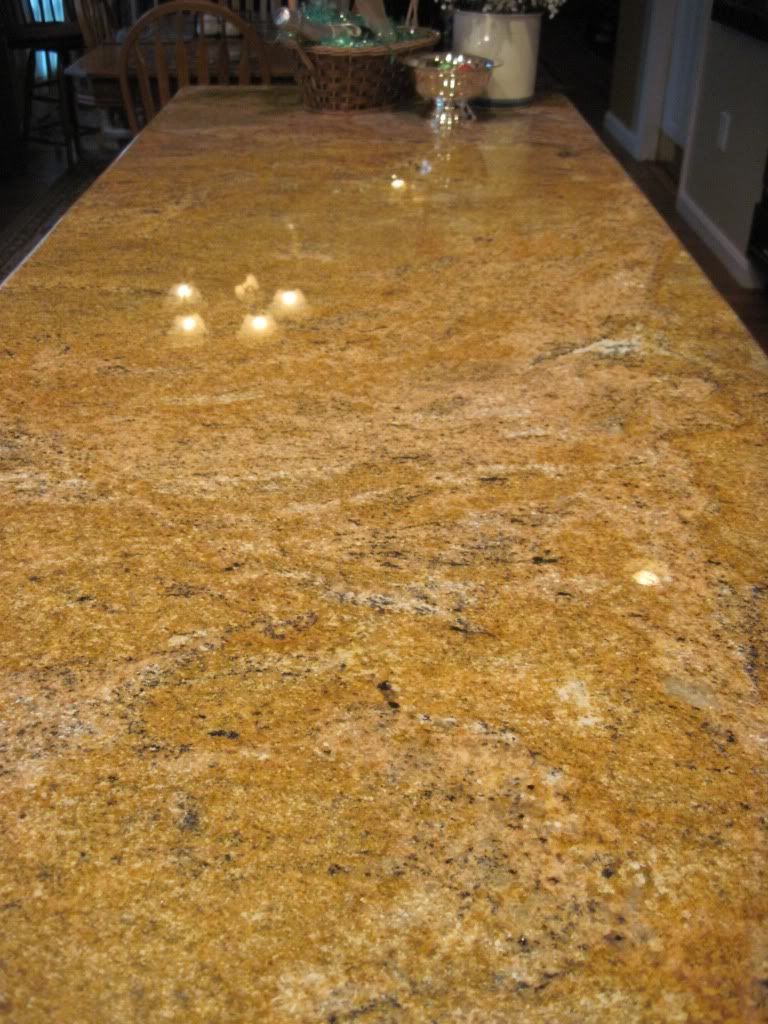 And can't forget my boys who supervised the entire project.