Marble gets edge--more kitchen progress pictures
Back in January, we asked this forum to help us choose an edge for our our marble counter top. And of course you very helpfully did. There's a link to my original post at the bottom of this post.
Just as you helped us with our decision to choose soapstone over stainless for our perimeter counters, the kitchen forum emboldened us to try an unusual edge on the marble for our island. And when I say try, I mean try for the next 40 or so years, since it's not every day one replaces a marble counter.
We did choose the eased square edge over a setback inverted ogee. And, we love it. Here are some pictures:

Here's the island counter being installed over a plywood substrate. You can see the built-up edge quite clearly. Unlike the soapstone, which took two men a full day to install, the marble (with no seams and no sinks) went in in under an hour).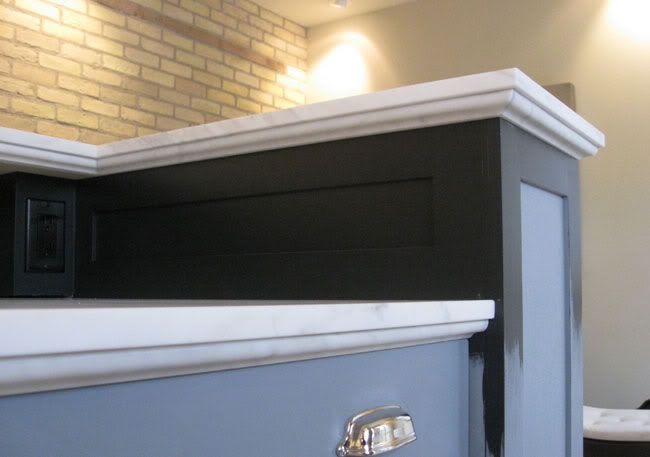 Please don't panic; we aren't going to have a crazy two-toned island. I'm in the process of painting all of our beautiful custom cabinetry by hand. The gray is primer. The black, actually called off-black, is a Farrow and Ball paint in estate eggshell. I volunteered for the job (much to the delight of my cabinetmaker and mirth of N, and I may be in indentured servitude to my kitchen for the rest of my life).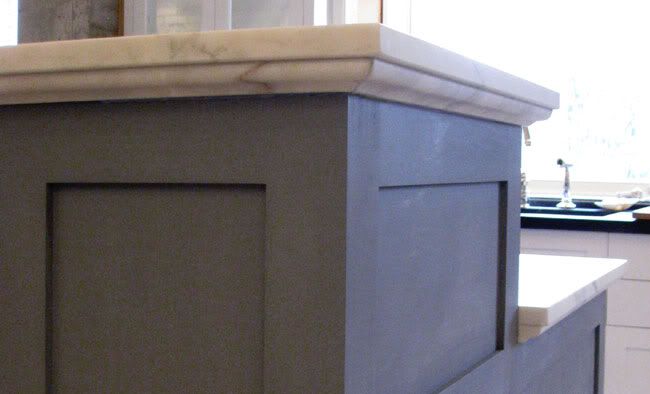 Another edge shot. Again, what's gray will be black, off-black.

Here's the marble. What you can't really see in these pictures is the subtle but unmistakable coffee coloured veining that runs throughout the white body of the marble. It picks up and is emphasized by the other ivory tones in the room.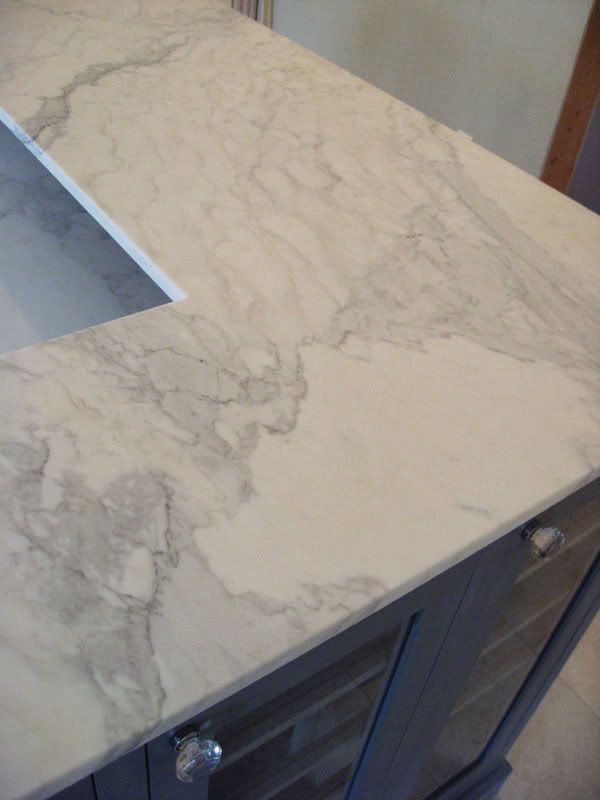 And another shot of the marble. In this photo you can see the recess under the bar top, which makes the lower part of the island extra deep and gives us a place to store dishes and hide two recessed outlets.
I wrote a blog post in a little more detail you could read here: "Soapstone wins and Marble gets its edge"
If you click on the original post link below, you can see the slab we had our island counter cut from. In our excitement at getting our soapstone counters installed, we only remembered at the 11th hour to specify to the marble fabricators how we wanted the slab cut. Luckily we weren't too late.
Thanks, all, for your help.
More to come.
Here is a link that might be useful: Marble edge dilemma: advice would be very nice