Which cabinet color-Simply White vs. White Dove?
I seem to flip colors on a daily basis. I have looked on GW for finished pictures showing both cabinet colors for Ben Moore's Simply White and White Dove. I can't seem to make up my mind! Going crazy(like others with white paint).
Pictured here are - Simply White on the left and White Dove on the right - shaker panels.
Dark square is perimeter countertops- Ceasarstone-Raven (charcoal grey color)
Background color for walls - BM Nimbus (1465)
Backsplash in front - Cararra Marble random strips Hardwood floor color choice.
Also, but not pictured is island top- Bianco Romano. My piece has a lot of grey veining through out, which is why I picked the Raven for perimeter. Island base is knotty alder stained a dark espresso color(painter still working on sample)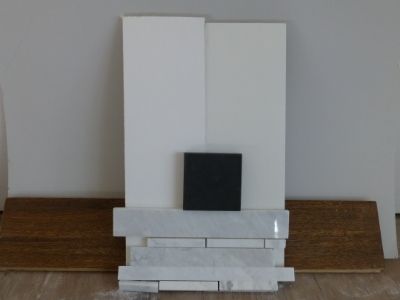 This photo was taken with natural light, no flash, no overhead lights. Tried to get as accurate as possible.
Which white do you prefer with my wall paint, backsplash, and flooring color, Simply White or White Dove? I'm not looking for an exact match to the marble backsplash, but don't was a white to clash either.
Here is a link to our renovation process so far.
Here is a link that might be useful: 1pandora' library