converting an Englsh basement to a walkout
Hello
My home currently has an english/lookout basement. I'd like to dig down the remaining 3/4 feet and convert this to a walkout basement, with a small patio and stone steps to take you up to the mail ground level.
As we were planning to dig down to the foundation on this part of the house anyway to insert a gravity drain off our draintile (the back of the yard slopes away at the end, and attaching a gravity drained pipe would reduce the load off the sump pump), I thought we might consider this while we're digging.
I've seen photos of this done, but am wondering if this is really as easy as digging down, cutting through the concrete foundation and installing a door. We are planning to replace the windows in the basement anyway, so this all seems to be a good idea to do.
Would love to here anyone who hs done this, seen this done etc. We'd contract this out of course.
This isn't exactly what I mean, because my windows are already above ground, but you get sort of the idea I am looking for: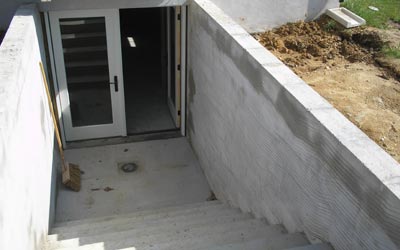 Here is the current back of the house. I'd do the walkout on the left side.