New Showroom Pics
live_wire_oak
April 9, 2013
Here is a link to our before, during, and after album that our sales manager did for us. The pics are a bit washed out, but they work to let you know the process.
The whole construction project was complicated by the fact that we never closed the doors to the business all the while we were doing all of the construction. We had to play musical chairs with all of the flooring displays in order to create the open space that the kitchen showroom was to occupy, and then edit all of that down to just what was going to stay.
And since we did all new floors as well, we had to install all of that by shifting every single display around about 12 different times. The last 2 weeks, we all worked 14 hour days to make it come together in time. I'm afraid I slept most of this past weekend and still feel beat up!
Here's the result.

And here's what I it looked like from my head to the design software.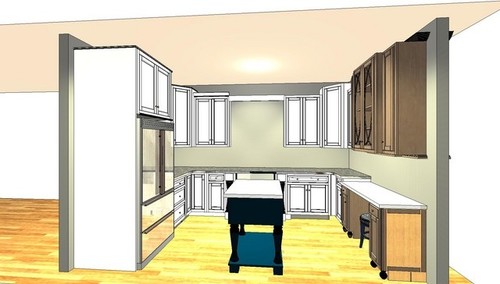 Here is a link that might be useful: Before, During, and After: A New Showoom