Buying New Home - 3 Car Garage or Extra Playroom?
nikkimagical
August 11, 2014
Hi everyone. I'm new to this forum and was wondering if you could help us out! Me and my husband are in a pickle over what home to buy. After searching for the perfect "forever" home for months, we found a nice modest home that fits most of our needs and has all the space for our growing family. We have two choices of the same home and don't know which to choose.
The two homes are the exact same floor plan, only one takes the third tandem garage space and turns it into a media room (which I would turn into a playroom for our small kids). The possibility of a main floor playroom is what sold me on this house in the first place and I want it really really bad. The only problem is that that home can't be built right now, so we would have to settle for the house with just the three car space and no playroom if we want the house now. We are eager to get into a home ASAP since we are currently in a rental that isn't working for us and is making our day to day very difficult due to its location.
Below is a list of pros and cons which will paint you a picture of our choices and why we are in a dilemma. What would you do? What's more valuable in your opinion - the extra space indoors for the playroom or garage space? Do we purchase home with 3 car spaces now or wait for the home with the playroom?
PROS of HOUSE #1
- Building to begin immediately and we would be in house within few months
- Slightly nicer front exterior that house #2
- House is North facing - even sunlight in home all day
- Backyard faces one story homes so there will be no windows facing the backyard (more privacy)
- Backyard is deeper than house #2
- Home has third tandem garage space
- We know how much the house will cost us
CONS of HOUSE #1
- No playroom
- Because lot is longer than wider, we would be closer to our neighbors on either side
- Lot is on a street where there is a long block of homes
PROS of House #2
- Has playroom
- Lot is wider so more room in between homes
- Lot is on a street where there would only be 4 houses (feels less crowded)
CONS of House #2
- Wait time for build of house is unknown. Wait could be anywhere from 6 months to 2 years.
- Price of home will go up since its the neighborhood's last phase. Price difference is unknown.
- Houses would face west - sun would be on house from noon to sunset (harsh in the desert climate we live in - makes house hotter and wear and tear on front exterior is quicker)
- Backyard is facing the side of another two story home
- Only two car garage space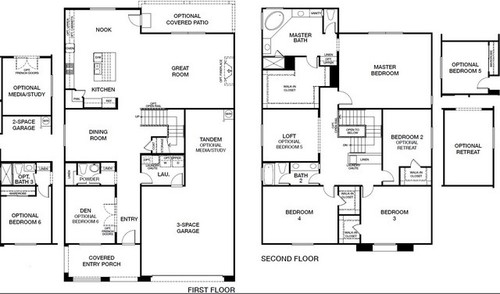 This post was edited by nikkimagical on Mon, Aug 11, 14 at 23:17