What size/shape table for my new TINY dining room?
Hi all. I've not been around for a while. We've recently purchased a home significantly smaller than our old house. It's all part of the master plan for an easier lifestyle! The bedrooms and bathroom are going to be real challenge to make work, but for now I'm trying to figure out our options for the dining room.
The house is an old victorian cottage that's been thoroughly updated with lots of modern elements. The kitchen is open to the dining space with a peninsula separating the two. We'll have 2 bar stools at the peninsula. Here is a rough sketch with approximate measurements that I took when initially looking at the house: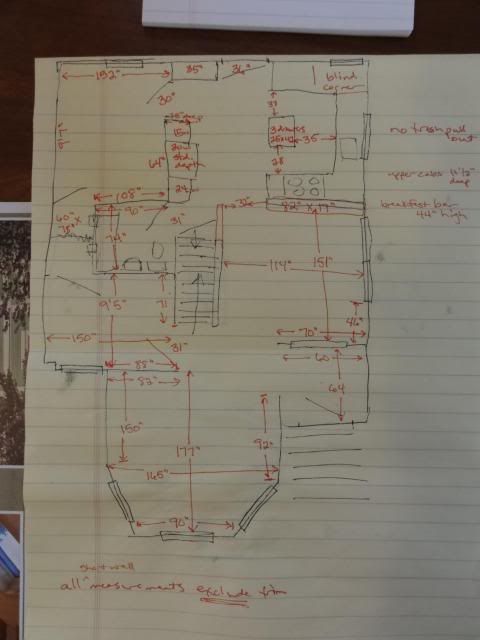 From the front steps, you enter into a small entry with an opening to the left into the living room, and another opening straight ahead into the dining space. The living room is also open to the dining/kitchen via a wide cased opening. I hope you can make sense of my sketch.
The dining area is 114" by 151" (about 9.5' by 12.5') and serves as the main walkway from the front door and living room to the kitchen, bath, rear bedroom and back deck along one side. We need to be able to maintain fairly good walk space along the wall by the stairs when the dining table is in use. For the most part, it will be just the 2 of us. We don't do a lot of entertaining, but we want to be able to accommodate 4 people easily. Rarely will we need to accommodate 6 (we have an additional 3 small dining chairs we can pull in as needed). I don't mind if it's a little snug when we have company, but it still needs to function.
We've ordered four Saarinen executive side chairs as our dining chairs and now we're trying to figure out what table will work best.
I'm mulling two different table options, but I'm very open to suggestions.
The first option I'm considering is a vintage danish teak draw table. We'd need ~50" between the legs for 2 chairs on each side. In looking on ebay, it looks like a fairly standard size is about 54" by 36", with leaves that pull out at either end.
The other option I'm thinking about is a round tulip table, maybe 45-48" in diameter. We'd keep it fairly close to the windows most of the time and only pull it out and into the space when we needed to use all 4 chairs. I think we could fit 6 people around it in a pinch. We'd have the peninsula nearby for additional surface space for serving dishes, etc.
Any thoughts on which option would look better and be easier to live with? Thanks in advance!!