Layout (mostly)
Hi All...we are developing our layout. Thank you in advance for your feedback.
Starting with dimensions:
-5' from edge of counter by sink to wall.
-7' from edge if counter left of oven to wall.
-19.9' long from dining area to slider to backyard.
-2' + counter along side of room with window
-Second counter 1' 10" on opposite wall.
-Pantry wall 8' incl large register for forced air system so cannot be totally covered.
-Hall 4' 2" wide and mudroom closet swings into hall
Ceilings about 8'
-Forgot to measure where the basement door and hallway to future butlers pantry fall (current bakers racks)
What's staying:
1) Black slate floor (veins of green and gold..very pretty!)
2) Want space for counter height table and stools on wall across from current stove (where kiddo kitchen and dog crate are now).
3) Current window: FYI, window over sink looks onto driveway and brick wall of neighbors house. Making it bigger not a good move given this is a brick house so expense to make that kind of change won't be offset by any benefit of it.
What we have decided:
1) Wall color=BM "Blair Gold"; Wolf steam oven (somewhere); Miele dishwasher with cabinet panel.
2) Need to flip current sliding door so entry is where fixed panel is now so that we can alter entry to basement which is directly below and impeded by deck right outside kitchen now.
3) Wolf steam oven (placement?)
4) 30" oven/range adequate width for us. If we go with slide in we have picked the brand (but I forgot which one). Do we gain any benefit from doing sep oven/range?
5) Miele dw haven't picked model but will do cabinet front for integration.
6) Will put hood over /range that that integrates/blends with upper cabinets.
Yet to decide:
1) Whether to put a double or triple bowl sink (54" max). Already got great feedback on that and rest of layout will determine what there is room for but prefer big triple.
2) Thinking we keep the current Frig for the moment but we will want to allow space for an upgrade in future (still need to research which). Thinking of moving frig across from where it is now to allow more prep space nearer sink. May impede flow there though! But trying to get more useable prep space... Not much prep space right of oven now!
3) Think there isn't space for an island given three entry points.
We are a family of three that all work in the kitchen at once. And a dog. We bake occasionally (Daughter is 4 so this may increase). We steam veggies and make stew and use crockpot a lot. We bake chicken and fish a lot. Will have small microwave in pantry for emergencies but want to avoid use. Lots of china an crystal. Lots of diff sized pots and pans and ceramic ware Make and prep lunches. Eat at home 95%. Don't like to clean and fuss over making things look perfect-just like them to look perfect naturally HA!
HATE current pink corian counter and backsplash. House 1926 English cottage brick (Tudor like style) and we'd like to put some vintage-y features in the kitchen (maybe add a decorative but simple arch over the window at the sink? maybe have look of little legs on bottom cabinets etc. Prefer shaker style cabinets anyway (as current ones are) which will be vintage-y. Wanted soapstone counter and apron sink integrated but think too much dark given floor (understand lightest color soapstone is grey and that the green is quite dark? One vote of our designer is to do quartz counter in medium green and chocolate lower cabs and off white upper. I am a HUGE green fan! but not sure about chocolate cabs against current dark slate floor!
So...ideas for flow? Thoughts on cabinet colors? WHere can I upload more pics? Cheryl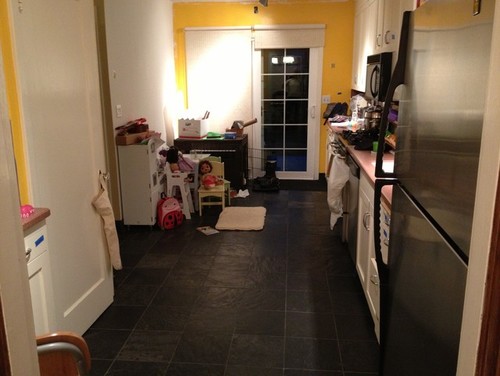 This post was edited by wawCooks on Thu, Apr 11, 13 at 15:48