White Kitchen Reveal and More
I stumbled on Garden Web one year ago when DH and I thought we'd might want to redo our kitchen. Long story short, we ended up selling our house and buying a fixer upper that had stood vacant for 3+ years. There was torrential rainstorm the day we settled and when we walked into our new home, there were fountains of water spraying into our basement. That pretty much sums up our experiences in our new home. There is always something going wrong (think the movie The Money Pit), but just when we think we can't take it anymore, there is a blanket of powdery snow on the forest trees that surround the house or a host of recently erupted daffodils ripple in the breeze on the bank of the ravine behind our house.
The kitchen was original to the house, with green painted cabinets that were quaint, but the layout of the kitchen was inefficient. The following listing photos make it seem very light and airy. It's called Photoshop. Notice how the cabs look white. They're actually a medium green.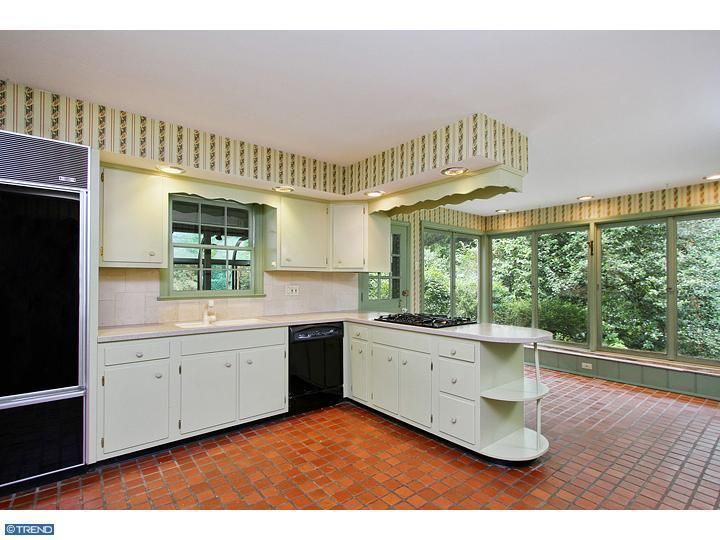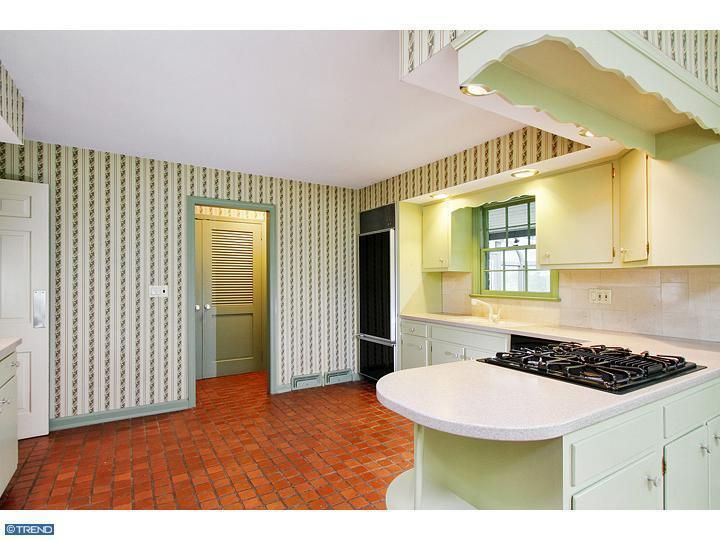 Here's a photo from my phone when we went to look at the house - dark and dingy best describe the room.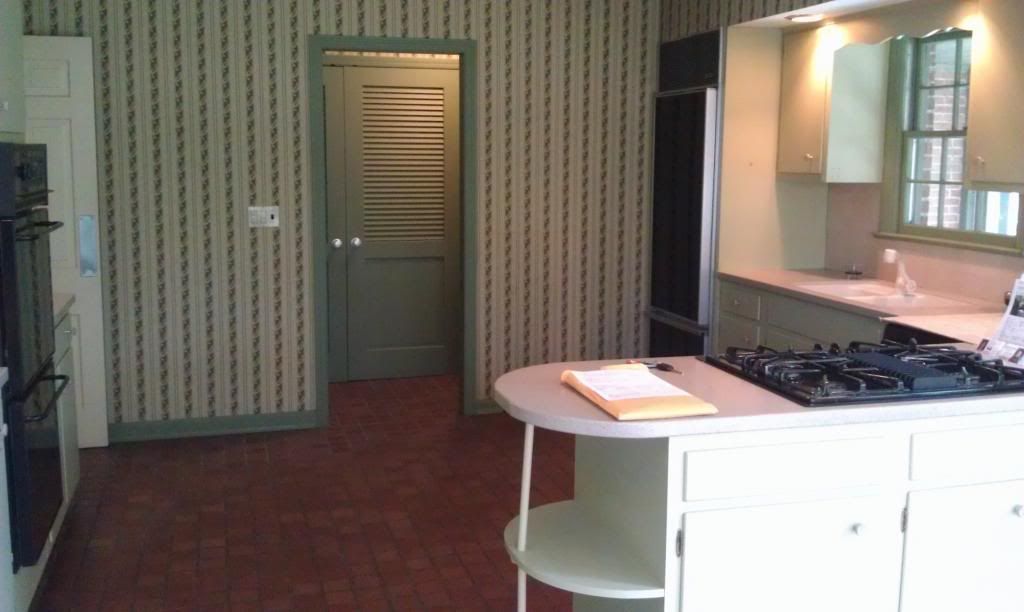 We moved a doorway, made the walk-in pantry smaller (sacrilege, I know), added a utility sink and cabs in the mudroom/laundry room/pantry area, but the structure of the room stayed basically the same.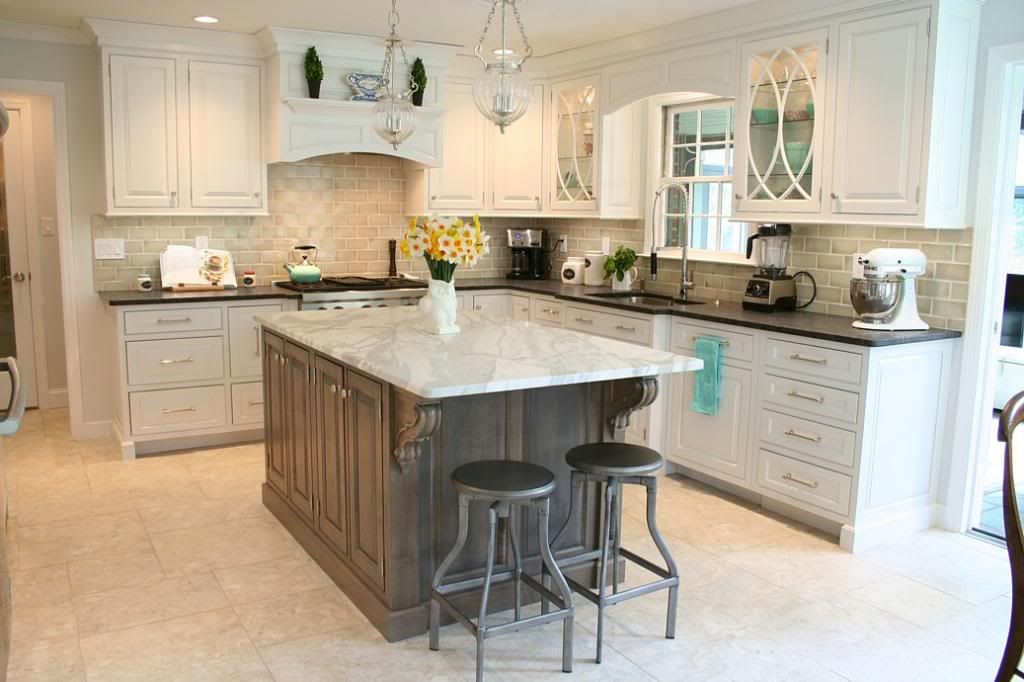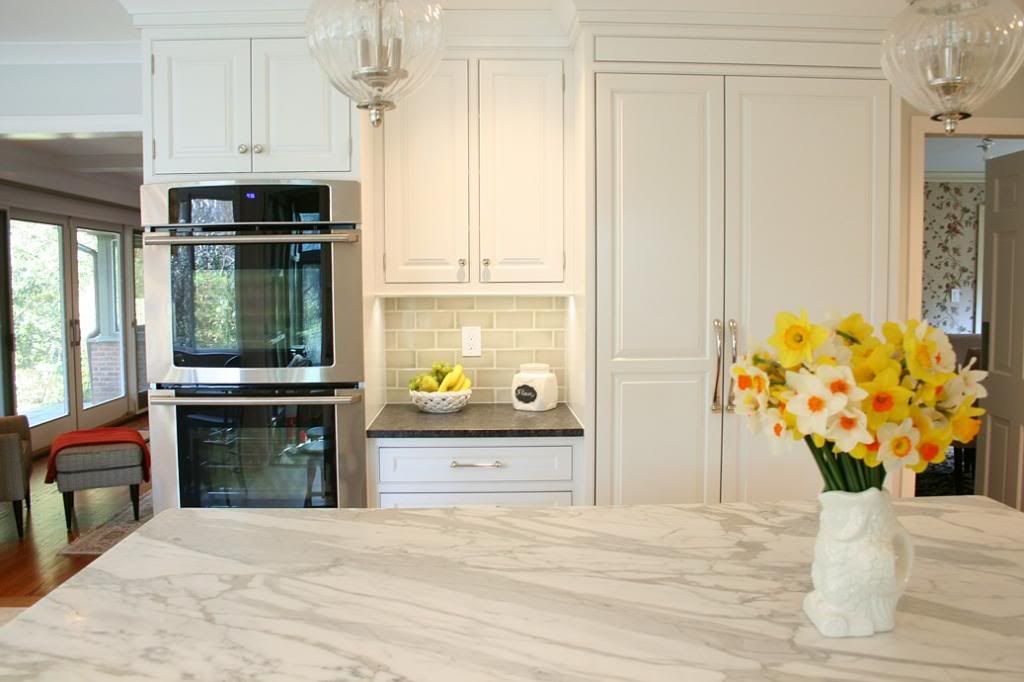 Stole this idea from Houzz - I love having all my cooking utensils organized and easy to reach and no longer in a jumbled mess in a drawer.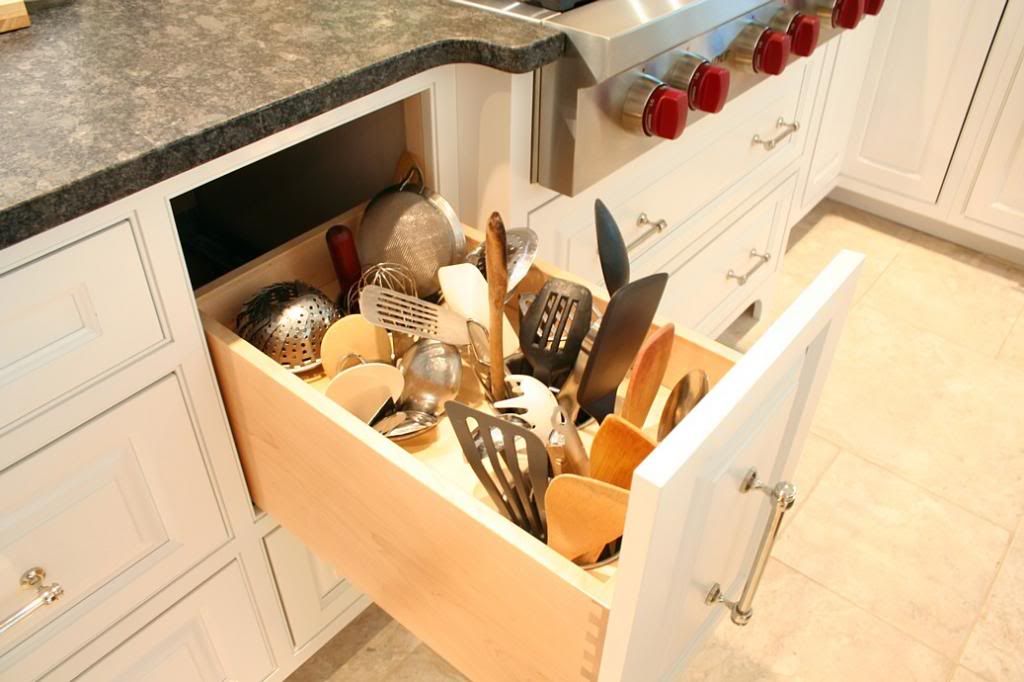 My Wood Hollow inserts (thanks to GW!)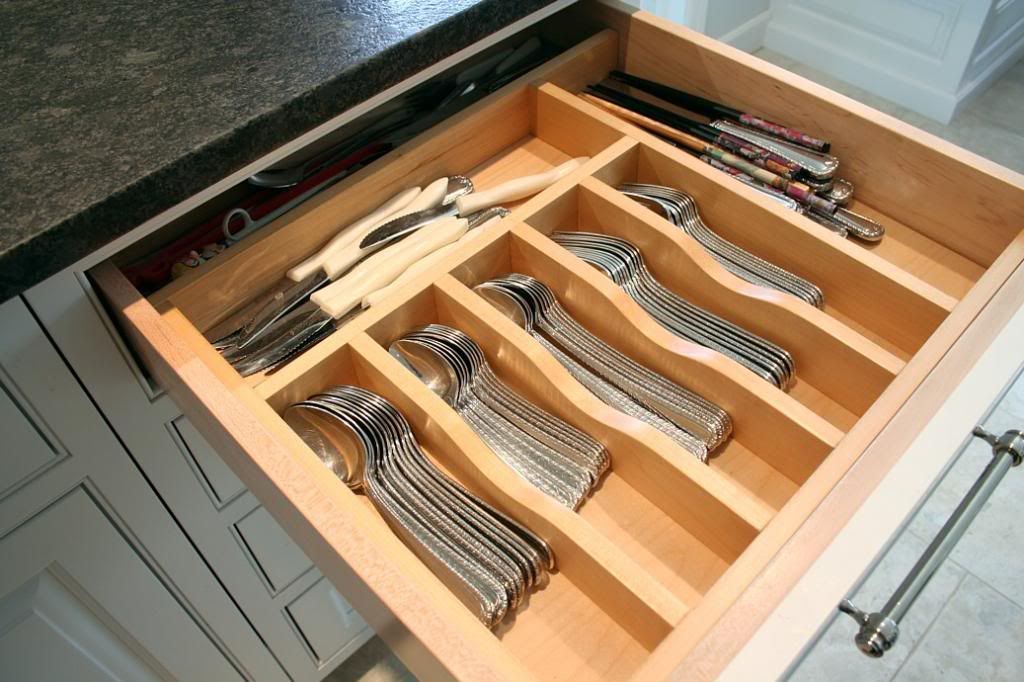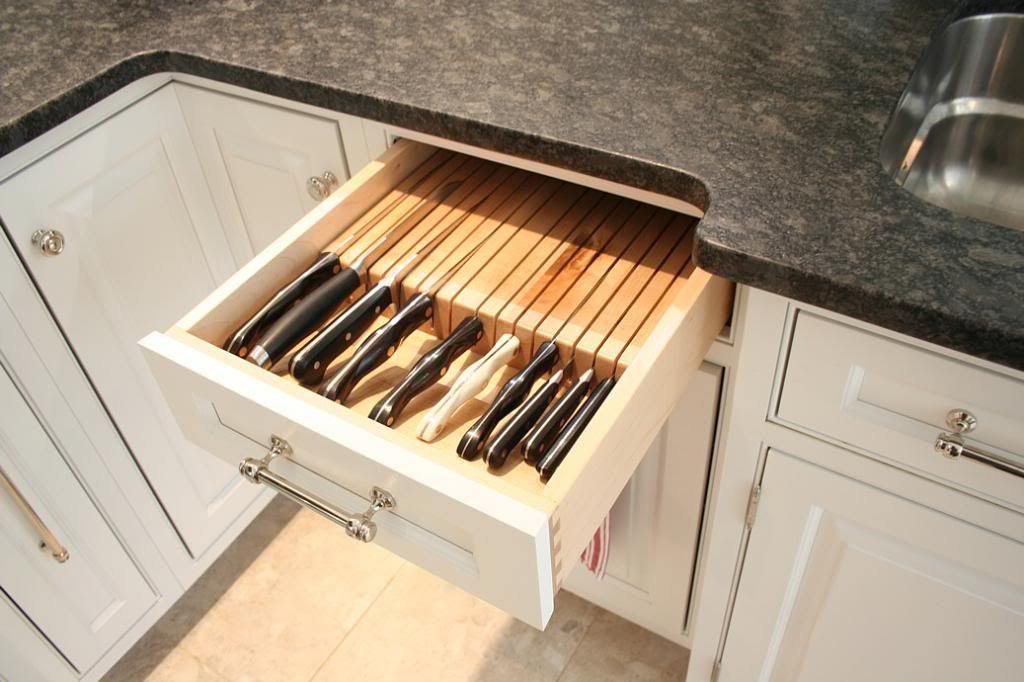 My Thermador microwave drawer - I had to have my cabinet maker come back to make it flush with the cabinet, but he made good on it. :)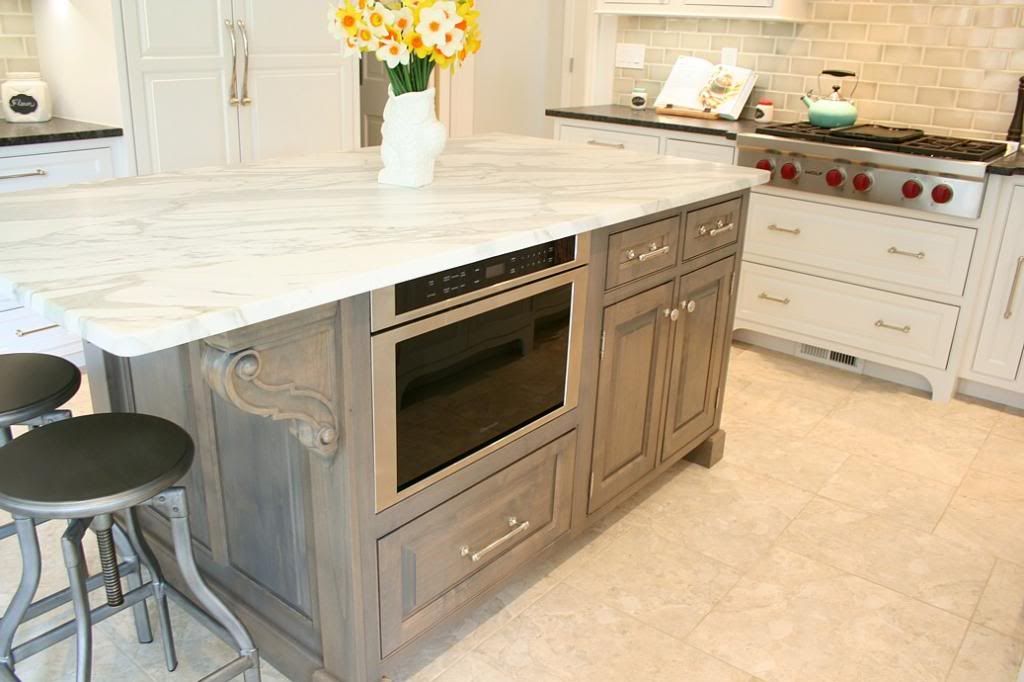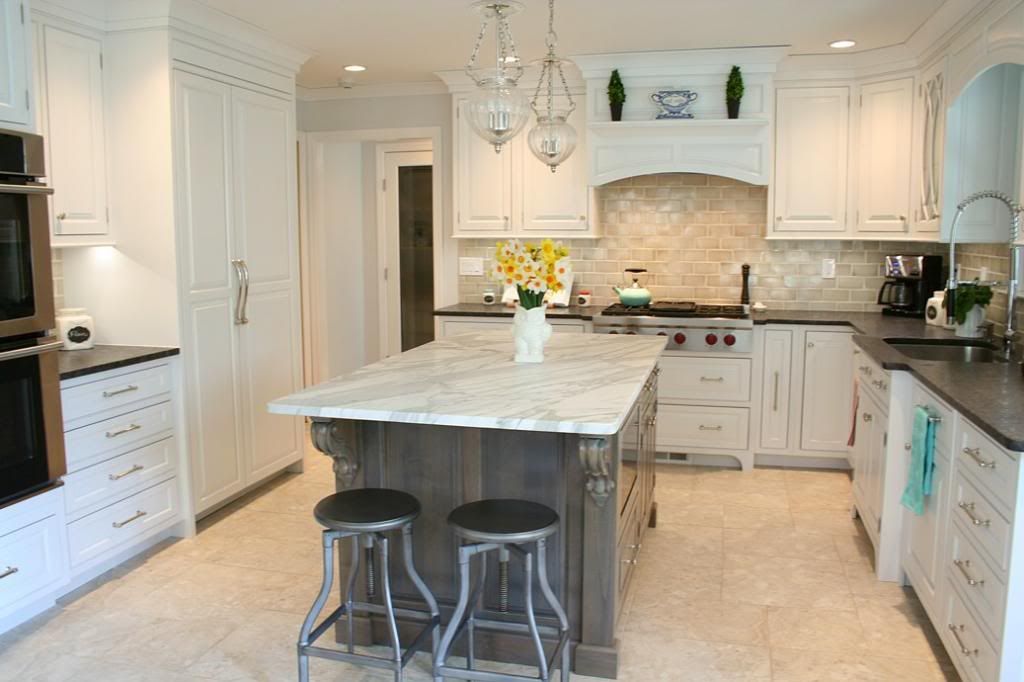 My daughter wanted to pose for the photo: an action shot of the inside of my beautiful Thermador column.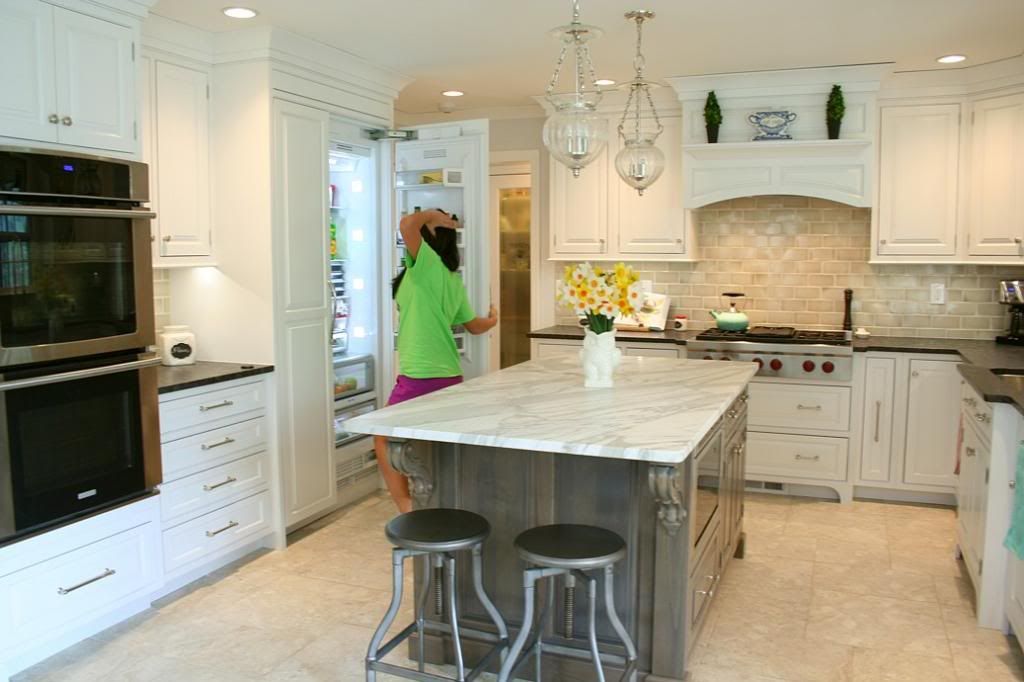 The banquette and desk area: I know a lot of people don't use theirs but I live at my desk. It's where I do my work (I had 4 filing cabinets made) and I can watch TV in two rooms from my location. Normally I have my purse and other work paraphernalia scattered on the glass top. I can spread out all my papers on it - I love it! It also has USB outlets behind my laptop.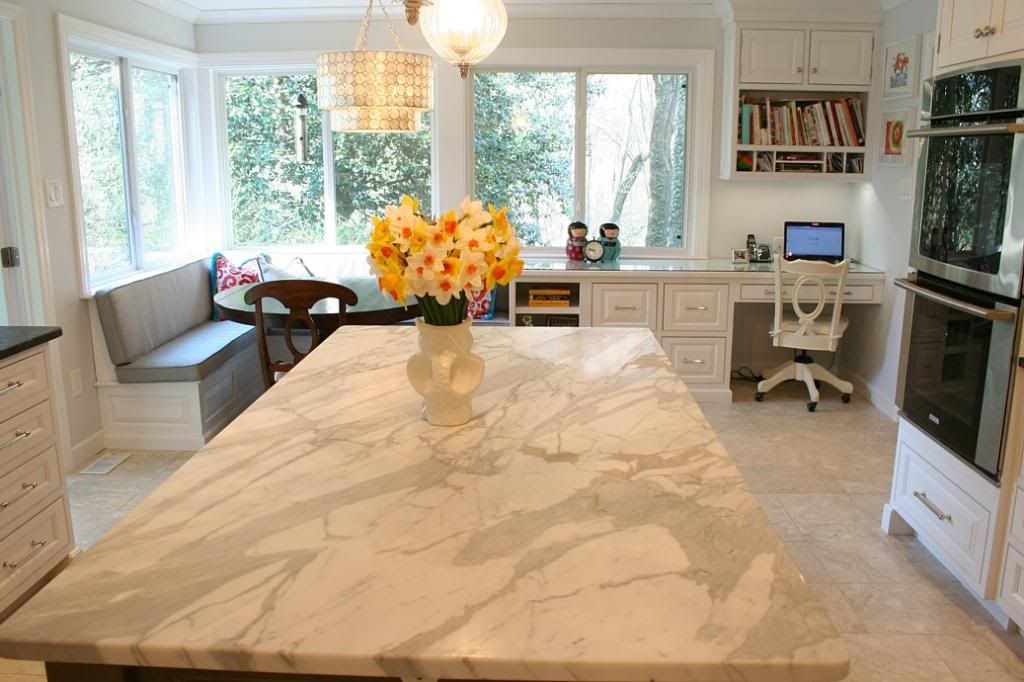 I had asked about the banquette fabric several months ago and decided to go with a neutral gray. Yes, I went for the "pops of color" with the red ikat and turquoise.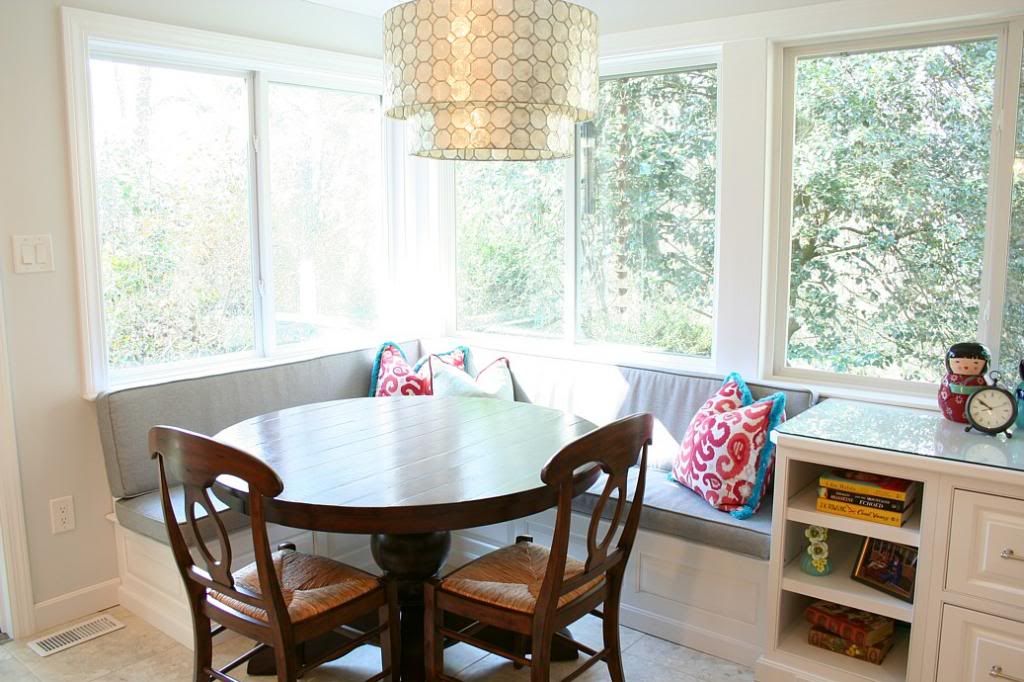 Kitchen Details
Custom Cabinets - Painted maple beaded inset in BM Chantilly Lace (debatable since our can of Chantilly Lace is whiter than our cabinets!) by Oxford Cabinetry, Oxford PA, all drawers and doors soft close
Island - Alder with gray stain
Perimeter countertops - leathered steel gray granite
Island countertop - Calacutta marble
Wall color - BM Genesis White
Wolf rangetop
Bosch 800+ dishwasher
Thermador Freedom Columns - 24" refrigerator, 18" freezer
Electrolux Wave Touch double oven
Thermador microwave drawer
Dornbracht Ultra faucet
Franke Orca sink
Broan Best PIK33 1200 CFM hood
Hudson Valley Lighting Gardner urn pendants
Capiz shell drum chandelier from Horshow
Backsplash - Encore crackle tile in mint
Porcelain Tile - Ceramiche Campo Galliano Rox Beige Natural
Crate and Barrel Turner stools
Pottery Barn Napoleon chairs and table
Laundry room/mudroom/pantry
I don't have any before pics of this because it didn't really exist. It was just an area from the garage to the kitchen with a closet with the washer and dryer and a walk-in pantry.
Electrolux washer and dryer
Moen Arbor Sense Touch Faucet
Kingston Brass Filtered Water Faucet
GE water filtration system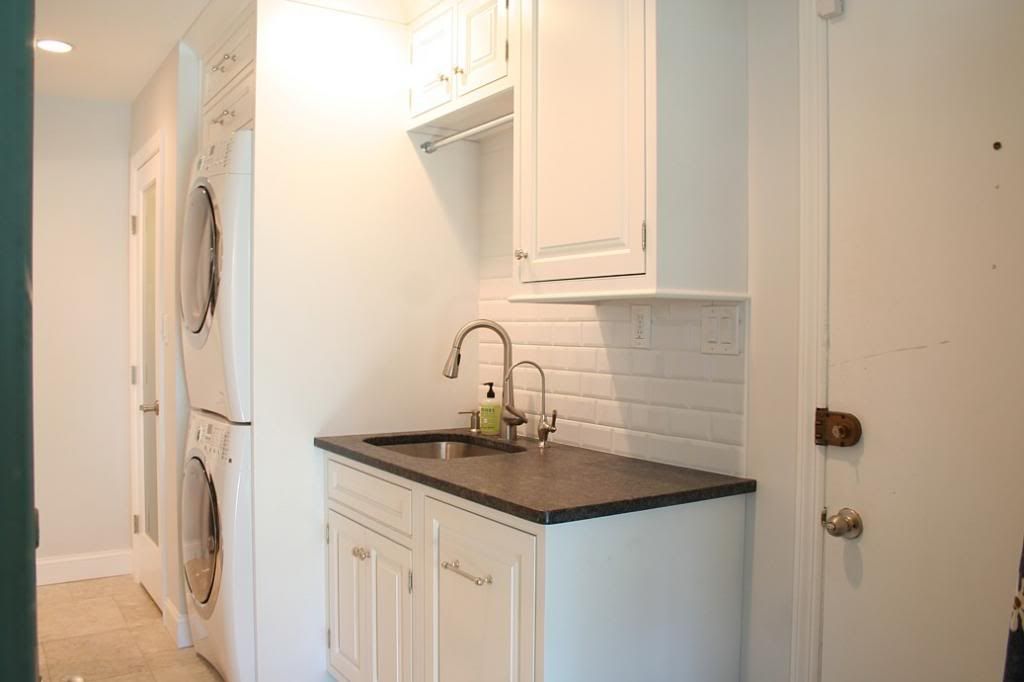 Also stolen from Houzz - drying rack that I love. The only thing is the top rack is very high and I need a step ladder to reach it. Now, people coming in the house don't see my drawers hanging to dry. LOL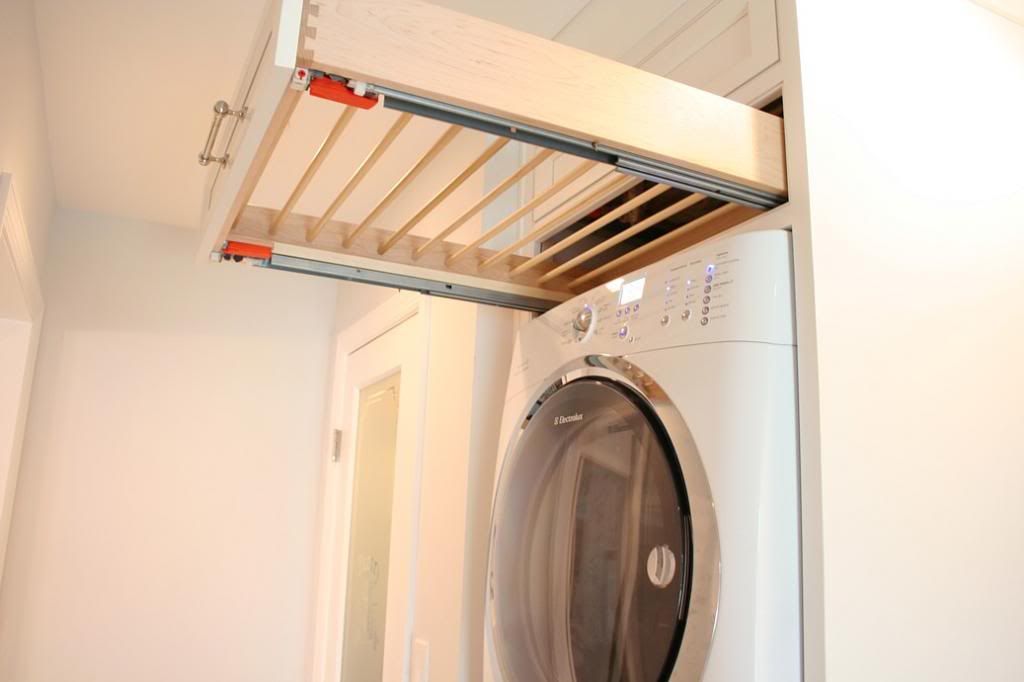 Powder Room
The original powder room was so scary looking that nobody used it for several months until it was gutted and renovated. Here's the listing photo: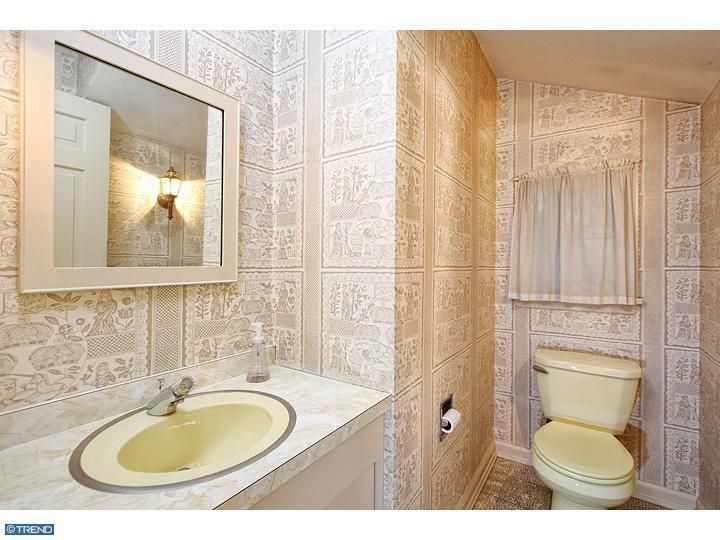 Not so scary? Try this more accurate photo from my cell phone. Dark, dark, dark plus the linoleum that looked like it had 5 decades of urine on it. :\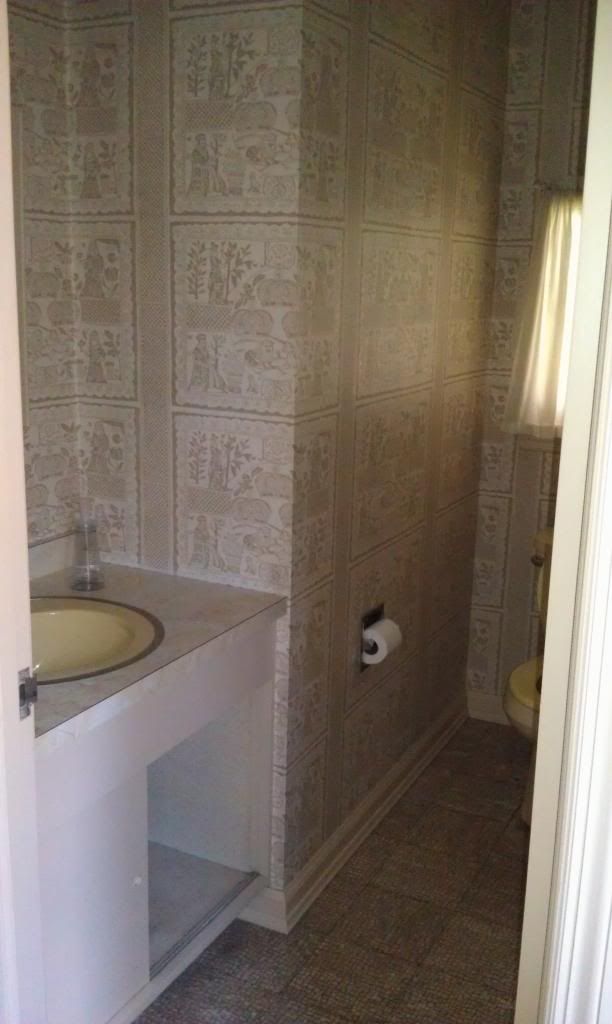 Restoration Hardware vanity and fixtures in polished nickel
Visual Comfort sconces
Kohler Archer toilet
Clarke and Clarke Augustus smoke wallpaper
AKDO basketweave carrera marble tile with carrera select and black galaxy tiles for border
Old mirror
Vase from Anthropologie
We enlarged the vanity nook and added a soffit to hide some plumbing.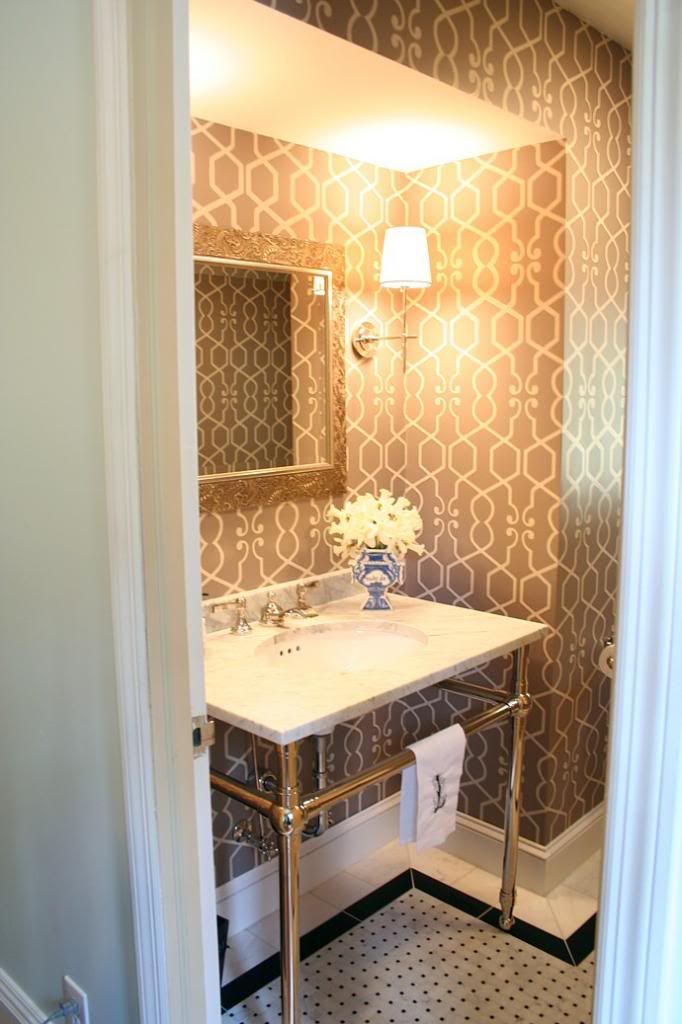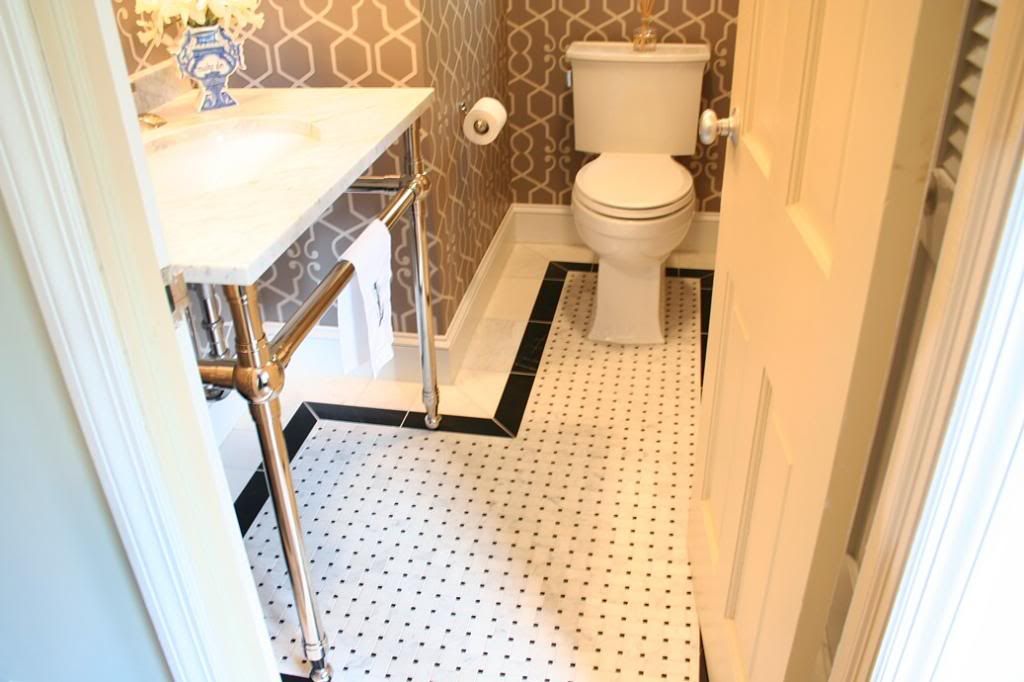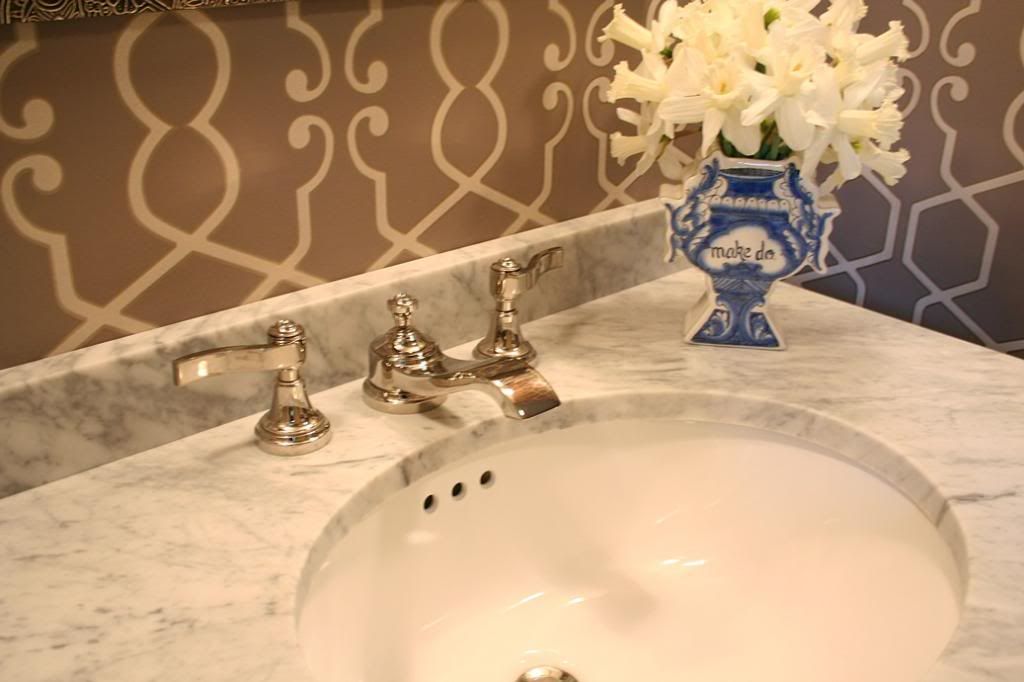 My favorite things:
My Dornbracht faucet
Comfy banquette (I fell asleep on it once)
Bosch dishwasher that cleans so well (my old Maytag was a gunky piece of junk)
My kitchen desk
The marble island
Dimmable LED undercabinet lights
My Thermador that keeps produce fresh literally for weeks
A utility sink
Filtered water that's not in a refrigerator to cause drips and stains
A beautiful powder room I'm not embarrassed to have guests use!
The biggest mistakes (and there were many) during the process:
Plumber switched the kitchen and utility faucets (even though I had clearly labeled them)
Chandelier too far over to the right (we were too tired to try to make them move it over 3")
I would have made the drawers flanking the rangetop more symmetrical
I wouldn't have picked those fabrics again. Oh well.
I'm just glad it's over (well, for now). This house is a lifetime of projects. We also redid the kids' hall bathroom but it's a constant mess so no pics now. In a few years, we have a attic room addition and master bath remodel on deck. On a happy note, all daffodils in the photos are from our very overgrown but beautiful property. :)