Change kitchen/family room bar to counter height?
We currently have a small bar area between the kitchen and the family room as can been seen below. We have finally begun the process of changing out the bright blue counters with granite (considering typhoon bordeaux or colonial cream). With speaking to our contractor, the idea was raised of dropping the bar to counter height so as to be one plane back from the sink. My wife really likes the idea, thinking it will help open up the kitchen to the living room, because despite the glass cabinets unless you are tall the bottom trim is right at eye level. I have two concerns with this, first that the cabinets over the sink are positioned to reflect the elevation change of the bar and would that look odd with it? And second, I think the bar hides some of the sink sundries such as soap, sponges, dishes, etc. that tend to collect around it.
Any thoughts or words of advice? I know many people have similar setups to the proposal with an island, but with the cabinets above it I don't know if that changes the aesthetic. Also, it if factors in we have four young children (ages 1 - 7) who would be able to get up and down with a counter height stool easier than the bard stools we currently have.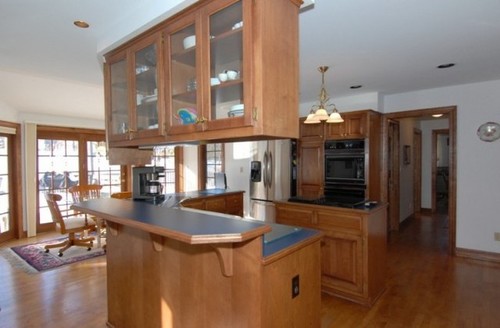 This post was edited by Ntr8 on Mon, Apr 14, 14 at 15:25