led lighting for 9' x 10' dark kitchen with no upper cabinets
I could really use some advice from the GW kitchen experts :) . We are currently renovating our condo kitchen. The plan is a soft modern look with River White granite, steel appliances, stained F&B Hardwick White (greenish-grey) oak slab cabinet fronts, brass pulls, oak floors, and off-white walls (F&B Pointing). See rendering below. We have an 8 ft ceiling and we live in a climate where it tends to be overcast for months of the year - it is not uncommon for me to use artificial lighting during the day in the winter.
We don't have a lighting plan yet :( . My husband will be DIY the electrical/lighting installation. We are not planning to have any upper cabinets so that makes our lighting situation quite different from most of the kitchens I read about here. I'd like to use mostly LED because the original electrician put a LOT on the circuit in question, including lots of lighting, outlets, and the range hood (we are planning 800 CFM). I want dimmable (a must!) 3000K with excellent colour rendering. We are planning two switches - one for the island, one for the perimeter. The range hood will have its own lighting.
I have read about kitchen lighting guidelines in the good explanation link below.
I'll put my questions in the next post.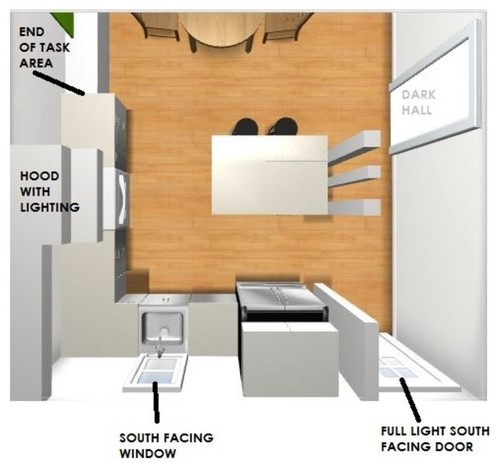 Here is a link that might be useful: Kitchen-lighting basics
This post was edited by feisty68 on Fri, Apr 25, 14 at 14:35