Faucet style, lights and dimensions
Do any of you coordinate your vanity light fixtures with your faucets?
I'm still deciding on lights, and am posting a pic of my faucets and my latest lighting options (#2 and #3 were your preferences from my earlier post).
The mock-ups are not to scale!
The bathroom is small, pink, and mid-century. I'm replacing the wallpaper with paint, changing the flooring, and removing the wall heater. But as you can see, when you look into the room, the sink is on the side -- so you're not getting a front view of the lights...so I wonder if the beauty of sconces would be wasted.
The console sink is 24" wide, the mirror is 24" wide, and both of the above-the-mirror light fixtures are 18" wide.
So if, you take into consideration the sizing and the faucet style...which light fixture seems the best fit?
Thank you!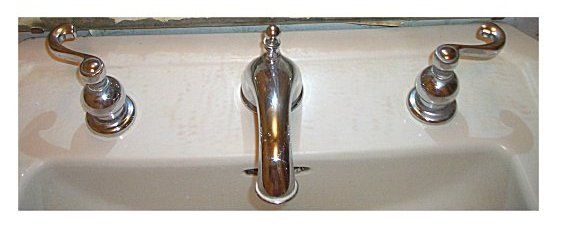 Sorry this image is no longer available.