RECIPE: Peppermint Angel Food Cake for the holidays
audrey_gw
December 26, 2009
Hi, everybody. I was so excited about having an angel food cake turn out well that I had to share the recipe! It originally called for green food coloring for the mint marble, and I had planned to use the gumdrop-like wintergreen leaf candies as a garnish. But, since the store was sold out of those, I made a last minute switch and decided to go with a red swirl and candy canes for a garnish. As you can see, the red swirl turned out more pink, but you can always add more food coloring if you like. (The middle picture looks a bit odd, as I used my photo editor to black out all the clutter in the background!)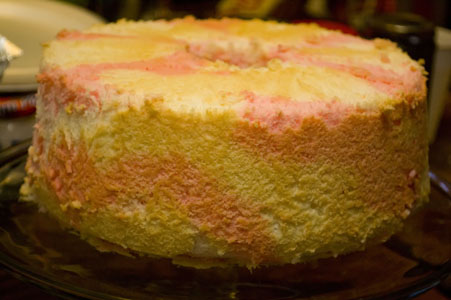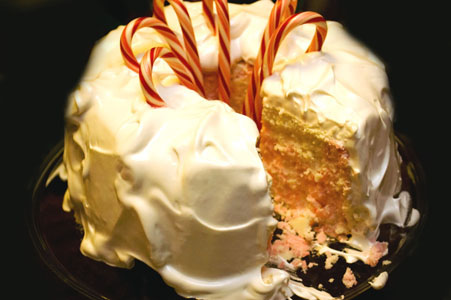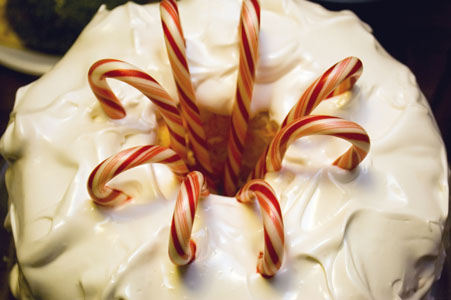 Peppermint Angel Food Cake
Sift four times:
1 cup cake flour
1 cup powdered sugar
In large mixing bowl, beat on low spead until just beginning to froth:
1 ½ cups egg whites (10 to 12)
Add:
¼ tsp. salt
1 ½ tsp. cream of tartar
Beat at medium speed until large bubbles start appearing around the edges. Then add--2 Tbsp. at a time:
1 cup granulated sugar
Continue beating at high speed until whites form soft peaks. Remove bowl from mixer.
Sift flour mixture, 2 Tbsp. at a time, over meringue, folding with wire whip until blended. Divide batter into 2 parts.
Fold into one half:
1 tsp. vanilla
Fold into other half:
½ tsp. peppermint extract
a few drops of red (or green!) food coloring
Drop batter by spoonfuls into ungreased 10" tube pan, alternating red and white batter. Pull a knife in zigzags through batter. Bake cake at 300 degrees for 60 to 70 minutes. Invert pan to cool.
As you can see from the photos, the cake is pretty enough to serve without frosting, if you like. But I used the following recipe for seven-minute icing.
Seven-minute Icing:
Combine in top of double boiler, over boiling water:
2 egg whites
¼ tsp. cream of tartar
¼ tsp. salt
6 Tbsp. cold water
1 ½ cups sugar
2 tsp. light corn syrup (optional)
Beat 7 minutes until icing stands in peaks. Remove from heat. Place over cold water and add:
1 tsp. vanilla
Continue beating until icing stands in shiny stiff peaks. Spread on cake immediately. I just propped the candy canes up around the hole in the center of the cake.