from a recent class using The Big Print
Hi Folks,
How is everybody? Been busy & summering & somewhat beachy (I live near the beach). Here's some pix of the top I made at & after a recent class. The class idea was to present us w/ a possible way to use these wonderful Asian prints w/ the large motifs.
Here's the top: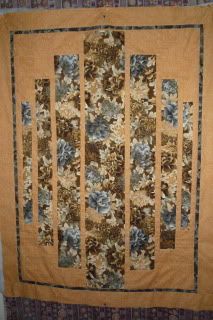 Look what an exquisite floral this is: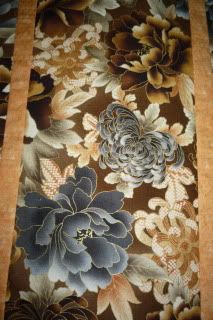 another area
Pls. remember that I'm a recovering textile designer, so I can get really carried away w/ the beautiful fabrics.
Tho' I intended to make a matching back using some of the featured floral from the front, I ended up making a coordinate back instead, as the other just did not work well. I rather like how different a feeling this seems to evoke in me (so far).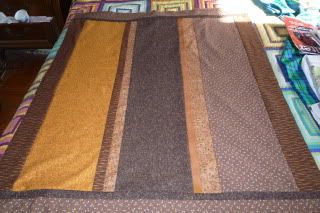 I learned to weave as a child, I could see a weaver's sensibility in this type of striping.
I just layed out the fabric sandwich on the floor & tried to center the back, batting & front & am about to baste it together w/ long running stitches.
Now I've got to figure out how to quilt it.
I hadn't taken a class in a couple of yrs ($$), it's really a GREAT stretch to do so. I encourage anyone who never has, to take the leap if they get the chance! Great fun had throughout!