Help! Can't Get the Wrinkles Out...
of my new comforter!
It's 100% Polyester from Target but as you can see from the picture there are wrinkles that won't come out! I washed it as directed in a commercial, front-loading machine and dried it on low. I even hung it on the clothes line (it had a strange, chemically odor) and after it was dried I spritzed it again with water and let it dry again! Nothing works!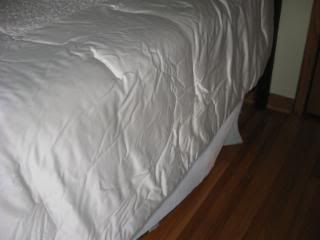 The second picture shows the whole thing with this wonderful headboard Ron and I got at an auction last week for $30! It's antique oak and everything! You can't really see it very well in this picture, though.